In Predominantly-Democratic New York City, Trump Still Has Support From Folks in This Neighborhood
In a new clip from Viceland, Vice News reporter Michael Moynihan trekked to a Brooklyn bar to discuss President Donald Trump with Bay Ridge residents. In the video, titled "We Got Drunk With Trump Supporters--In Brooklyn,' he found that while much of New York City leans Democratic, Trump does have a faction of supporters in the neighborhood.
Throughout the video, Moynihan interviewed bar patrons who vary from ferry navigators, digital producers, and retired cops. "Everyone in this bar is a Trump supporter," one man noted.
While some interactions are more humorous, Moynihan mainly looked to find who the patrons are voting for. Many remarked that they intended to vote for Trump in 2020, despite claiming to be open to other candidates.
A retired police sergeant said he would vote for "the best candidate out of everybody." I could care if it's female, white, African American, as long as they're a good person," he said, before stating that he'd "probably vote for Trump again." Another person said that he would vote for 2020 Democratic presidential contender Pete Buttigeig over Trump, while a bartender told Moynihan that he didn't vote in 2016 and probably wouldn't vote in 2020.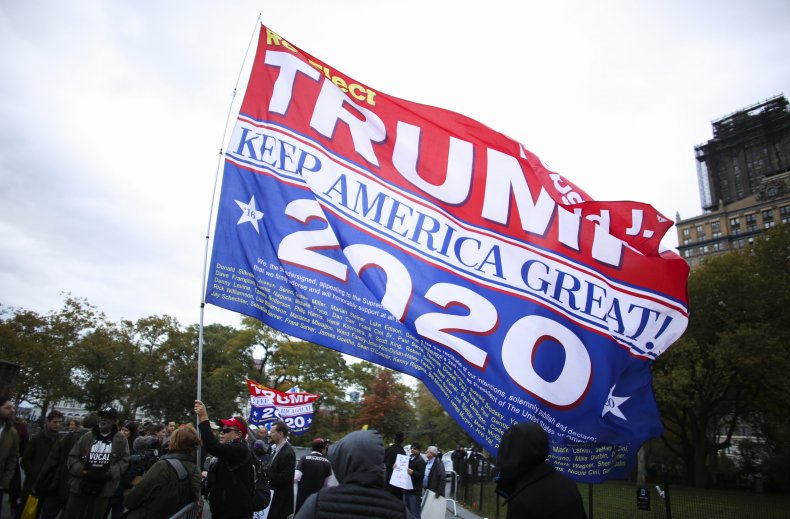 Despite Hillary Clinton receiving the majority of votes in Kings County (Brooklyn) as a whole, Bay Ridge does have a rare faction of Republican voters in the neighborhood. According to the New York City Board of Elections, Clinton received 611,439 votes throughout Kings County, where Trump only received 129,368. The New York Times reported that while the majority of Bay Ridge voted for Clinton in 2016, some precincts did favor Trump, including the areas Vice visited.
Bay Ridge Councilman Justin Brannan was much more critical of the clip. In a tweet, he wrote: "Thanks for coming to the neighborhood, @Viceland but we are a *bit* more complex than this." He also remarked, "In the process you oversimplified our neighborhood and made the constituents you interviewed the butt of a joke. We're not your entertainment," after accusing Viceland of just seeking clicks. He also called it a "lazy, insulting take."
This clip comes after Trump has announced that he will no longer claim New York as his main residence. He announced that he was moving to Florida on November 1, blaming Governor Andrew Cuomo and New York City Mayor Bill de Blasio for his move. Despite Trump building much of his real estate empire in the city, many Trump buildings have opted to remove the president's name from them, following his election.