Trump Supporters and BLM Protesters Face Off During North Dakota Boat Parade
President Donald Trump supporters and Black Lives Matter activists were involved in tense exchanges in North Dakota as an impromptu boat parade with hundreds of vessels passed Memorial Bridge, Bismarck on the Missouri River.
The local newspaper Grand Forks Herald reported that the exchanges between the small groups of protesters and Trump supporters on the bridge were heated but peaceful, with no recorded incidents of violence.
The North Dakota boat parade was first organized on August 16 by the local realtor John Evanson and Brad Balerud, a financier, the Grand Forks Herald reported. By the following Saturday, a large group of the president's supporters showed up on the river's banks.
Footage and pictures from the event posted to social media appear to show hundreds of boats of various sizes taking part in the parade while onlookers watched from the shore.
"This is absolutely a phenomenal event," Bismarck Mayor Steve Bakken told the Grand Forks Herald. "What a demonstration of patriotism. This is absolutely unbelievable."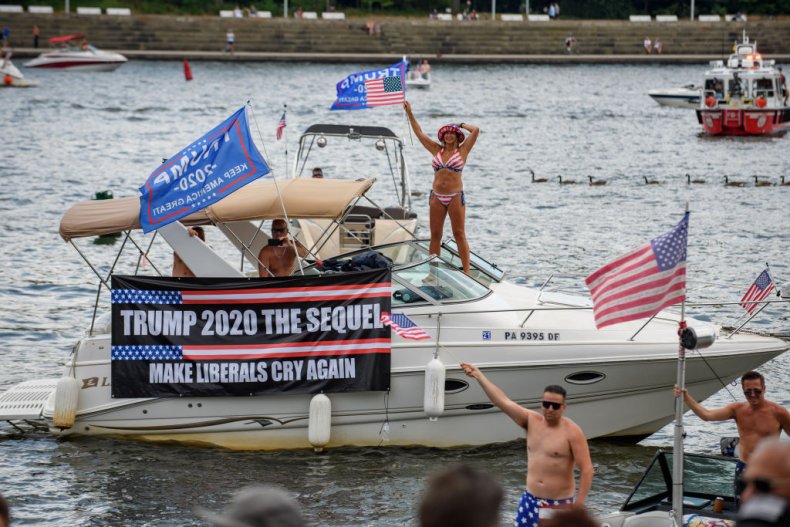 Clips from the event posted by the Trump campaign's deputy director of rapid response Jake Schneider showed hundreds of supporters had taken to the waters. Other videos posted to social media showed one vessel blaring out "The Star-Spangled Banner" along the river.
"There was an impromptu boat parade for President Trump on the Missouri River in North Dakota this weekend," Schneider tweeted. "Rumor has it that even U.S. Senator Kevin Cramer stopped by!"
The senator later appeared to confirm that he had attended the pro-Trump boat parade. He tweeted: "It was a beautiful day to celebrate the greatness of America and express our love for Donald Trump!"
According to the Grand Forks Herald, around 700 people had confirmed they were attending the event by Saturday, with another 2,000 supporters showing an interest in going on the parade.
Newsweek has contacted the Trump re-election campaign for further details and comment. This article will be updated with any response.
The North Dakota boat parade was held a week after another pro-Trump flotilla in Clearwater, Florida sought to break the boat parade world record on Saturday, August 15. According to Guinness World Records, Malaysia held the largest boat parade when 1,180 boats gathered in Kemaman in 2014.
"In honor of the 45th President Donald J. Trump we will beat the world record in his name," the organizers of the Florida event said.
Guinness World Records officials told Associated Press that the body was still reviewing whether the Clearwater parade had truly broken the record set six years ago. The process could reportedly take as long as 15 weeks.