Trump Supporters Chant 'LeBron James Sucks' at Pennsylvania Campaign Rally
President Donald Trump spent a significant portion of his Monday afternoon rally in Avoca, Pennsylvania, censuring his detractors, from political opponent Joe Biden to celebrities and professional athletes who support the Democratic nominee.
Some remarks denounced the National Basketball Association (NBA), which embraced social and political activism this year, which prompted the rally's attendees to engage in an antagonistic chant about LeBron James, who's one of the biggest sports stars on the planet.
After Trump shared an extended spell of criticisms targeting media outlets, interspersed with claims that his presidency contributed positively to broadcast viewership, he took aim at the NBA and gave particular focus to James. The NBA star, alongside other prominent public figures, has spoken out against Trump during the final months of his reelection bid.
"How about basketball?" Trump asked supporters who gathered for Monday's campaign event in Avoca. It was one of several rallies promoting the president's reelection campaign to take place across Pennsylvania, a critical swing state both Trump and Biden are vying to win, over the past few days. Hearing "basketball," the Avoca rally's attendees booed in unison.
"How about LeBron?" he continued, going on to mention the NBA Finals' ratings, which hit a record low last month. The president previously bashed the NBA, suggesting people had "zero interest" in watching, when the Finals took place.
"I felt badly for LeBron," Trump said. "I felt very badly. Down 71 percent...I didn't watch one shot. I got bored. Back, forth, back, forth. You know why? When they don't respect our country, when they don't respect our flag, nobody wants to watch. Nobody."
The president began to initiate similar criticisms of the National Football League (NFL), but supporters interrupted with chants decrying James. "LeBron James sucks! LeBron James sucks!" they called out.
Trump seemed pleased with the response, pausing his subsequent remarks about the NFL to acknowledge their chanting.
"What a crowd!" he said twice.
James' achievements throughout his career with the NBA have earned him widespread esteem within the sport. As the organization turned its focus toward advocacy upon resuming activity over the summer, following a pandemic-induced hiatus, many players became vocal about social justice issues and the presidential race.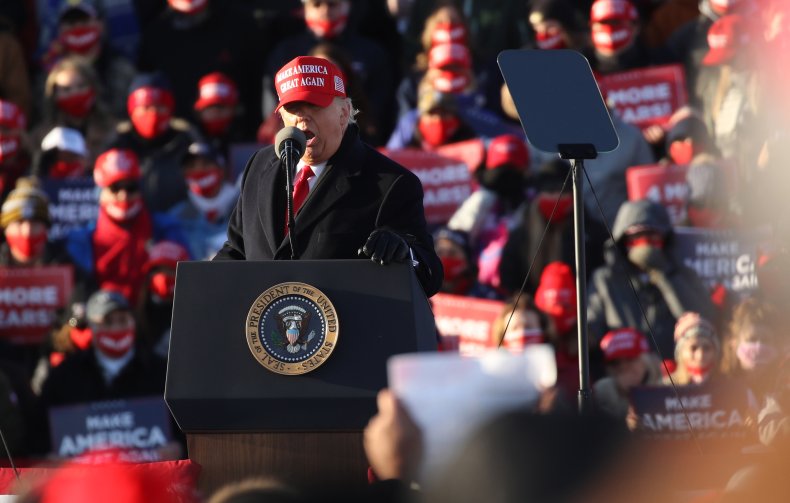 James has been particularly forthright in expressing his opinions about the president over the course of his term in office, contributing to ongoing public tension between himself and Trump. Last week, the athlete urged his social media followers to "please vote" in an Instagram story that pictured split screen images of Trump and Biden, with a clown caricature replacing the Republican incumbent's face.
Newsweek reached out to the Trump campaign and NBA for additional comments.