Trump Supporters Charged With Violent Threats to Lawmakers, Officials to Overturn Election
Two supporters of former President Donald Trump are facing charges in Michigan after allegedly threatening officials with violence over the 2020 presidential election.
Michigan Attorney General Dana Nessel announced that 62-year-old Daniel Thompson of Harrison, Michigan, was charged with three counts of malicious use of service provided by a telecommunications service provider, a misdemeanor charge that carries a possible six-month jail sentence and a $1,000 fine. A single count of the same charge was handed to 43-year-old Clinton Steward of Douglas, Georgia.
"It is unacceptable and illegal to intimidate or threaten public officials," Nessel said in a press release. "To those who think they can do so by hiding behind a keyboard or phone, we will find you and we will prosecute you, to the fullest extent of the law. No elected official should have to choose between doing their job and staying safe."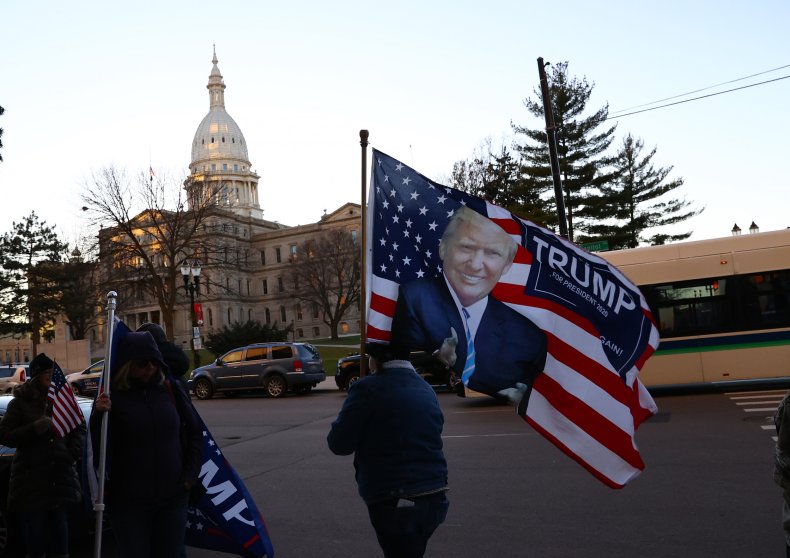 Thompson allegedly left threatening voicemail messages about the presidential election outcome for Sen. Debbie Stabenow (D-Mich.) on January 5, stating that "he was angry about the results of the November election, that he joined a Michigan militia and that there would be violence if the election results were not changed," according to the release. A follow-up email to Stabenow's office allegedly saw Thompson repeat the threats while using "vulgar language."
Thompson is also said to have targeted Rep. Elissa Slotkin (D-Mich.) with threats about the election. During a January 19 phone call with a member of Slotkin's staff that lasted "more than an hour," Thompson allegedly made death threats and "violent references" while referencing the January 6 breach of the U.S. Capitol. The third charge against Thompson involves a separate threatening call to Slotkin's office from April 2020.
Stewart is charged with leaving threats in a voicemail for Michigan Court of Claims Judge Cynthia Stephens on September 18, 2020, allegedly complaining that biased "activist judges" were working against Trump by allowing mail-in ballots to be counted. Both before and after the election, Trump claimed that mail-in ballots were rife with widespread voter fraud, although no evidence has been uncovered to support the claims.
Stewart's alleged threats came after the judge ruled that ballots received after Election Day could be counted as long as they were postmarked before the deadline, while also allowing voters to consent to have their absentee ballots delivered by another person of their choosing by the Friday before the election. The ruling was later overturned by an appeals court and had no impact on the Michigan election, which President Joe Biden won by more than 150,000 votes.
Arraignments for both Thompson and Stewart are pending and no court dates have yet been announced. It is unclear whether either of the men have retained attorneys.
Nessel's office declined a request for further information and comment.
Update 2/24, 6:07 p.m.: This article has been updated to reflect that the office of Michigan Attorney General Dana Nessel declined to comment.