Trump Supporters Clash With Police, Storm Capitol Building During Congress' Joint Session
Hundreds of protesters stormed the Capitol Hill on Wednesday as Congress meet in a joint session to certify the results of the 2020 presidential election.
After tearing down multiple layers of barricades, Trump supporters demanding that President-elect Joe Biden's victory be overturned, clashed with federal police officers on the steps of the U.S. Capitol building.
Videos show protesters in a face off against Capitol police, who used pepper spray and other riot gear to fend off the crowd. Protesters were also seen using their own pepper spray back at police officers.
A protester in the video can be heard heard shouting at officers: "You're a f***ing traitor to your country!"
Trump supporters have reportedly nearly overrun the Capitol, which is now under lockdown, as footage shows injured police officers leaving the scene.
Under the Capitol Complex lockdown, no entry or exit is allowed for the Capitol Building and those inside have been told to stay away from windows and doors.
Photos and video show they have breached the building and that tear gas has been used in the building. Pool reports cite there is an armed standoff at the door of the House Chamber.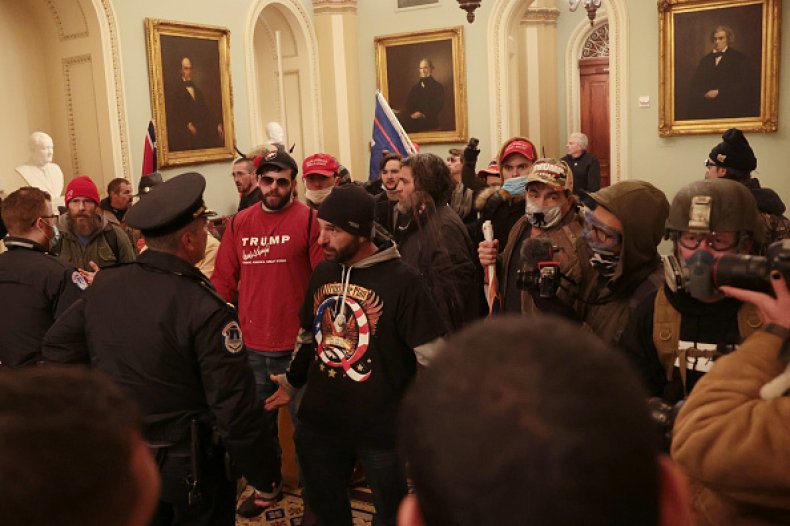 Evacuations have also been ordered for two Capitol Hill buildings, the Cannon House Office Building and Madison Library of Congress Building. Hill staffers were ordered to "move in a safe manner to the exists" and to "close doors behind you but do not lock."
Representative Elaine Luria tweeted that she evacuated her office after a pipe bomb was reported outside, and Representative Haley Stevens wrote that she was sheltering in place at the office.
There are also several road closures in effect as police investigate a suspicious package found nearby.
Congress is currently meeting in a joint session to certify the electoral votes, which President Donald Trump and a number of other Senate Republicans have pushed to vote against.
Vice President Mike Pence was escorted out, according to Bloomberg News.
Mayor of Washington D.C. Muriel Bowser ordered a citywide curfew, which will go into effect at 6 p.m. on Wednesday.
Newsweek reached out to Capitol Police for comment, but did not hear back before publication.
Update: This story has been updated in include further information about the storming of the Capitol complex, as well as news about the imposition of the curfew.
This is a developing story and will be updated as more information becomes available.