Trump Supporters Clash With Protesters Over Supreme Court Vacancy at Lindsey Graham Rally
Donald Trump supporters clashed with protesters at a Lindsey Graham campaign event over moves by the president to fill the Supreme Court vacancy created by the death of Justice Ruth Bader Ginsburg.
On Saturday, the president received backing from Graham, who is the chairman of the Senate Judiciary Committee and will oversee the confirmation hearing for a nominated Supreme Court Justice, "to move forward regarding the recent vacancy."
But that intervention opened the Republican senator up to accusations of hypocrisy over previous comments he made which argued that a Supreme Court vacancy in the final year of a presidency should not be filled until after an election.
One of the protesters at Saturday's event held a sign quoting Graham from 2016, with the words: "Let's let the next president make that nomination."
They were confronted by those gathered in support of Graham and Trump. Video from the event showed members of the group chanting "four more years," "goddamn socialists get the hell out of here" and "get the hell out of my country."
'Without delay'
On Saturday, a day after the death of Ginsburg, the president urged the Senate to consider "without delay" his upcoming nomination to fill the vacant seat.
However leading Republicans, including Graham, have argued that a sitting president should not consider a Supreme Court choice in the run-up to an election.
"If there's a Republican president [elected] in 2016 and a vacancy occurs in the last year of the first term, you can say Lindsey Graham said, 'Let's let the next president, whoever it might be, make that nomination,'" he said in 2016, urging those at a Judiciary Committee meeting to "use my words against me."
Two years later, in 2018, he again argued for a delay. "If an opening comes in the last year of President Trump's term, and the primary process has started, we'll wait to the next election," he said.
A small group staged a demonstration outside the home of Graham in Washington, DC on Monday with protesters branding the senator a "hypocrite" and "two-faced coward."
Trump has promised to put forth a female nominee for the post while Mitch McConnell, the Senate majority leader, has vowed to call a floor vote. Moves to replace Ginsburg—a liberal icon—come less than six weeks before the election.
The Supreme Court battle has entered an election campaign until now dominated by the coronavirus pandemic and social unrest, with Trump's supporters chanting "Fill that seat" at a weekend rally.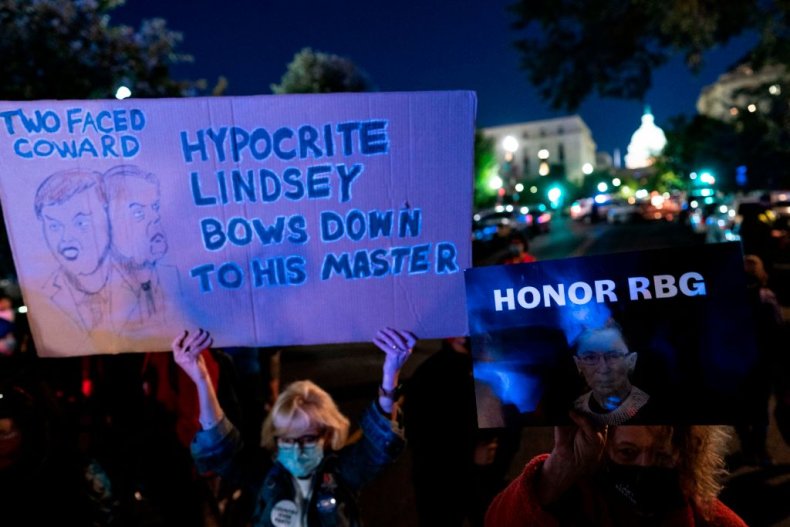 One route for Trump's opponents is to convince four or more Republican senators to block the move.
Republicans hold the balance of power in the Senate by 53 to 47, and a tie could be broken by Vice President Mike Pence.
So far two Republicans—Susan Collins and Lisa Murkowski—have backed a delay to proceedings.