Fox News hosts Pete Hegseth and Trish Regan lashed out at Saturday Night Live's sketch mocking Donald Trump's meeting last week with Kanye West, arguing it presented the president's supporters as either "crazy, racist or dumb."
"They use comedy to push an agenda," Hegseth said on the morning show Fox & Friends, complaining about the SNL portrayal, RawStory reported. "If you support this president you are either crazy or you're racist. Those are the two boxes! So, Kanye can't be racist, then he's got to be crazy," he said."
Regan fully agreed with her co-host, saying his point was "well taken." She then added a third box, saying: "Oh, I forgot dumb … You are either crazy, racist or dumb."
Hegseth also complained about the popular weekly comedy show's decision to present Kanye's mental health in a negative way.
"And then they throw [Kanye's] mental health into it," he said. "When it's an issue they take seriously all day long until it's about time to make fun of someone who's being open, earnest and honest with the president of the United States in the Oval Office."
Backing up Hegseth's assessment, Regan further argued that the media in general represents Trump supporters in a negative way on a regular basis. "It's not just SNL, that is the box the media puts everyone in too," she said.
This weekend's episode of SNL opened with a sketch of actor and comedian Alec Baldwin playing Trump in the Oval Office meeting with cast member Chris Redd playing West. Among other bizarre remarks, Redd's West claimed to have flown to the White House using the power of his "Make America Great Again" hat, said that time was a myth and explained that he was a prisoner of a different dimension.
In his real Thursday meeting with the president, West said that wearing a "MAGA" hat made him "feel like Superman." He also praised Trump for creating jobs and his foreign policy achievements, specifically mentioning North Korea. West also claimed that Trump is "on his hero's journey right now."
West has been widely criticized for his support of the president, especially after a series of recent tweets, a rant supporting Trump after performing on SNL at the end of September and his most recent meeting with the president.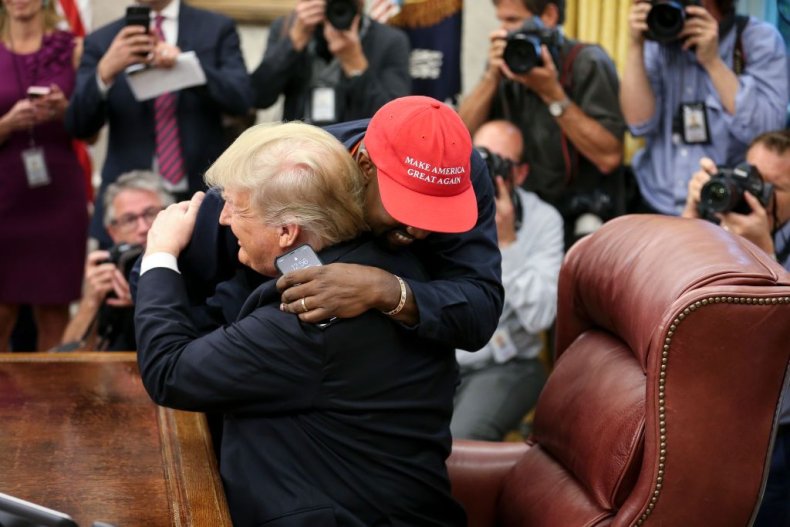 Rapper Snoop Dogg referred to West as an "Uncle Tom" in an Instagram comment earlier this month. The term is best defined as "a black person who is overeager to win the approval of whites," according to Merriam-Webster. Singer Lana Del Rey and actor Chris Evans also recently made headlines for criticizing West.
Republicans and Trump have frequently complained about SNL and its representation of the president's administration. After the sketch show mocked the hearings surrounding Justice Brett Kavanaugh's nomination to the Supreme Court at the end of last month, the president posted to Twitter to say the show is "no longer funny."
"Like many, I don't watch Saturday Night Live (even though I past hosted it) - no longer funny, no talent or charm. It is just a political ad for the Dems," he wrote. However, he praised West, who had performed on the show, saying: "Word is that Kanye West, who put on a MAGA hat after the show (despite being told 'no'), was great. He's leading the charge!"