Dating Website for Trump Supporters Doesn't Care if You're Married, so Long as You're Straight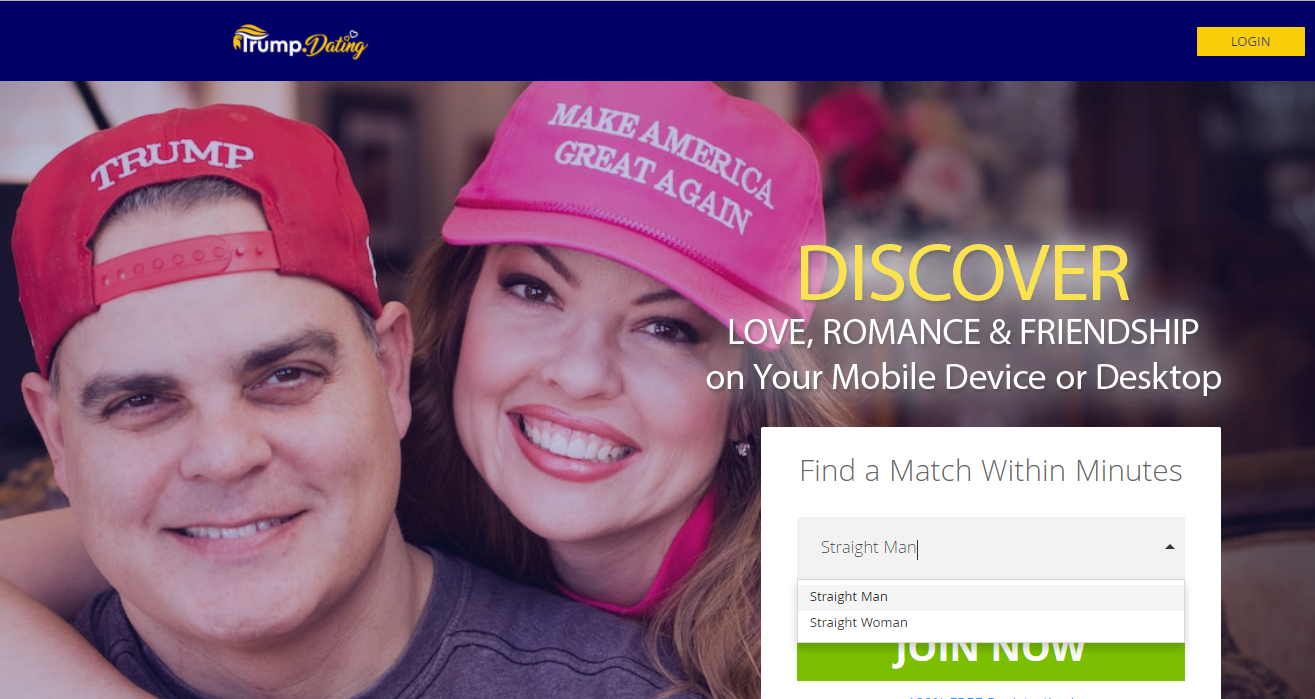 Updated | A website that promises to "make dating great again" matches Trump supporters looking for companionship, but it allows users to register only as a "straight man" or "straight woman." Their relationship status, however, is not limited to single.
Heavily recycling President Donald Trump's campaign slogans and featuring a Trump-like hairstyle in its logo, the dating website Trump.Dating promises to find users "the America First partner of your dreams." The website's creators said they wanted to help those who may have found dating challenging after the Republican candidate won the highest office in the country.
"It's not uncommon to see messages like No Trump supporters or Proud liberal," the website reads. "Wouldn't it be refreshing to already know that your date roots for the same team?"
The website's main picture shows a man wearing a red "Trump" cap backwards hugged by a woman wearing a pink "Make America great again" hat. The couple appears to represent the ideal matchmaking result for the dating website, considering that users cannot choose to identify as LGBTQI (lesbian, gay, bisexual, transsexual, queer, intersex).
In a different phase of the registration process, however, users can choose relationship-status options such as "happily married," as U.K.-based news website Pink News first reported.
The Miami-based company behind the dating website Friends Worldwide boasts a portfolio representing "over 75 diverse dating communities based upon the personal interests and unique lifestyle choices of our members." Their main website presents a similar home page to Trump.Dating, down to the same colors and pagination, but users are given options to choose between different sexual identities, such as "bisexual man," "bisexual woman," "lesbian woman" or "gay man," as well as heterosexual.
The company also said its website members are all "real people looking for real connections." A Pink News reporter created a profile for 38-year-old "asdasdh" and found hundreds of profiles on the website, many of them featuring the acronym "MAGA" in their username, such as San Francisco–based user "MAGAMAKESMEHARD" or "magagirl69."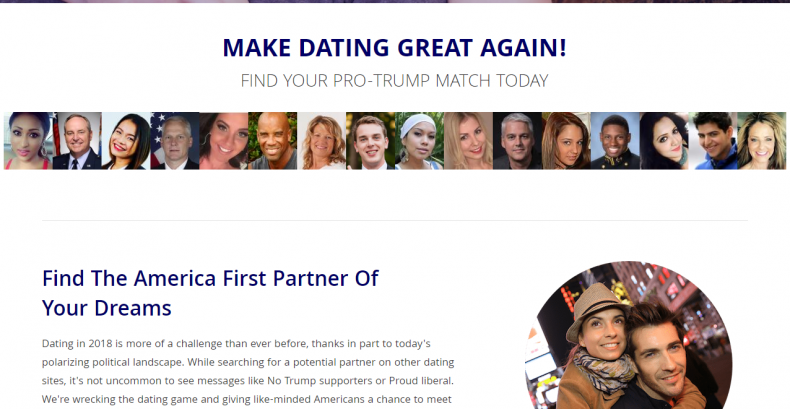 The website's main pages feature mostly generic stock images, although Newsweek could identify one of the photos as portraying General Mark A. Welsh III, former chief of staff of the U.S. Air Force and currently dean of the Bush School of Governance and Public Services. Newsweek contacted the institution to ask for clarification as to whether the picture, which can be downloaded from the Air Force website, was used with permission.
"Dean Welsh has no knowledge that his photo appears on the website. It is being used without his permission," the university's director of communications and external relations Susan Robertson told Newsweek on Tuesday. The picture no longer appears on the website.
The Trump.Dating website is one of many targeting Trump supporters. Domains like TrumpDating.me and TrumpSupportersMeet.com no longer exist, while TrumpSingles.com—a website which, according to a 2016 Newsweek report, was crowded with fake users—and Trump-Dating.com appear to be up and running—both of them allowing for same-sex dating options.
This story was updated with comments from Susan Robertson received after publication.