Trump Supporters Face White Supremacist Radicalization on Social Media | Opinion
On January 6, supporters of former President Donald Trump stormed the Capitol, invading chambers of Congress. Former Vice President Mike Pence and congressional leaders were evacuated by law enforcement. The ensuing riots resulted in the tragic deaths of five people. The striking images from the Capitol shocked Americans and the rest of the world. Such an event has only happened once before in 1814, when British troops captured and attempted to destroy the Capitol building. Trump supporters were called to action by their leader.
Before the riots erupted, Trump sent messages to his nearly 90 million Twitter followers expressing his discontent with the Electoral College vote: "Mike Pence didn't have the courage to do what should have been done to protect our Country and our Constitution [...] USA demands the truth!" Later, Trump alleged that 50,000 lost ballots were found and proclaimed the American electoral process "is worse than that of third world countries."
Although initially silent for hours after the riots began, Trump asked his supporters to go home "with love & in peace." At the same time, he suggested that the unrest that transpired at the Capitol was the result of elections being stolen "from great patriots" and told his supporters to "remember this day forever." On January 8, just before his account was suspended, Trump addressed his supporters, promising that they would not be disrespected or treated unfairly in "any way, shape or form."
Trump's more-tempered response after the riots at the Capitol left large sections of his base feeling like he abandoned them. One supporter in a darknet forum claimed that [Trump] drove a "knife twist in the heart" because he had left them to the mercy of the authorities and suggested that those individuals who stormed the Capitol should be prosecuted to the fullest extent of the law.
Much like global jihadist organizations that use seminal events to promote radicalization within individuals or groups, far-right organizations treat crises as opportunities to disseminate their radical ideology. According to an analysis of white supremacist communications, conducted by the International Institute for Counter-Terrorism (ICT) at Interdisciplinary Center Herzliya, a new and worrying phenomenon is emerging where white supremacist networks are attempting to leverage the anger of Trump supporters in order to engage in coordinated propaganda and radicalization campaigns.
Among the ideological currents within white nationalist ideologies, the one considered the most extreme is "accelerationism." This ideology advocates that Western governments are corrupted beyond repair as a result of being too liberal and pluralistic. As such, adherents believe that a new civil war is inevitable and advocate using terrorism to accelerate the collapse of society by mobilizing white men into action.
Based on the monitoring of far-right forums, members of the white supremacist movement are targeting an overwhelming percentage of Trump supporters who say that the election was neither free nor fair. One Telegram user described the various consciousness stages Trump supporters must pass until they accept their radical ideas, while another post described how valuable the election loss was to accelerationists since Trump supporters are "primed, ready, and hungry for the Solution only [white supremacists] can offer." The post adds that potential recruits don't need to praise Adolf Hitler, but simply need to state that they are against the system and support direct action against it.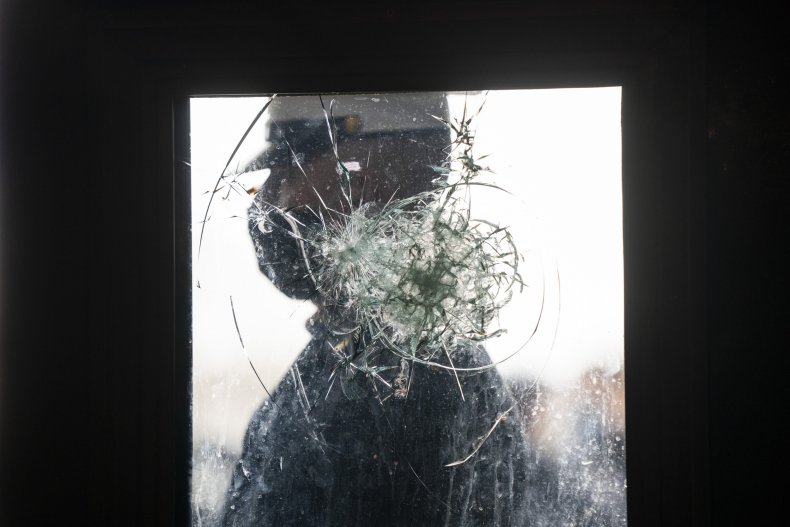 To be successful in their radicalization efforts, white supremacist actors offer advice on how to effectively disseminate their propaganda in order to maximize recruitment. One method involves going to websites frequented by Trump supporters and beginning a process the far-right calls "red pilling." This is done by showing a person photographs, video clips, PDF documents and other means of propaganda. One Telegram post explicitly argued that Trump supporters must be red pilled on Trump's official Telegram channel, Parler, Reddit and Twitter pages.
White supremacists also highlight the importance of engaging with Trump supporters strategically, when attempting to radicalize them. One Telegram post advocated creating propaganda related to the American Revolutionary War to exploit the patriotism felt by many Trump supporters. While another user ordered his followers not to disseminate posts related to Hitler or Nazism and making sure Trump supporters were treated like "family."
In the past, white supremacists in the accelerationist movement have successfully radicalized lone-wolf actors, resulting in mass shooting incidents like the one at the Tree of Life Synagogue in Pittsburgh and two mosque attacks in Christchurch, New Zealand. According to the UN Counter-Terrorism Committee Executive Directorate (CTED), there was a 320 percent increase in the number of far-right attacks globally from 2015-2020.
Following the inauguration of President Joe Biden, as well as the ongoing efforts of far-right activists to leverage the COVID-19 pandemic to promote their agendas, the danger of white supremacist radicalization will likely increase. Security and intelligence forces must be cognizant of this new phenomenon to prevent it from evolving into a more serious threat than it currently poses.
Bradley Martin is the executive director for the Near East Center for Strategic Studies.
Dr. Liram Koblentz-Stenzler is a researcher and head of the Global Far-Right Extremism Desk at the International Institute for Counter Terrorism (ICT).
Alexander Pack is a research intern on the Global Far-Right Extremism Desk at the ICT.
The views expressed in this article are the writers' own.