Trump Supporters Harass Biden Bus in Texas as Kamala Harris Campaigns in State
Supporters of President Donald Trump surrounded a Joe Biden campaign bus as it traveled through Texas on Friday, leading the campaign to cancel some stops out of safety concerns as Biden's running mate Senator Kamala Harris hosted three events elsewhere in the state.
Democrat Sheryl Cole, a member of the Texas House of Representatives representing District 46, tweeted: "This is a 1st for me - but we just cancelled a joint event in Pflugerville w/ @JoeBiden campaign, @AustinYoungDems, & more, due to security reasons. Unfortunately, Pro-Trump Protestors have escalated well beyond safe limits."
Social media users posted photos and videos of vehicles decked out in Trump gear surrounding a Biden bus as it traveled down I-35, from San Antonio to Austin. The Biden events were part of the "Battle for the Soul of the Nation" bus tour and invited prominent Democrats throughout Texas to show their support for the Biden-Harris ticket.
Erin Zwiener, a Democrat up for re-election in Texas's House District 45, was waiting along with her supporters for the bus to arrive in San Marcos, local newspaper My Canyon Lake reported. She confirmed the cancellation of the campaign's event in a Facebook video.
"We're a little bit disappointed right now. Because of harassment from the Trump Train, the bus was not safely able to stop," she said, adding Texas voters would not be intimidated by this kind of behavior.
Another person filmed a video of Trump supporters swarming the Biden bus and posted it to YouTube on Saturday, remarking that the it was the "funniest thing I've ever seen" and that the cars were "literally escorting [Biden] out of town."
The bus appeared briefly in downtown Austin, where Democratic politicians were meant to hold a "Closing Argument" rally at 5:30 p.m. on Saturday, according to local station KEYE. But reporter Jordan Bontke posted a video on Twitter capturing Trump supporters as they shouted at the bus, accusing Biden of being a "Chinese communist," and scrambling to get in their cars to follow the bus.
Tariq Thowfeek, the Biden campaign's Texas communications director, told The Daily Beast that holding the event in Austin would have placed Biden staffers and supporters at risk.
"Rather than engage in productive conversation about the drastically different visions that Joe Biden and Donald Trump have for our country, Trump supporters in Texas today instead decided to put our staff, surrogates, supporters, and others in harm's way," Thowfeek said.
While he expressed confidence that Biden's supporters would continue organizing their communities to vote blue, Thowfeek had a message for the Texans who disrupted the campaign's events on Friday: "We'll see you on November 3rd," he told The Daily Beast.
This is not the first time Trump's supporters have harassed the Biden campaign bus. A pro-Trump hearse followed the bus in Houston on Thursday, laying out a casket with a mannequin inside, Trump supporter Kambree Koa tweeted.
Some people interpreted the mannequin, which had dark brown hair, as depicting Harris. "The fact that they had a mannequin with a Black or woman of color's hair, and we have one particular woman in this race of color with that texture of hair which is very offensive and very upsetting," Brazoria County NAACP President Eugene Howard told local station KRIV.
Howard told the outlet that Joe Walz, who organized Trump supporter attendance at the Houston event, later apologized for the casket. "They indicated that maybe the mannequin or whatever was in the casket was designed to perhaps look like the vice presidential candidate, and if that's the case, I completely condemn it, and it really disgusts me," Walz said.
Newsweek contacted the Biden campaign for comment but did not hear back in time for publication.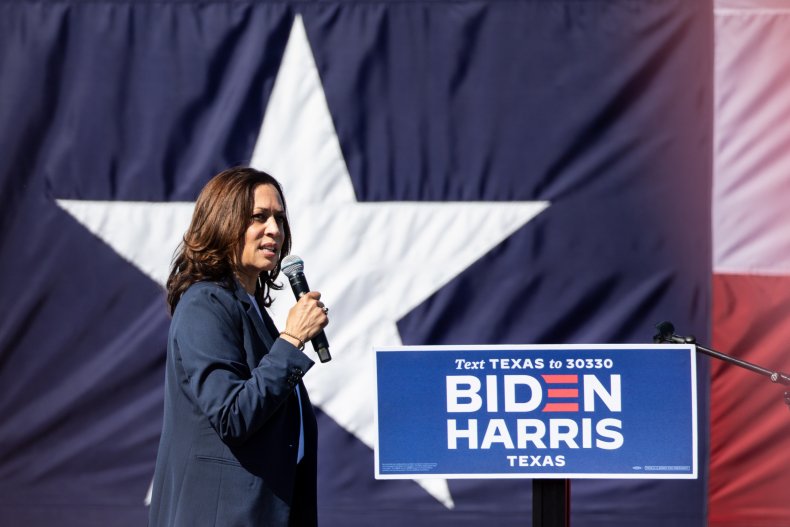 Tensions between the two campaigns in the Lone Star State mounted as Harris hosted events in three Texas cities on Friday, imploring people to head to the polls just four days before the November 3 election.
Once a reliably red state, national polls show Texas has a chance at flipping Democrat this year. Early voting in the state has already surpassed the total number of votes cast in 2016, suggesting a heightened sense of enthusiasm among residents.
A new Public Policy Polling survey conducted on October 28 and 29 placed Biden two percentage points ahead of Trump, 50 to 48 percent.