Trump Supporters Less Likely to Back Face Masks, Mandatory Vaccines: Poll
President Donald Trump's supporters are less likely to back the wearing of face masks in enclosed public spaces and mandatory vaccinations to curb the spread of the novel coronavirus, new polling data shows.
The latest survey from Farleigh Dickinson University found that 46 percent of people who approved of Trump's response to the COVID-19 pandemic backed the proposal for a vaccination against the disease to be mandatory, when it becomes available.
By comparison, more than three quarters (77 percent) of those who disapproved of the president's handling of the pandemic supported mandatory vaccinations conducted through schools and employers.
When asked if they supported requirements to wear face masks in enclosed public spaces, 63 percent of Trump backers said they were fine with the measure. Almost all of Trump's critics (95 percent) supported the mandatory use of face masks.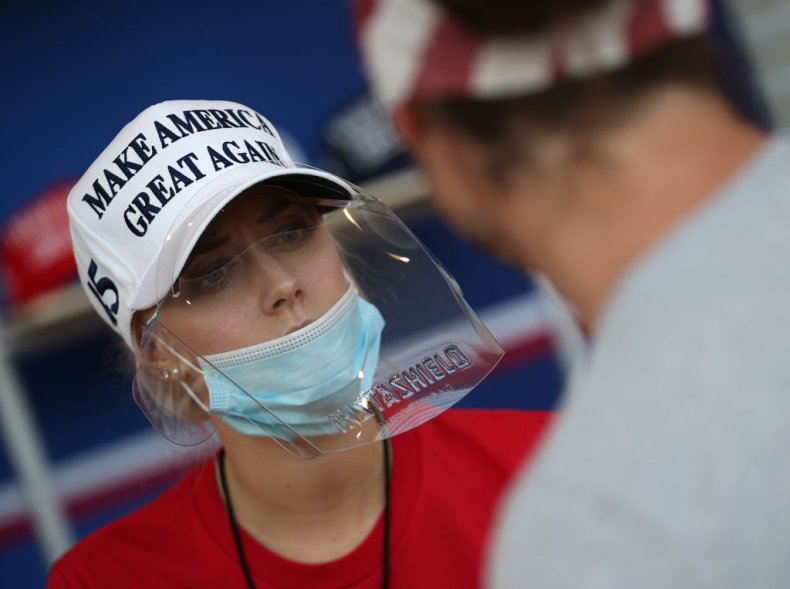 "Masks are becoming political Rorschach tests. For some, they're necessary safeguards against the virus, while for others they're intrusions into one's personal freedom," Fairleigh Dickinson University Poll Director Krista Jenkins said.
"Partisan loyalties have intersected with how many Americans interpret coronavirus protective measures."
The gap between the two groups was tighter on the question of whether people should be forced to self isolate on becoming infected with COVID-19. Ninty-four percent of those who disapproved of Trump's pandemic response said they would support the measure, while 80 percent of the president's backers agreed.
Mandatory temperature checks before entering enclosed public spaces were also supported by large majorities of both groups, with eight-in-ten of the president's supporters approving of the proposal.
Similar differences could be seen when respondents were split along party lines, with Democrats consistently more likely to approve of COVID-19 restriction measures.
Backing for wearing face masks in some public areas had almost unanimous support among Democrats (96 percent), while a little under two thirds (63 percent) of GOP voters felt the measure should be required.
Republicans were also likely to support public bans on gatherings or more than 10 people, with 46 percent telling Fairleigh Dickinson University pollsters they approved of the idea. By comparison, almost eight-in-ten Democrats (79 percent) supported the proposal.
Democrats were also almost twice as likely as their GOP counterparts to accept measures requiring them to share their personal health information with the government.
"Americans are overall supportive of protective measures to prevent COVID-19 infection and spread, but are somewhat less enthusiastic about sharing personal health information with the government because it may be viewed as an invasion of privacy, and might also indicate a lack of trust," Elif Özdener-Poyraz, an assistant professor of pharmacy practice at Fairleigh Dickinson University said.
The new Fairleigh Dickinson University poll surveyed a random sample of 1,003 U.S. adults between May 20 and 25. Its margin of error stands at 3.6 percentage points.