Current polling points to former Vice President Joe Biden becoming the next president of the United States. However, his supporters and Democrats aren't as confident in their candidate as President Donald Trump and his supporters are in theirs.
Going into the final week of the election, Biden has about an 8 percentage-point lead over Trump, according to a RealClearPolitics average. The gap poses a problem for the president winning the Electoral College, according to experts, But Trump is far from giving up and has a busy rally schedule in the days until November 3. Trump's supporters are still waiting in line for hours to secure a spot for one of his rallies, and polls show they're confident he'll pull out an election victory.
Two YouGov polls—one that was done for The Economist and one for Yahoo!—both found 87 percent of Trump's supporters believe he'll win reelection.
Meanwhile, in The Economist poll that was taken between October 25 and October 27, about 76 percent of Biden supporters believe their man would emerge victorious. The Yahoo! poll, conducted between October 23 and October 25, found 82 percent of Biden supporters considered him likely to be the winner.
Republicans—not just necessarily Trump supporters—are also more confident in Trump to win than Democrats' faith in Biden. Eighty-three percent of Republicans put their figurative money on Trump, according to an Emerson College poll released on Wednesday, and 73 percent thought Biden would win. Independents sided with Trump by a slim margin of three percentage points.
A poll from Quinnipiac University released on October 22 found Republicans and Democrats had nearly equal confidence in their candidate to win at 83 percent and 82 percent respectively.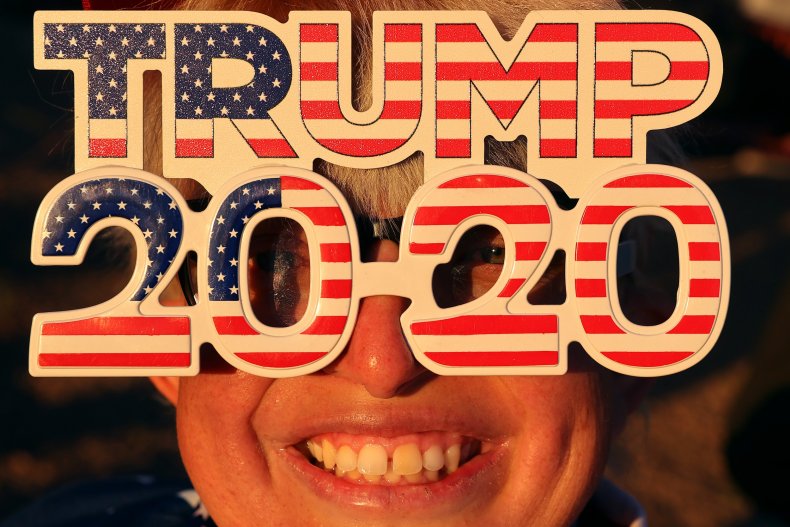 Pollster Frank Luntz told Fox Business host Maria Bartiromo on Wednesday morning that expectations for the outcome of the election was the statistic that interested him the most. His own polling showed 64 percent of Biden's supporters think the Democratic candidate will win, compared to 81 percent of Trump supporters who thought the president would win.
Achieving that victory, Luntz said, requires Trump to win Florida, Ohio and North Carolina. The candidates are within a percentage-point margin of each other in all three states—with Trump ahead in Florida and Ohio, and Biden ahead in North Carolina.
In Florida and North Carolina, Democrats outnumber Republicans in early voter turnout and have cast at least 545,000 more ballots as of Wednesday, according to the U.S. Elections Project. It's not entirely surprising, as polls show Democrats are more likely to plan on voting early, and Republicans are very inclined to cast their vote on November 3.
"By 2 to 1 Joe Biden's voters are voting early. By 2 to 1, Trump's voters are going to vote on Election Day," Luntz said. "That's what's critical, how those people participate. If Trump's voters come out to the polls they still have a shot."