As Trump Supporters Plan Mass Election Protest, Businesses Prepare for Possible Violence
Several Washington, D.C., businesses are preparing for possible violent protests in the coming week from supporters of President Donald Trump.
The Hotel Harrington in D.C. announced on Monday that it would be closed on January 6, which is the day that Congress will meet to affirm President-elect Joe Biden's victory in the 2020 election.
"Hotel Harrington will be closed on January 4, 5 and 6. We will not be accommodating guests, with the exception of our long-term residents who call our hotel home. Refunds will be made for all pre-paid reservations. Notifications are being sent to all reservation-holders beginning today," the hotel wrote in a statement. "While we cannot control what happens outside of the hotel, we are taking additional steps to protect the safety of our visitors, guests and employees."
The announcement from the hotel comes shortly after The Washington Post reported that the far-right, white supremacist group, the Proud Boys, considered the hotel its unofficial headquarters. According to the Post, several Proud Boys members, who have showed continued support for Trump, stayed at the hotel amid protests on December 12, prior the the Electoral College certifying Biden's win.
Similarly, Harry's Bar, which is located inside the hotel, will also be closed on the same dates.
While speaking to the Post, the Proud Boys leader, Enrique Tarrio said that the group's members have stayed at the hotel and frequented the bar in the past, as they are located in Downtown D.C. and are close to the White House.
When asked by the Post if the group would go to the hotel or bar if they were asked to stay away, Tarrio said "Of course not."
"I wouldn't want to go somewhere, a private business where I'm unwelcome," he told the Post. "There's many other options."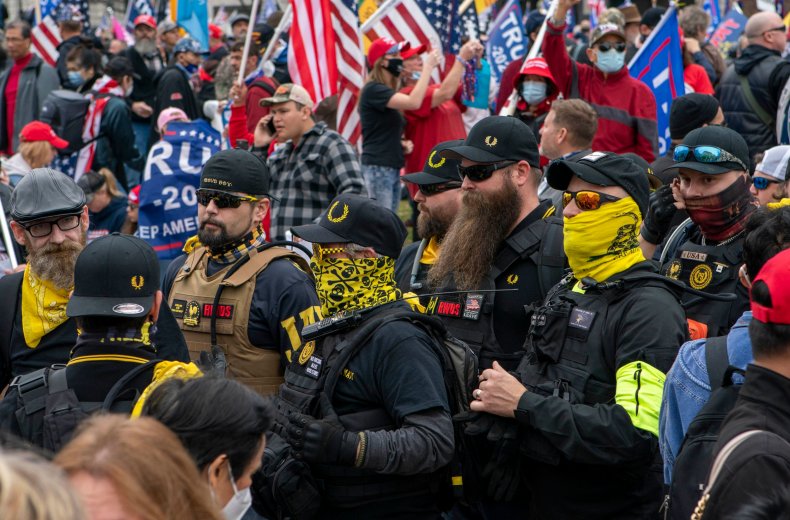 Despite Tarrio's previous comments, many Trump supporters headed to the hotel's social media page to post harsh reviews, following the decision to close.
In response to the hotel and bar's decision to close, D.C. resident, Karen Jennings told WRC-TV that she thinks they made the right decision and is concerned about the potential political unrest.
"They don't want the bad publicity because they have to be here when those guys leave in two or three days," she told WRC-TV.
While Trump previously told the Proud Boys to "stand back and stand by" on Saturday, he called for "wild" protests in D.C. on January 6.
"Peter Navarro releases 36-page report alleging election fraud 'more than sufficient' to swing victory to Trump," Trump wrote in a tweet. "A great report by Peter. Statistically impossible to have lost the 2020 Election. Big protest in D.C. on January 6th. Be there, will be wild!"
When reached for comment about the potential protests, the Metropolitan Police Department in D.C. told Newsweek via email that, "It is the duty of MPD members to ensure the safety and well-being of all residents, visitors and demonstrators who come to exercise their First Amendment rights."
"While MPD does not discuss operational tactics, as with any known, large demonstration, we will continue to monitor and assess each activity, and plan accordingly with our local and federal law enforcement partners," the email said. "A traffic advisory detailing road closures in connection with these First Amendment activities is forthcoming."
Newsweek reached out to the Hotel Harrington and Harry's Bar for comment but did not receive a response in time for publication.