Trump Supporters Pray to Clark County Election Office Doors for a Red Nevada Win
Some Trump supporters spent Thursday night praying outside of the Clark County Election Office in hopes of securing a win for the President in Nevada. The southwest state has yet to declare a winner of their 16 electoral college votes.
A video of a handful of women kneeling outside of the building was shared on Twitter by CBS News Producer Alyssa Estrada Thursday night. In it, the women can be heard chanting their own prayers. "They tell me they're praying justice will be done and that righteousness prevails," Estrada commented.
Two of the women wore red hats, one which appeared to be a Trump brand Make America Great Again cap.
As of publication, Biden led Nevada's vote count with 49.7 percent of the vote. Trump trailed with 48.1 percent. The difference was only around 21,000 votes, according to The Associated Press.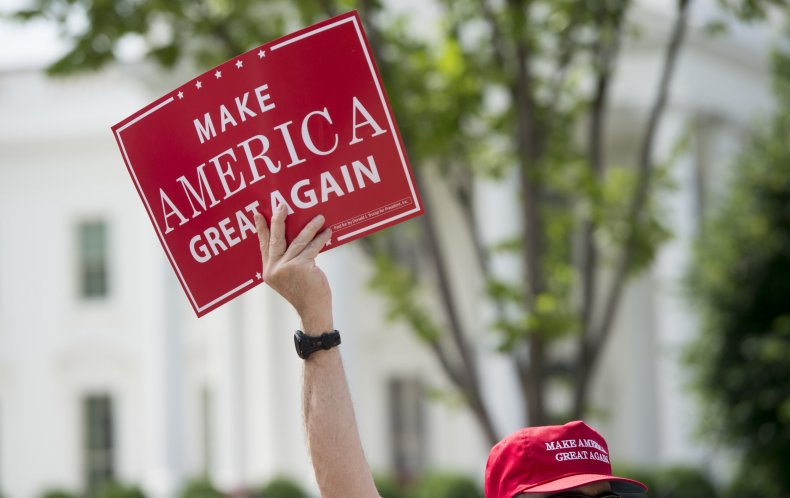 While both Republicans and Democrats have spoken to the power of prayer, the Trump campaign seems to rely heavily on Christian, spiritual reflection. Trump's own spiritual advisor, Paula White, went viral on Thursday for her own Trump-centric chants.
Her static prayers were shared across the social media platform, though most of the tweets turned the prayerful preaching into a meme as well. Someone event put a track by Eminem in the background of the speech and made their own mashup.
It was not White's first time in the spotlight, nor the first time she received a digital roasting. In a sermon she gave on January 5th, White was quoted as beseeching a higher power to "command all satanic pregnancies to miscarry right now."
The footage of the sermon in question made the rounds and soon White found herself explaining that she had not meant her comments literally. "I don't normally respond but clearly this has been taken out of context," White said on Twitter. "I was praying [Ephesians] 6:12 that we wrestle not against flesh and blood. Anything that has been conceived by demonic plans, for it to be cancelled and not prevail in your life..."
Trump supporters continue to hope as throughout the day Friday, political experts and media personnel began to slowly declare a foreseeable victory for Biden. Rush Limbaugh, the conservative radio host, was one of the first to announce Biden would take the presidency, a claim he later took back.
Still, Trump focused his efforts on claiming injustices in electoral counting centers around America. He didn't step down from his claim that Democrats were "stealing the election," and he's already filed a handful of lawsuits.