Trump Supporters Shout 'Traitor' as Joe Biden Plays With Kids at Day Care
A number of Donald Trump supporters standing across the street reportedly yelled slogans against President Joe Biden as he was greeting children at a day care center's playground in Hartford, Connecticut.
The Trump supporters were chanting "F*** Joe Biden" and "Traitor" loudly as they stood across the street from the president, NPR reported.
Biden visited Connecticut on Friday to promote his Build Back Better agenda, which includes child care proposals. He is scheduled to attend a dedication of the Dodd Center for Human Rights at the University of Connecticut.
After Biden's visit, some expressed their discontent with Trump on social media. One person on Twitter accused him of treating Americans as "mortal enemies" and said he is "dividing and conquering us and his followers have no idea they live inside a giant lie."
"These are the same people who wanted us to respect Trump solely based on the fact that he was President," another person wrote about the chanting Trump supporters.
On Friday morning, Biden wrote on Twitter that during the Connecticut visit he would speak about the importance of investing in child care and how his agenda "will keep costs down for working families."
"We can't go back to the way things were before the pandemic, we have to build back better. The Bipartisan Infrastructure Deal and my Build Back Better Agenda will lower everyday costs and build an economy where everyone has a fair shot—not just the wealthy," he wrote in another tweet on Friday, at noon.
The Build Back Better Agenda is a massive spending package focusing on reducing living expenses for families, improving public education and expanding Medicare coverage, among other objectives.
But the progressive legislation has gotten pushback from Democratic moderates because of its price tag. The Biden administration continues to work on moving it forward in Congress, and Democrats have set October 31 as the deadline for passage.
Despite his expressed optimism about his Build Back Better plan, Biden has become less popular among almost all demographics. Fewer Black adults, for instance, say he is handling his job well, according to a September poll from the Pew Research Center.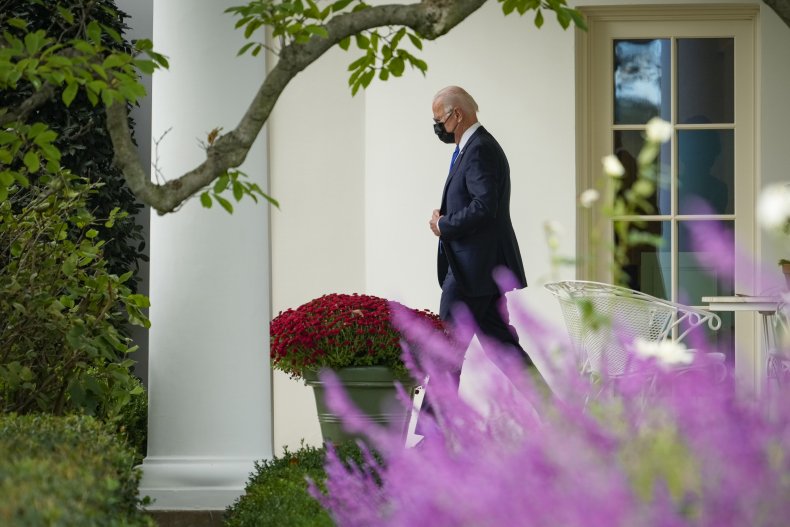 The president's overall approval rating stands at 44 percent, compared with 53 percent who disapprove of his performance as president, according to Pew's survey. This marks a drop from July, when 55 percent of respondents said they approved of his job performance and 43 percent disapproved.
Newsweek contacted the White House for comment but didn't hear back before publication.