Trump Supporters Slam Meghan McCain and Barack Obama's Memorial Speeches
Trump supporters have hit out over Senator John McCain's memorial service – branding veiled references to President Donald Trump as "pathetic" and "deranged."
Among the speakers at the service were McCain's daughter Meghan McCain, and former presidents Barack Obama and George W. Bush, with all three making comments that could be seen as referring to Trump.
"America does not boast because she does not have need to. The America of John McCain has no need to be made great again, because America was always great," Meghan McCain said at the service, which was held at Washington National Cathedral on Saturday.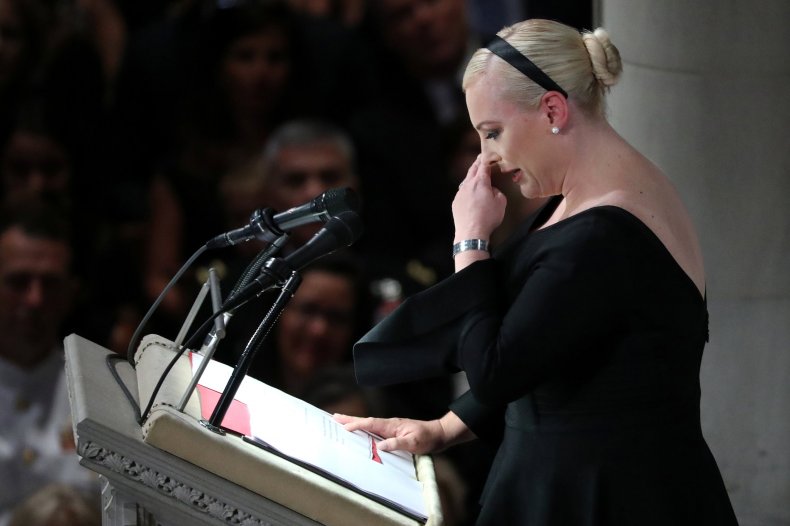 "The America of John McCain is the America of the boys who rushed the colors in every war across three centuries knowing that in them is the life of the republic. John McCain was defined by love," she added.
In his eulogy too, Obama, who was asked by McCain to speak while Trump was reportedly not invited to attend the service, spoke of politics that too often trafficked "in bombast and insult," encouraging people instead to follow the example of McCain, who "called on us to be better than that."
"So much of our politics can seem small and mean and petty. Trafficking in bombast and insult, and phony controversies and manufactured outrage. It's a politics that pretends to be brave and tough, but is instead born of fear. John called on us to be bigger than that, to be better than that," Obama said.
"Today is only one day in all the days that will ever be, but what will happen in all the other days will depend on what you do today. What better way to honor John McCain than follow his example," he added, reminding people there were bigger things than "ambition or money or fame or power."
But the moving speeches appear to have left a bitter taste in the mouths of Trump supporters, with pundits such as Sebastian Gorka and Tomi Lahren lending their voices to those complaining about the tone of the memorial.
"Love him or hate him, he's still their obsession. They can't do anything without talking about him. Must suck to be that deranged and pathetic. ‪#MAGA" Lahren tweeted, while Gorka retweeted a message slamming the memorial service, writing: "Concur. PATHETIC."
Later in the day, other Trump supporters on social media followed their lead, and began hurling slurs at both John McCain and his family.