Trump Supporters Sprayed by Fire Truck at Maga Rally, Dozen Hospitalized amid Scorching Heat
A fire truck sprayed water over crowds of Donald Trump supporters at his rally in Tampa, Florida, where several people hospitalized due to the intense heat.
Crowds of supporters braced the 87-degree sun to wait for the president to arrive at the Raymond James Stadium.
Trump then spoke for nearly an hour at the outdoor rally, gearing up for the election in just four days.
To help keep the crowd cool, rallygoers were sprayed with water by a fire truck at the rear of the crowd.
Pictures show a huge column of water being pumped over Trump supporters who were mainly mask-less, according to NBC News.
Tampa Fire Rescue told the broadcaster that it responded to 17 medical calls during the rally. At least a dozen people ended up going to hospital for treatment, the fire service added.
The 911 calls reportedly included complaints from people struggling to breathe or feeling faint.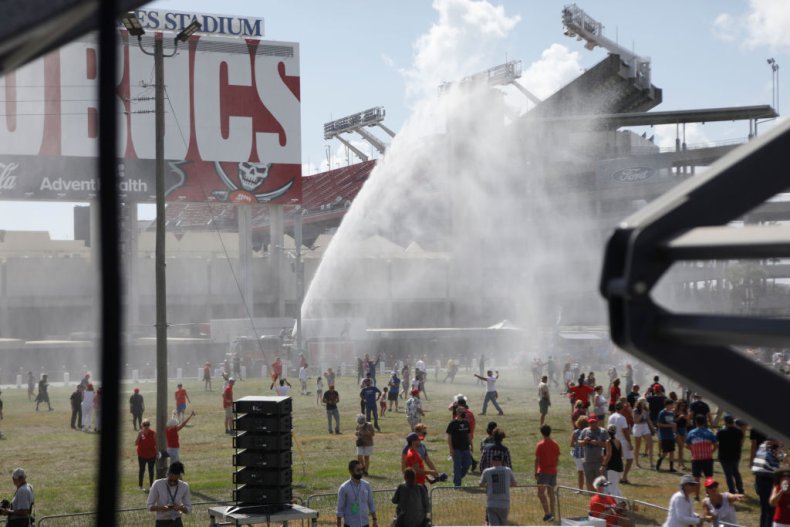 Of those hospitalized, Tampa Fire Rescue said one person had a seizure while another fainted, according to NBC. The other ten people were reportedly listed as "sick" with no further details.
The Tampa Fire Rescue spokesperson also said that calls like these are common especially for large events of this size in humid weather.
It comes just two days after 30 rallygoers in Omaha, Nebraska, had to be given medical attention while a further seven were taken to hospital when transport issues left hundreds stranded in the cold for hours.
During his speech, Trump wore a MAGA baseball cap pulled low over his face to shield from the sun.
He paused his speech when he noticed the water cannon and said: "Look at that. Oh, are they doing that on purpose? Are they friend or foe?
"I don't know, that actually felt good. I felt water on my face and I said where the hell is that coming from. They may be doing that on purpose."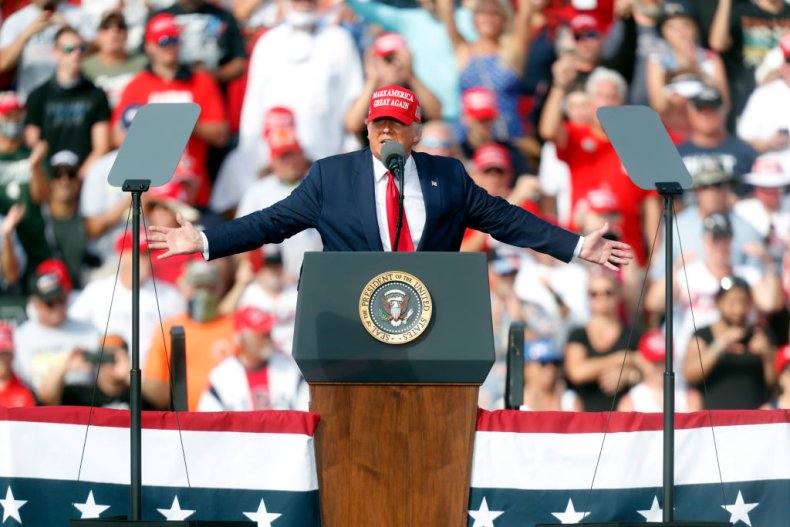 He then joked that if they are "foe", then: "Let's take care of those son of a b******."
He then laughed, saying: "Oh look, they're hitting the press. Oh, there goes the cameras. There goes a million dollars-worth of equipment. Wow. That's cool actually. I'll tell the media I have nothing to do with that."
Twitter users reacted with fury, saying the president had left his supporters vulnerable twice before he "threatens" the fire rescue service.
One wrote: "So Trump goes to the cold and then he leaves his people in the cold so they can freeze. Then he goes to Florida in the heat, and leaves his people and they get sick of the heat. This is like a trend, like it's a death wish to go to a Trump rally."
Another said: "You don't even stand up for you own supporters. You not only expose them to the #TrumpVirus, which you know is deadly, you've sent them to the hospital. First in Nebraska with hypothermia, then in Florida with heatstroke.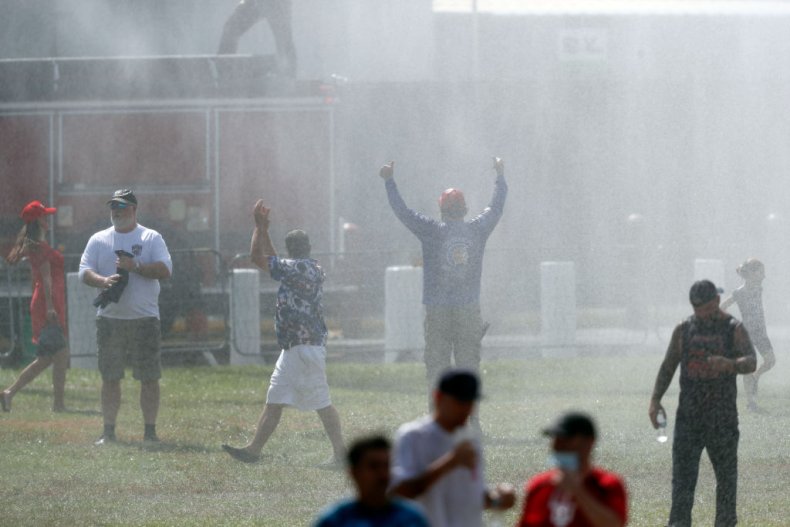 Meanwhile, a third said: "The Most dangerous candidate in history 17 people on the ground with heat stroke in Florida today -Lawrence O'Donnell said "not just the CV or the freezing cold or scalding heat but then threatens the fire dept who tried to cool off the crowd."
The rally opened with a speech by Melania Trump, who praised her husband's time in office. Trump then spoke, attacking Biden as the "worst presidential candidate in history."
On coronavirus he said: "You know the bottom line, though? You're gonna get better. You're gonna get better."
Supporters cheered as he continued to say: "If I can get better, anybody can get better. And I got better fast."
Newsweek has contacted Tampa Fire Rescue and the Trump campaign for comment.
Trump supporters hospitalized after Nebraska rally
The Tampa rally was not the first occasion that supporters sought medical attention at one of his campaign events.
Just two days earlier, 30 rallygoers in Omaha, Nebraska, had to be given medical attention and seven were taken to area hospitals with ailments like hypothermia.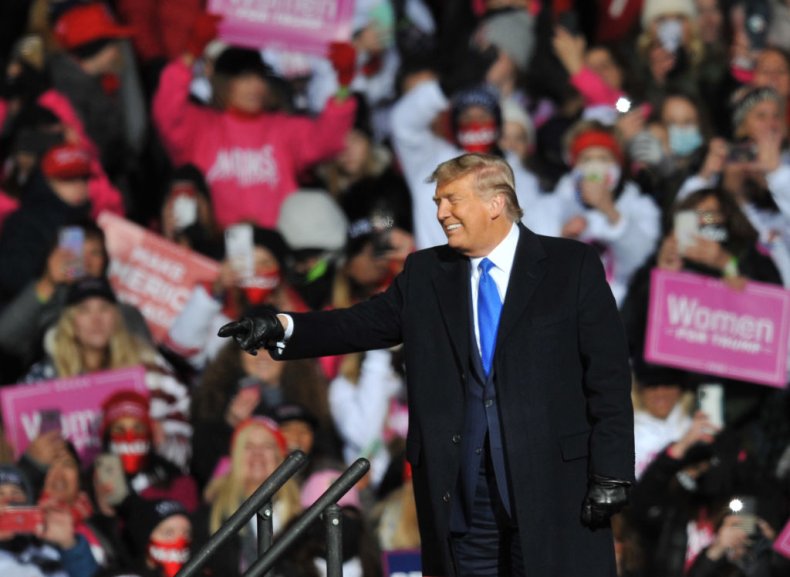 It came as backers of the president were left stranded overnight in the freezing cold after the rally ended in chaotic transport issues.
Hundreds were bussed in to the Eppley Airfield site, leaving their cars in parking lots, but were left wandering up to four miles after coaches failed to pick them up. The temperature in the area was in the mid-30s at the time but as low as 27 degrees with wind chill, according to NBC.
The Trump campaign tweeted that the delay was due to "local road closures" that held up their shuttle buses.
It said on Wednesday: "Because of the sheer size of the crowd, we deployed 40 shuttle buses instead of the normal 15, but local road closures and resulting congestion caused delays. We always strive to provide the best guest experience at our events and we care about their safety."
CNN reporter Jeff Zeleny tweeted at 10:21 p.m. CDT: "President Trump took off in Air Force One 1 hr 20 minutes ago, but thousands of his supporters remain stranded on a dark road outside the rally."
Zeleny, who was at Tuesday night's event, described the scene as a "chaotic cluster" as Omaha police officers scrambled to provide transportation for those stranded.
"It's hundreds and hundreds of people who came on buses - forced to park miles away - who were stranded," he wrote.
"Parking at the Trump rally is full," Omaha Police Department tweeted just after 6 p.m.
"Shuttles will no longer be transporting people to the event. You will not be able to access the rally by foot, Uber, or any other means of transportation. Parking is not allowed in surrounding neighborhoods, roadways or businesses."
By 9 p.m. the event ended but many faced a 3.7-mile walk from TAC Air to the South Economy parking lot at Eppley.
"Officers picking up people wandering in the cold unable to locate their vehicles and are taking them to various parking lots," local news provider Omaha Scanner tweeted.
"Officers who do not have an assignment are going around to parking lots to pick up stranded people and attempt to locate their vehicles. Airport maintenance vehicles also assisting," the account said.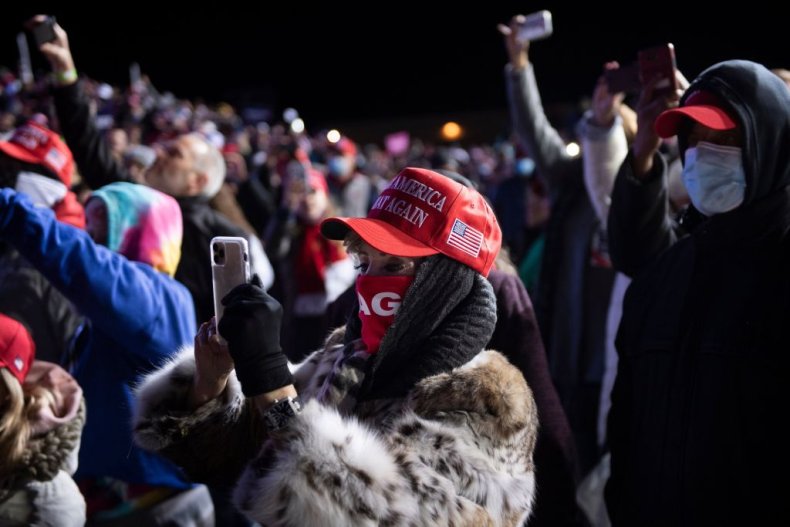 Medics were on hand to treat those, particularly the elderly, with visible medical issues as they walked out.
"Waterloo Medic 811 enroute to Lil' Creighton Code 2 with a 68 y/o male whose initial complaint was possible hypothermia and altered mental status. He is alert and oriented and shivering," Omaha Scanner reported.
"One officer advising 8 to 9 elderly people who are struggling. Separate officer advising they have located an elderly party who is frozen cold unable to move with an altered mental status.
"Officers requesting incident command find a warehouse or somewhere for people to stop to warm up who are walking to their cars."