Trump Supporters That Harassed Biden Bus Organized in Private Facebook Group That Touted QAnon
Some supporters of President Donald Trump who recently harassed a Biden-Harris campaign bus in Texas allegedly organized the incident in a private Facebook page where QAnon references were shared widely. Neither Democratic candidate Joe Biden nor running mate Kamala Harris were on the bus.
Fact-checking website Snopes states that the convoy of pickup trucks that were seen on video surrounding a Biden-Harris bus on Texas' Interstate 35 was partly organized in a private Facebook page called "Alamo City Trump Train." The report also notes that messages between the group's members suggested that they were armed with guns.
According to Snopes, on October 30, one group member posted "#OperationBlockTheBus RN," with "RN" referring to "right now."
The post "was endorsed with 142 reactions, including likes, laughing emojis, or love hearts. "I LOVE IT!!!!," said one commenter. "This is awesome," said another. Other comments included: "Great job!," "GOOD!," "Love it," "This is f***ing hilarious," and "Awesome."
Snopes notes that in its study of the private Facebook group, it found a number of posts and comments referring to the QAnon conspiracy theory, whose followers believe that a cabal of ruling elites are part of a satanic cult involved with child sex trafficking.
One member shared a screenshot they believed to be from "Q"—the eponymous figure purportedly behind efforts to bring down the cabal—and others commented with the conspiracy theory's slogan "WWG1WGA," or "Where We Go One We Go All."
According to Snopes, QAnon logos, signage and flags were also found throughout the Facebook page.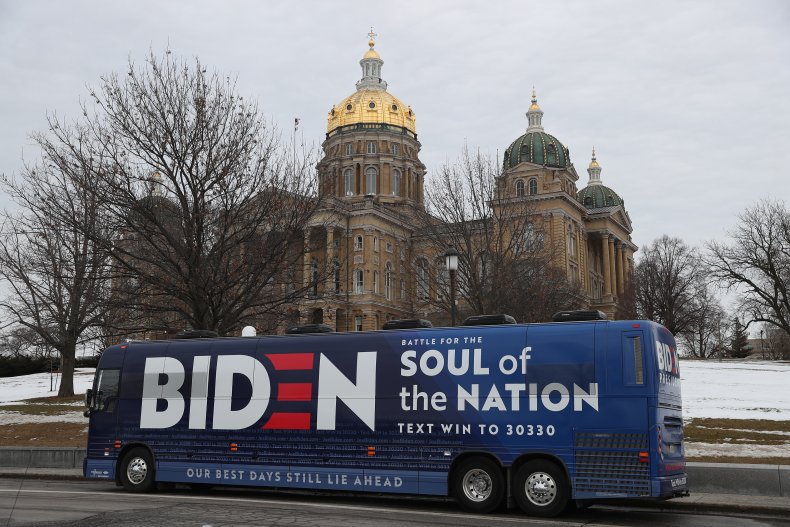 Snopes notes that on October 31, one day after the bus incident, a group member published a post questioning news articles that suggested those involved in the operation were armed, which was met by another group member responding with, "Yep we are armed and dangerous."
"It's Texas. Everyone is carrying!" another member commented.
"Cause it's Texas and we don't f*** around, we are always armed!!!" another comment read.
On October 30, several Trump supporters were seen on video surrounding a Biden-Harris campaign bus. On the same day, Biden's campaign cancelled a joint event in Pflugerville with the Austin Young Democrats and Texas House Representative Sheryl Cole due to security reasons. It is not confirmed that the cancellation is related to the bus incident. The FBI has announced it is opening an investigation.
A video of the incident was shared by Trump on Twitter with a caption that read, "I LOVE TEXAS!"
In response to the FBI investigation, Trump posted another tweet that read, "In my opinion, these patriots did nothing wrong. Instead, the FBI & Justice should be investigating the terrorists, anarchists, and agitators of ANTIFA, who run around burning down our Democrat run cities and hurting our people!"
According to CBS News, the Biden campaign said in a statement that, "rather than engage in productive conversation about the drastically different visions that Joe Biden and Donald Trump have for our country, Trump supporters in Texas [yesterday] instead decided to put our staff, surrogates, supporters, and others in harm's way."
Newsweek contacted Biden and Trump's campaigns for comment but did not receive a response in time for publication.
Correction 11/3/20, 8:30 a.m. ET: The headline of this article was updated to remove the assertion that the Trump supporters following the Biden-Harris bus were armed.