Trump-Supporting Doctor Assaults Hispanic Man Outside Publix, Police Say
A Florida anesthesiologist has been charged with a hate crime for assaulting a Hispanic man outside a supermarket.
Dr. Jennifer Susan Wright, 58, of Miami Springs, was arrested on Friday following the alleged assault on January 20, the day of Joe Biden's inauguration.
The Miami Herald reported that Wright became enraged after a man asked her in Spanish to keep her distance due to COVID-19 while waiting in line to pay for groceries at a Publix store in Hialeah, a predominantly Hispanic suburb of Miami.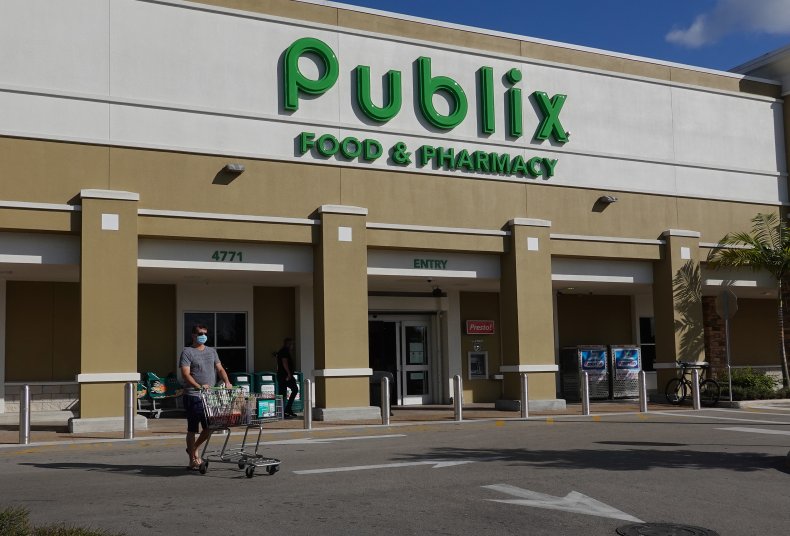 Police said that Wright ignored the man's request, so he asked again in English.
According to an arrest report obtained by the Herald, Wright responded by "mumbling bad words." The man ignored her and began walking to his car.
But Wright then approached the man in the parking lot as he was loading his groceries in his car and got close to him. When he asked her to back up, she became more enraged and hurled a racial slur at the man, according to the arrest report.
"We should have gotten rid of you when we could," she said, according to the report. She also reportedly said that "this is not going to be Biden's America, this is my America" and "we should have burned it all."
Wright also went on "to stab the victim's vehicle with her keys while saying he needed to go back to his country," the report said.
As the man tried calling for help, she punched and kicked him and tried to stomp on his phone, according to police.
Wright eventually fled the scene in her vehicle. She was arrested outside her home in Miami Springs on Friday, and later posted bond, the Herald reported.
She is charged with criminal mischief, tampering with a victim and battery with prejudice under Florida's hate crime law.
Online records list Wright as affiliated with the Mount Sinai Medical Center in Miami Beach.
Wright, Mount Sinai Medical Center, Publix and police in Miami have been contacted for comment.
According to the Herald, Wright was known to be a fervent Trump supporter in her community.
She posted photos on social media wearing a red Make America Great Again hat as well as pro-Trump and anti-Democrat memes. At Halloween, she displayed a mannequin made to look like Biden on her lawn alongside a sign that said: "Expose the Biden Crime Family."