Trump Supports Granting More Small Business Loan Money Immediately, Mnuchin Says
Secretary of the Treasury Steven Mnuchin said President Donald Trump is in favor of granting more federal loans to small businesses, as stimulus negotiations continue to stall.
"The president would very much support signing into law additional PPP [Paycheck Protection Program] money immediately," Mnuchin said during a congressional hearing.
Mnuchin and Federal Reserve Chairman Jerome Powell testified before the House Financial Services Committee on Tuesday, discussing their financial institution's responses to the coronavirus pandemic and its economic fallout.
Mnuchin optimistically described the nation as being in the "midst of the fastest economic recovery from any crisis in history" and painted a hopeful picture of "tremendous" growth in the third quarter. Although he noted that half of the job loss from the pandemic has not yet returned, he called the 8.4 percent jobless rate a "notable achievement."
However, the Treasury Secretary stressed that a second stimulus package is needed and that it should target children, employment, as well as tourism and restaurant industries.
"The President and I remain committed to providing support for American workers and businesses," Mnuchin said. "I believe a targeted package is still needed, and the administration is ready to reach a bipartisan agreement."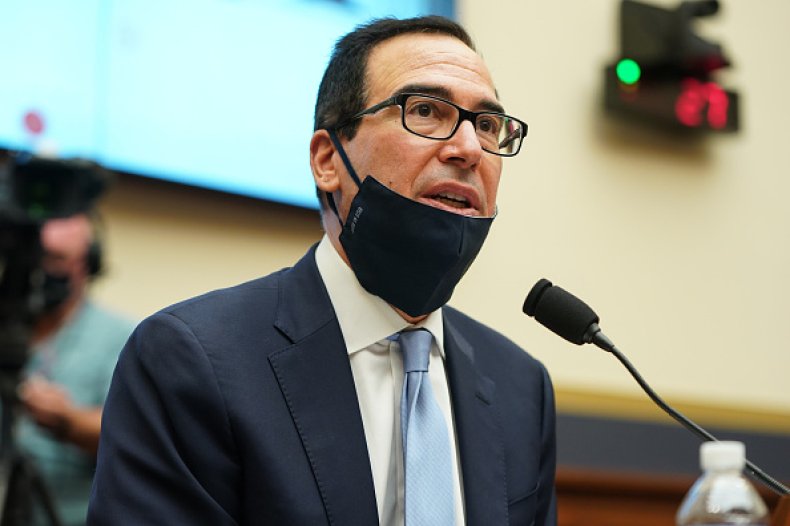 Mnuchin has represented the White House during the negotiations. House Republicans have been unable to strike a deal with the Trump administration over a second round of coronavirus aid.
House Speaker Nancy Pelosi has refused to budge on her price tag of $2.2 trillion, a figure substantially larger than GOP lawmakers have been willing to support.
Mnuchin noted that although he is eager to support a boost to small businesses through PPP loans, "we are in a very different situation than we were last time." In March, Congress pushed nearly $3 trillion in federal funds through the CARES Act, which expired at the end of July.
"At that time, the entire economy was shut down," he added.
Earlier this month, the secretary said both Democrats and Republicans want a bill that would focus on kids, jobs and small businesses, which he described as "parts of the economy that need more work," in an interview with CNBC's Squawk Box.
A new bipartisan bill has received Trump's blessing but Pelosi remains adamant on the initial bill proposed by House Democrats.
Last week, the president said he agreed with a lot of the bill and that he liked "the larger numbers" in the $1.5 trillion proposal.
The U.S. Treasury referred Newsweek to Mnuchin's earlier remarks when asked for comment.