Trump Supports SCOTUS Decision Ruling Against COVID Restrictions For Religious Services in Thanksgiving Tweet
In a Thanksgiving tweet, President Donald Trump celebrated Wednesday night's Supreme Court decision ruling against COVID-19 restrictions for religious services.
"HAPPY THANKSGIVING!" Trump tweeted in response to a tweet announcing the decision.
Late Wednesday night, the Supreme Court ruled in favor of religious organizations, blocking New York Governor Andrew Cuomo from enforcing attendance limits at religious services. The 5-4 vote was the first in which the court's newest member and Trump-appointee Justice Amy Coney Barrett played a decisive role.
In an unsigned opinion, the majority said the governor's restrictions, imposed to combat the spread of the coronavirus, violated the First Amendment's protections for the free exercise of religion.
Chief Justice John Roberts and the three liberal justices dissented.
"Justices of this Court play a deadly game in second-guessing the expert judgment of health officials about the environments in which a contagious virus, now infecting a million Americans each week, spreads most easily," Justice Sonya Sotomayor wrote in her dissent.
Under Cuomo's orders, no more than 10 people were permitted to attend religious services located in New York's "red zones." In "orange zones," attendance was capped at 25.
The strict limits came in response to rapidly rising coronavirus cases in Orthodox Jewish ares but the measures included all "houses of worships."
Cuomo also imposed a shutdown of schools and nonessential businesses in parts of New York City's Brooklyn and Queens boroughs, which have sizable populations of Orthodox Jewish residents. Of the two applications the Supreme Court's order addressed, the one from two synagogues argued that Cuomo, "singled out a particular religion for blame and retribution for an uptick in a societywide pandemic."
Cuomo, in response on Thursday, said the decision had "no practical effect."
"I think that the Supreme Court ruling on religious gatherings is more or less illustrative of the Supreme Court than anything else," Cuomo told reporters on a teleconference. "It's irrelevant from any practical impact because the zone that they were talking about has already been moved, it expired last week."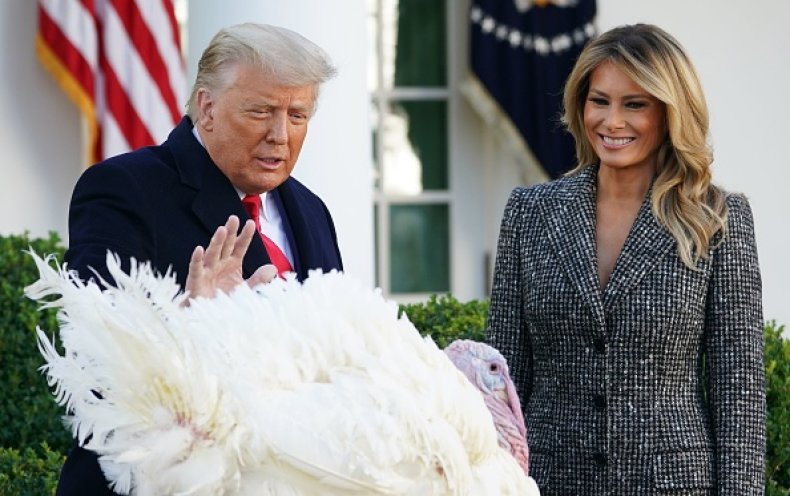 The ruling comes at odds with earlier decisions concerning churches in California and Nevada, when the late Justice Ruth Bader Ginsberg joined the court majority in a 5-4 vote the other direction.
Roberts and the then-four-member liberal wing of the court allowed the states' governors to restrict attendance at religious services in response to the coronavirus pandemic.
Trump's celebration of the latest ruling furthers his ongoing feud with the New York governor. Earlier this month, the president threatened to withhold a COVID-19 vaccine from New York, asserting that Cuomo would politicize its distribution.
"As soon as April the vaccine will be available to the entire general population, with the exception of places like New York state where, for political reasons, the governor decided to say — I don't think it's good politically, I think it's very bad from a health standpoint — he wants to take his time with the vaccine," Trump said at a White House press conference. "He doesn't trust where the vaccine's coming from."
Cuomo told CNN that Trump's comments were false and would not impact the state's access to a vaccine once it becomes available.