Trump Supreme Court Judge Questions if Talking to God Is Free Speech
On Monday, the U.S. Supreme Court heard the opening arguments for a case that puts first amendment rights as a top issue, and Supreme Court Justice Amy Coney Barrett questioned if prayer was a component of free speech.
The case involves Joseph Kennedy, a former football coach at Bremerton High School in Bremerton, Washington, who was put on paid administrative leave after several years of leading his team in prayer on the 50-yard line at the end of every game. Kennedy sued the school district for violating his First Amendment right to free speech and the free exercise of religion.
The Supreme Court justices heard oral arguments on Monday, in which questions of free speech were argued. Justice Barrett, appointed to the Supreme Court in 2020 by former President Donald Trump, asked Kennedy's lawyer, Paul Clement if talking to God was free speech.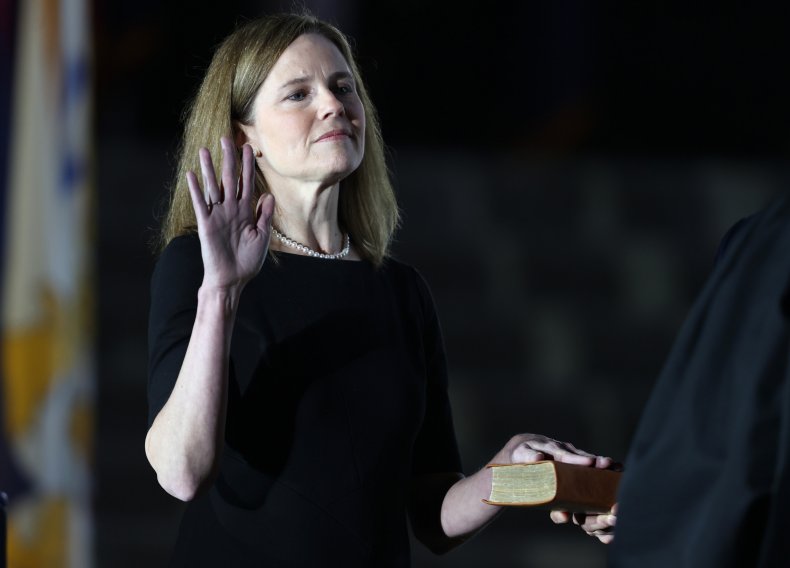 Barrett asked, "Who was he [Kennedy] communicating to, God? Where is this speech?"
Clement affirmed that "he is communicating to God, so that would trigger the First Amendment protection."
Barrett asked again, "Even if he's not communicating to an audience, so he's completely silent, he just takes a knee. That's protected speech. Even if he's not trying to communicate to anyone around him, just to the Almighty."
Clement once again agreed, saying, "Absolutely. It's expressive conduct or speech."
The focus on the first amendment, in this case, will ultimately come down to whether the amendment guarantees the free exercise of religion and free speech, giving a high school coach the right to pray on the 50-yard line, or whether its establishment clause—which prohibits the government from making any law "respecting an establishment of religion"—bars it.
The opposing arguments state that Coach Kennedy's prayers should be considered a government endorsement of religion and possible coercion, arguing that Kennedy was violating students' religious freedom when they felt pressured to join him, especially while acting as a public school employee.
Richard Katskee, representing the school board, argued that "Mr. Kennedy's actions pressured them [students] to pray."
"Some of these kids were just 14 years old," Katskee added.
But the court's conservative majority appeared sympathetic towards Kennedy's case, according to Reuters. Justice Brett Kavanaugh argued that because Kennedy did not order his team to "huddle up" as he would do during his normal coaching duties, the team was not required to join in on the prayer at the end of the game.
However, Right Reverend Douglas Avilesbernal, executive minister of the Evergreen Association of American Baptist Churches, said that silence does not imply consent in an earlier Newsweek report.
"Everyone who plays in a sports team, they know that after the game, the coach is going to speak to you," he says. "They know that's going to happen. If coach goes to the center of the field, you know he has something important to say. The last thing you want to do is not be there ... and if he starts praying, you don't just walk away."
The Supreme Court is expected to make a decision in this case by the end of June.
Newsweek reached out to Amy Coney Barrett for additional comment.