Donald Trump's Oil Moves in Syria Play Into Old Fears of U.S. Policy in Middle East
President Donald Trump's plan to maintain a military presence at Syria's oil fields bears little resemblance to the United States' stated mission in the country and instead resembles much of what critics have long accused Washington of doing in the Middle East—invading and occupying for control of natural resources.
Roughly two and a half years into his presidency, Trump appears to finally be accomplishing his long-expressed desire to withdraw troops from most of northern Syria. In doing so, he seems to also be making good on something else he'd promoted for years—staying "only for the oil," as he has told reporters.
Trump long ago declared the Islamic State militant group (ISIS) entirely defeated, and has hailed his victory over the jihadis along with the country's energy independence as motivation to disengage from costly, open-ended conflicts in the Middle East—an idea that appeals to much of his base. Yet he is prioritizing these fields at a time when international oil supplies mean less to the U.S. than it has since the early 1970s as the country increasingly leads the world in oil production, largely a result of fracking and offshore drilling.
Trump's oil grab is stoking old suspicions of U.S. economic plunder.
Newsweek subscription offers >
"I'm sorry to say, but history has proven that all U.S. interferences of late led only to disaster—no new democracy, no new prosperity, no new nothing except violence, refugees, victims and so forth," Moscow-based PIR Center President Evgeny Buzhinskiy told Newsweek, arguing that "Libya, Iraq and even Yugoslavia after the U.S. bombing" have failed to become zones "of peace and prosperity."
"The United States stands in the world as the main defender of international law and so-called rules, but U.S. presence in Syria is against any rules, against any international law and norms," added Buzhinskiy, who is also a retired Russian lieutenant-general and serves as vice president of the Russian International Affairs Council. "The latest development when President Trump said 'I like oil, I will protect oil fields,' which lawfully belong to the Syrian government, that, of course, has nothing to do with international law and norms."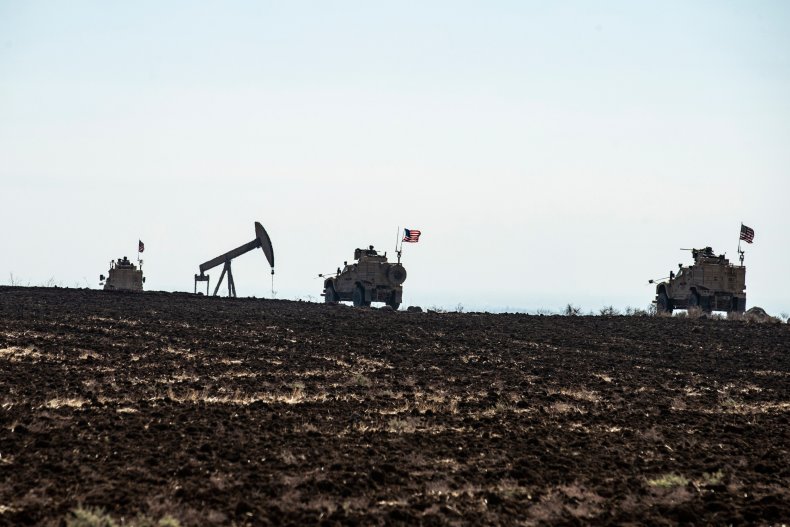 Trump's recent decision to pull troops out of Syria's north and send additional personnel to the oil-rich east is the latest shift in a series of missteps that have come to define U.S. policy in Syria. The move has left the Pentagon-backed, Kurdish-led Syrian Democratic Forces to seek the support of Syrian President Bashar al-Assad, the original U.S. foe, as it faces an invasion led by Turkey and allied insurgents that the U.S. once backed in attempting to depose the Syrian leader.
Newsweek subscription offers >
Syria, torn by civil war since 2011, was one of several nations caught in the shockwaves of open-ended interventions launched by presidents George W. Bush and Barack Obama based on the goals of regime change and pursuing the "War on Terror" that began in the wake of the 9/11 attacks in 2001. A decade later, Obama would withdraw troops from Iraq for the first time since his predecessor's 2003 invasion that toppled Saddam Hussein, while at the same time would invest in opposition movements trying to overthrow Muammar el-Qaddafi in Libya and Syria's Assad.
Robert Ford, the last U.S. ambassador to Syria before ties were suspended in 2011, has long tried to counter what he called a "conspiracy theory" that Washington's involvement in the Middle East was mostly motivated by oil. Ford, who served as a top political adviser at Washington's embassy in Baghdad during one of the most violent phases of a Sunni Muslim insurgency led first by Al-Qaeda and later ISIS, said Trump's position in Syria "plays right into the hands" of those who believe oil was the main factor in the Bush administration's invasion of Iraq.
"Many Americans thought it was about oil," Ford, who now serves as a senior fellow at the Washington-based Middle East Institute and at Yale University, told Newsweek. "They were wrong then and this time they're right, and the president is saying it."
It's not the first time Trump has said it, either. While Trump has often criticized the foreign campaigns of past presidents, styling himself as a non-interventionist who promotes an "America First" policy that would see regional and other international players inherit the U.S. headache of policing the world, he also has pushed his oil control theory.
On a Bill O'Reilly segment in April 2011—the same year Obama was pulling troops from Iraq—Trump discussed a potential bid for the presidency and recalled how "in the old days, when you had wars you win, right? You win, to the victor belong the spoils." He argued that Iran was going to step right in and reap the benefits of Iraqi oil as soon as U.S. troops left and, asked by O'Reilly what he would do as president to stop this, Trump answered: "You stay and you keep the oil."
Eight years of civil war in Syria later, Trump appears to be doing just that. The strategy may be frustrating to foes, but it has also fueled their messaging against U.S. intentions.
"I say that he is the best American president, not because his policies are good, but because he is the most transparent," Assad told state-run television two weeks ago. "Each American president perpetrates all kinds of political atrocities and crimes and yet they still win the Nobel Prize and project themselves as defenders of human rights and noble and unique American values, or Western values in general."
"The reality is that they are a group of criminals who represent the interests of American lobbies such as the large oil and arms companies, among others," he added. "Trump talks transparently, saying that what we want is oil. This is the reality of American policy, at least since World War II. Do we want to get rid of such and such a person or do we want to offer a service in return for money? This is the reality of American policy. What more do we need than a transparent opponent?"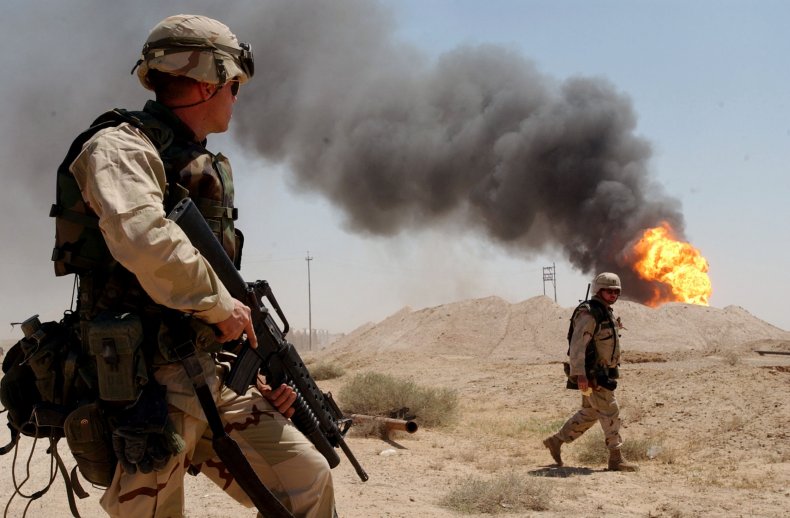 In Syria, such business dealings have often crossed rival front lines. In fact, nearly every faction of this multi-sided conflict has done some degree of business with one another. Newsweek has learned from a senior Pentagon official and a Syrian observer with knowledge of the country's oil trade that as U.S. troops position themselves at oil fields in the country's east, the Kurdish-led Syrian Democratic Forces standing beside them were selling oil to Assad's U.S.-blacklisted administration.
Asked Wednesday if it was true that the Syrian Democratic Forces were selling to the Syrian government, Defense Secretary Mark Esper told reporters: "I'm not sure how the oil market works in Syria, so we'd have to come back to you on that one."
In a statement to Newsweek, U.S. Central Command said only that "U.S. forces are in Deir Ez-Zor to prevent ISIS from regaining control of key oil fields which at one point, provided ISIS an average of $1.5 million in revenue daily" and referred further questions to the State Department and Syrian Democratic Forces. Neither responded to requests for comment regarding the alleged sale of oil to the Syrian government.
Assad, accused of resorting to war crimes to crush an eight-year uprising, managed to avoid the violent, U.S.-sponsored ousting experienced by Hussein in Iraq and Qaddafi in Libya in part due to support from Iran and Russia, two increasingly influential powers in the region. While Trump has at times been accused of not working hard enough to stem—or of even facilitating—Moscow's growing clout in the Middle East, he's doubled down on trying to constrain Tehran, and this strategy, too, involved oil.
The U.S. and Iran's feud dates back not only to the 1979 Islamic Revolution and ensuing embassy hostage crisis, but the 1953 CIA-backed coup that pushed out a prime minister seeking to nationalize Iranian oil and empowered the monarchy that ultimately was deposed more than a half a century later. Both Bush and Obama would further constrict the Islamic Republic with sanctions, but the latter went on to lift them in exchange for Iran agreeing to curb nuclear production as part of a historic 2015 deal that also was endorsed by China, the European Union, France, Germany, Russia and the United Kingdom.
Widely hailed as a diplomatic landmark, the agreement was opposed by many conservatives in both the U.S. and Iran. After more than a year of threats, Trump unilaterally pulled out of the deal in May 2018, accusing Iran of using unfrozen assets to fund militant groups abroad and to further hone its missile development, a move that has lead to harsh sanctions intended to reduce Tehran's oil exports to zero.
What followed has been a new bout of unrest threatening to bring the two to the brink of war in the Persian Gulf region as the U.S. charges Iran with sabotaging oil tankers and of attacking Saudi oil facilities near the Strait of Hormuz, the world's most important oil chokepoint. Speaking at the 33rd International Islamic Unity Conference in Tehran Thursday, Iranian President Hassan Rouhani echoed his Arab ally Assad in criticizing Trump's fixation on natural resources, while acknowledging the president's perhaps inadvertent honesty.
"The ones that are using more clear language lately used to say that we have come to the region to save the Kuwaiti people, or we are here to secure the waterways, or they said we are sending our fighters and troops to fight terrorism," Rouhani, increasingly disillusioned about the nuclear deal his administration signed on to, said in his address. "Now they are saying explicitly today that we are aiming for the Syrian oil wells. We had not heard a more explicit, clear statement than this by the regime in power in the White House."
"We knew the U.S. was looking for the region's oil and plundering Muslims' resources, but we had never heard that some countries are cows being milked and that we should use this cow for our own benefit," he added.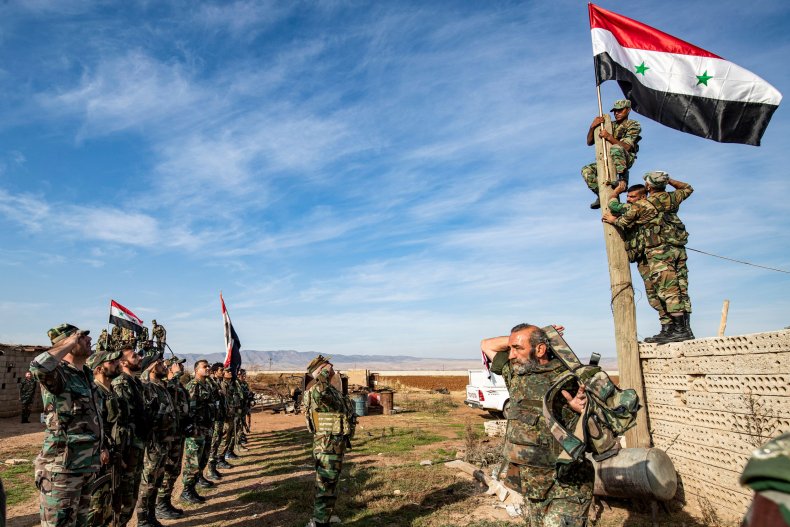 However, Ford, speaking to Newsweek, highlighted that successive administrations over the decades have maintained a vested interest in securing the flow of Middle East oil to ensure a stable energy market, but said that U.S. companies have not established any sort of petro-monopoly to show for the all the Pentagon's upending of regional governments. When it came to countering Iran today, Ford argued that "the biggest concern that Americans have, besides the nuclear issue, is the Iranian expansion that Arab allies find threatening."
While Iran does have significant oil reserves—now reportedly even larger due to the weekend's discovery of a massive field—Ford noted that Syria's oil fields were "not strategically important" due to their size and high sulfur content.
The only reason he said he could imagine that the Pentagon and State Department would hold on to such insignificant assets was to attempt to fund the Syrian Democratic Forces while holding leverage over the Syrian government and its Russian ally, a mission he opposed on principle.
"I am against deploying American forces in a combat situation with no end in sight, with no clearly-defined benchmarks," Ford told Newsweek. "What America needs to realize is that it can't fix Syria, it can't stop ISIS recruiting—and we may actually be aggravating it—I believe it's much better to pull out of Syria."
He called for the U.S. to invest in supporting Syrian refugees—all five million of whom may be susceptible to the narrative that Washington was solely involved in their country for oil. To instead persist in a "preposterous" strategy of trying to extract concessions from Assad is "hope, not actual policy," Ford said.
Donald Trump's Oil Moves in Syria Play Into Old Fears of U.S. Policy in Middle East | World