Donald Trump Decided to Take U.S. Troops Out of Syria a Week Ago and Told Pentagon After Call With Turkey
The White House's announcement Wednesday of a withdrawal of troops from Syria came a week after President Donald Trump made the decision. The Republican leader informed his military officials following a call with Turkish President Recep Tayyip Erdogan regarding an arms deal and a potential offensive against U.S. allies.
While news of the U.S. pullout was known to officials, the decision appeared abrupt to many observers on the outside. Newsweek confirmed the 30-day timeline first reported by The New York Times on Wednesday. Pentagon officials are working on a phased timetable to bring all 2,000 U.S. ground forces back to the U.S. over the next 30 days as American forces shift out of Syria and into Iraq as they rotate back to their home bases, said a Defense Department source with knowledge of the emerging military plans.
Sarah Huckabee Sanders, the White House press secretary, said in a statement, "We have started returning United States troops home as we transition to the next phase of this campaign."
A Defense Department source told Newsweek that the next phase of the campaign has yet to be determined. A second Pentagon source said that U.S.-led airstrikes against the Islamic State militant group would continue.
The State Department canceled Wednesday's press briefing following the announcement.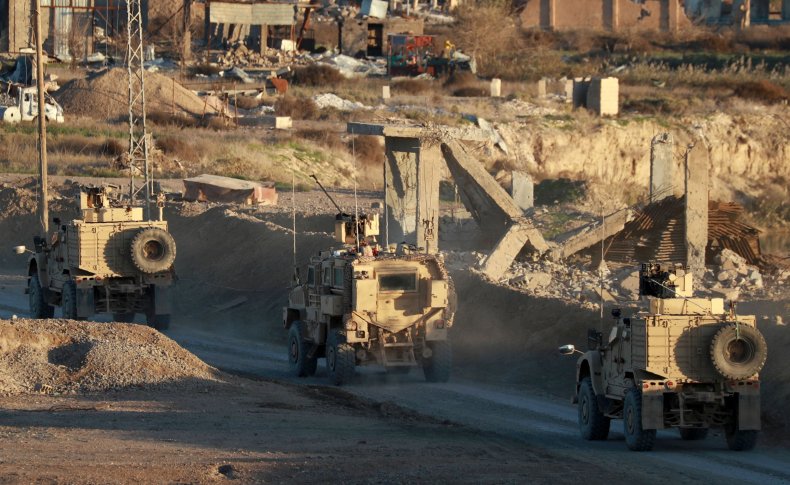 Meanwhile, The New York Times reported that U.S.-backed Kurdish leaders were informed of Trump's decision on Wednesday morning.
Turkish troops and allied Syrian rebel groups have waged offensives that have pulled Kurdish fighters away from U.S. front lines against ISIS, frustrating the coalition's efforts at critical points in the fight. Erdogan recently threatened to wage a new offensive against Kurdish positions in northern Syria, prompting condemnation from the Pentagon and a conversation last week between the Turkish leader and Trump.
Trump was reported to have told off Erdogan on Friday, but a Pentagon source told Newsweek that it was after this discussion that the president made his intentions to withdraw U.S. troops known to officials over the weekend.
But on Monday, Erdogan renewed his threats for a Turkish offensive in the U.S.-controlled territory in northeast Syria during a speech in Turkey's central Konya province. The Turkish president vowed that American forces would not be harmed in pending operations set to commence soon in the region.
The Turkish government has continuously sought to influence a U.S. withdrawal through threats of attack in areas where American forces are co-located with military advisers and private military company representatives, according to U.S. officials who spoke with Newsweek.
At the same time, Congress was notified of a potential arms sale to the Turkish government of 140 Patriot surface-to-air missile variants and equipment worth $3.5 billion, according to a press release from the Defense Security Cooperation Agency.
Congress receives a 30-day notice of any foreign military sales valued at $14 million to non-NATO countries, under federal law. For NATO members, Congress gets a 15-calendar-day notice before the administration can finalize the sale of defense equipment. Congress can object to the transaction in those periods.
A U.S. withdrawal would confirm longstanding fears for the Pentagon's chief ally on the ground. The Syrian Democratic Forces, an alliance of mostly Kurdish fighters, has been the top U.S. ally since 2015, as the former administration began to abandon support for what had become a primarily Islamist-led insurgency against Syrian President Bashar al-Assad. Turkey opposed the U.S. move, considering a key Kurdish group known as the People's Protection Units (YPG) to be linked to the Kurdistan Workers' Party (PKK), which has been waging a war against the Turkish state for three decades.
In a statement cited Wednesday by the pro-opposition, U.K.-based Syrian Observatory for Human Rights, the Syrian Democratic Forces described the U.S. withdrawal as "a stab in the back and a betrayal of the blood of thousands of fighters." The group has suffered hundreds of casualties in recent months alone as it attempted to oust ISIS out of a pocket in the eastern town of Hajin, where the jihadis were finally defeated earlier this week.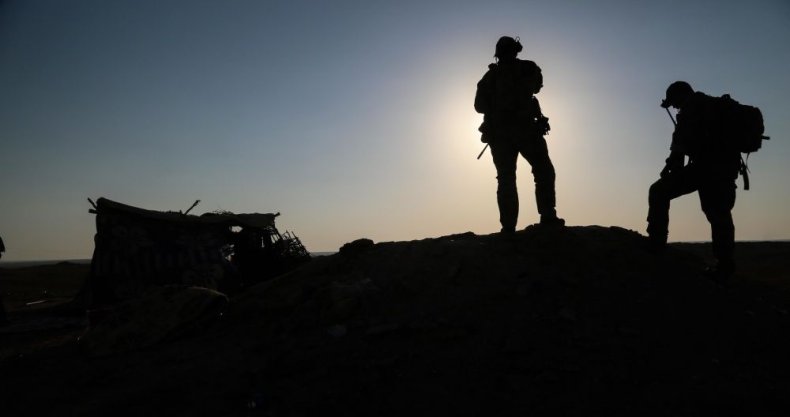 In response to Turkish threats, the U.S. had begun establishing observation posts near Syria's northern border, but the fate of these positions remains unclear in the wake of recent events. With no foreign backing, the Syrian Democratic Forces could end up exposed to a broader Turkish offensive, a situation that has previously led to Kurdish fighters seeking more significant contacts with the Syrian government.
The Syrian government has deemed both U.S. and Turkish presence illegal and believes only Russia and Iran to be legitimate foreign allies in its war against rebels and jihadis. Syrian Kurds have a problematic history with Assad, and his father before him, having accused them of oppressing their political and cultural identities, but have at times embraced the Syrian government in the face of looming threats from Turkey and rebel groups.
A ceasefire brokered by Russia and Turkey has staved off fighting between the Syrian military and the rebels and jihadis of the northwestern province of Idlib, but no such deal prevents an outbreak of violence between Turkish and Kurdish forces. Negotiations between the Syrian Democratic Forces' political wing and Damascus have repeatedly stalled as the latter accused Kurds of seeking to divide the country with the support from the U.S.
Pressure from Saudi Arabia has been mounted against the U.S. government for a withdrawal from Syria, as well to allow the Kremlin to reestablish their dominance over the territory and stabilize Syria through Assad, according to U.S. officials with direct knowledge of the matter.
With the U.S. out of the picture on the ground, Kurds may feel the need to concede to the government for protection, though Assad's main backer, Russia, would likely be wary of any deals made in Damascus that split Moscow and Ankara. Some experts also said Trump's decision would undermine his own efforts to isolate the revolutionary Shiite Muslim power of Iran, which has backed militias fighting on behalf of Assad in Syria.
"A full U.S. troop withdrawal from Syria will signal that as the administration calls for maximum pressure on Iran, it is not even willing to do the bare minimum to counter Iran at the regional level," said Behnam Ben Taleblu, a research fellow for the Foundation for Defense of Democracies, a Washington, D.C.-based think tank.
In any case, the Syrian Democratic Forces would likely be forced to redirect its priorities away from a fight against ISIS, which—despite Trump's tweet—has not been entirely eradicated, though its standing jihadi army has been largely decimated. Asked whether ISIS was indeed defeated, a Pentagon source told Newsweek the answer was "yes" in one sense, but that the threat of an Afghanistan-style resurgence was a genuine concern.
"Currently, there is one city that has about 3,000 fighters in it, but I want to say that throughout Syria, you're looking at anywhere from 25,000 to 30,000 ISIS fighters that remain embedded within the local population," the source said. "That doesn't constitute an active opposition force, and it contains sympathizer reserves and that historically, we know they can be called upon to cause problems guerrilla warfare style."