Trump Takes Credit for McConnell's Poll Rank as 'Most Unpopular Senator'
Former President Donald Trump is taking a victory lap following the release of a poll showing that GOP Senate Minority Leader Mitch McConnell of Kentucky is the nation's least popular senator.
A poll released by Morning Consult on Monday found that only 31 percent of Kentucky voters approved of McConnell, while 62 percent disapproved—the worst performance of any senator in a state-by-state survey recently conducted by the firm. Trump took to Truth Social to say that he was personally responsible for McConnell's dismal performance hours after the poll was released.
"See what I can do to people?" Trump wrote. "This was an easy one!"
The former president has increasingly lashed out at McConnell since leaving office in January 2021, sometimes labeling him a "RINO," a term meaning "Republican in name only," or referring to him as an "Old Crow" or "Broken Old Crow."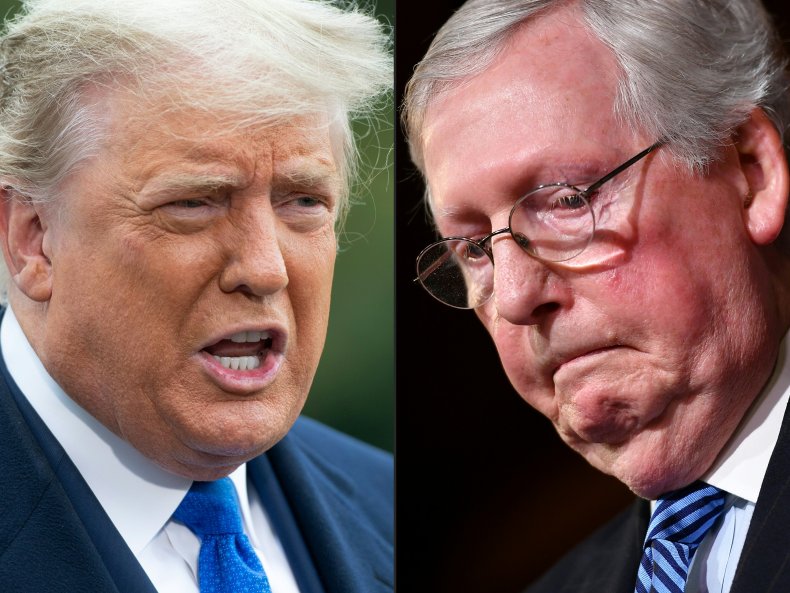 McConnell's rift with the former president widened in part due to his having said that Trump was "practically and morally responsible for provoking the events of" January 6, although he did not vote to convict the former president during his second Senate impeachment trial.
Trump also recently lashed out at McConnell as a "disloyal sleaze bag" on Truth Social over video clips played by the House January 6 select committee last week, which show the Kentucky Republican asserting that the January 6 rioters would not stop Congress from certifying President Joe Biden's 2020 election win.
"We're not going to let these people keep us from finishing our business," McConnell said during the riot in the video played by the committee on Thursday, referring to the mob of Trump supporters who attempted to block the certification by violently storming the Capitol.
"Is this the same Mitch McConnell who was losing big in Kentucky, and came to the White House to BEG me for an Endorsement and help?" Trump posted to Truth Social not long after the clip played. "Without me he would have lost in a landslide. A disloyal sleaze bag!"
While McConnell's performance in the poll released Monday coincides with heavy disapproval and criticism from Trump, the same cannot be said for the performances of all Republican senators that Trump has frequently spoken out against.
The poll found that Alaska Senator Lisa Murkowski, the only Republican who is both up for reelection this year and voted to convict Trump for inciting insurrection at his second impeachment trial, had experienced a net 22 percent improvement in her approval rating during President Joe Biden's presidency.
Newsweek reached out to McConnell's office for comment.