Trump Takes Narrow Lead Over Biden in Pennsylvania Just One Day Before Election, New Poll Shows
With just one day remaining before the 2020 Election, President Donald Trump takes a narrow lead over his Democratic rival Joe Biden in Pennsylvania, according to a new poll.
The poll, conducted by The Trafalgar Group between October 10 and October 31, showed Trump taking a two-point lead over Biden in the state.
Of the 1,062 likely Pennsylvania voters surveyed, 47.8 percent responded in favor of Trump, while 45.9 percent responded in support of Biden. However, Trump's lead is within the poll's 2.93 point margin of error, so the data remains too close to call.
Pennsylvania is one of the key battleground states that could determine the winner of the 2020 presidential election. Although The Trafalgar Group's poll reported a slim lead for the president, the state remains a toss-up with other recent polls reporting a slight lead for Biden.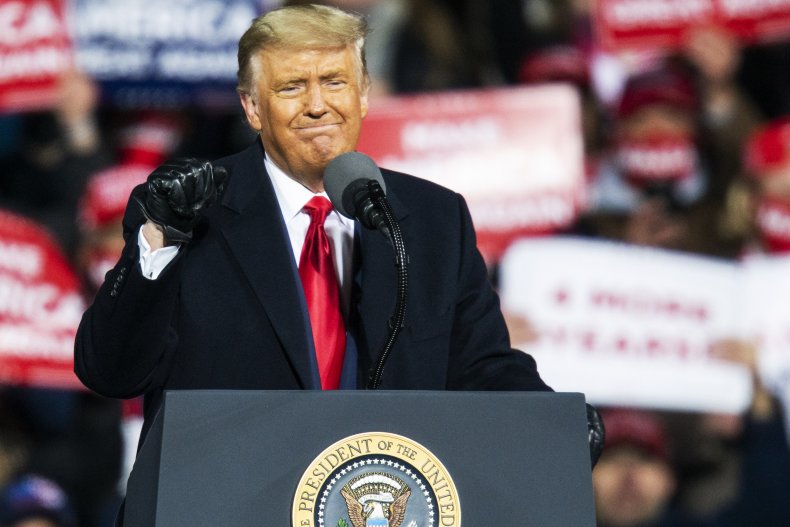 A poll published by Aspiration on Monday found Biden leading Trump in Pennsylvania by the same two-point margin. Aspiration's poll was conducted from October 30 to November 1.
Of the 340 Pennsylvanians surveyed, 51 percent of likely voters supported Biden, while 49 percent responded in favor of Trump. Similar to The Trafalgar Group's reported lead for Trump, Aspiration's lead for Biden was also within the poll's 3.7 point margin of error.
Another poll published on Monday by Rasmussen Reports found a 4-point lead for Biden. The Rasmussen Reports poll was conducted between October 31 and November 1.
Of the likely Pennsylvanian voters surveyed, 49 percent favored Biden, while 45 percent supported Trump. Biden's lead sits just outside of the poll's 3.5 point margin of error.
The final Muhlenberg College/ Morning Call poll of Pennsylvania voters also showed Biden leading by a point margin within the poll's margin of error.
The Muhlenberg poll reported a 5-point lead for the Democratic candidate, which is inside the poll's 5.5 point margin of error. About 49 percent of those survey supported Biden, while 44 percent responded in favor of Trump.
However, the Muhlenberg poll lines up with data compiled by FiveThirtyEight that showed Biden leading in Pennsylvania by 5.1 points. The latest The Hill/Harris battleground state tracker poll of Pennsylvania also showed Biden leading Trump by 5 points as well, 51 percent to 46 percent.
The Biden and Trump campaigns didn't respond to Newsweek's request for comment before publication.
Trump has a scheduled rally in Scranton, Pennsylvania on Monday afternoon while Vice President Mike Pence is scheduled to be in Erie, Pennsylvania at the same time.