Trump Is Taking a Massive Gamble on Iran | Opinion
Assuredly, Trump held eye contact with the recording cameras as he penned the U.S. withdrawal from the Iran deal stating "This will make America much safer". That remains to be tested in the coming period.
As a European in a Washington, D.C. think tank, I was of the conviction that fixes could be added to the deal instead of a U.S. unilateral withdrawal. Yet it was also predictable that the wrecking ball was aimed at the deal. It was among the campaign promises, and Trump had lined up for such a decision by decertifying at an earlier stage.
Trump has consistently been delivering campaign promises even against strong international headwind. Trump pulled out of the Trans-Pacific Partnership and the climate change agreement and he moved the U.S. embassy to Jerusalem.
Following Trump's decision, there are three things to watch out for now.
First, is whether the U.S. withdrawal is the kiss of death to the Iran deal. France, UK, Germany and the EU have decided to stay in the agreement dependent on continued IAEA verification of Iranian compliance. Russia and China support that approach.
The Iran deal is a multilateral agreement with UN endorsement. From Tehran, strong anti-American rhetoric bellows out including against the deal. If Iran were to break out of the agreement, it would quickly reunite the U.S. and Europeans. After all, there is complete transatlantic unity on the importance of Iran not getting a nuclear weapon.
Still, it seems likely that the Rouhani line of staying in will prevail. That will make it trickier. For Europeans and other partners of the USA, the durability of the deal will be tested in the coming months as U.S. sanctions come back into force. The Iranians see continued economic benefits as their reasoning for staying in the deal. If European companies—the likely outcome for all with large-scale business in the U.S.—withdraw out of risk considerations due to U.S. sanctions, then Iran's incentive drops. Over the coming months, Europeans must come up with a policy-response (comply, ignore or oppose) to the U.S. sanctions. In 2010 and 2012, Europeans and Americans were united in the sanctions track. This time it is different.
Secondly, there is the hopeful best-case option that the current disruption could be the spark for new negotiations. Trump has talked about negotiating a new and better deal. Similarly, Macron dangled such a new deal when he addressed Congress in late April. Macron's twist was that his version of a new deal also contained the current Iran deal as one of its four components.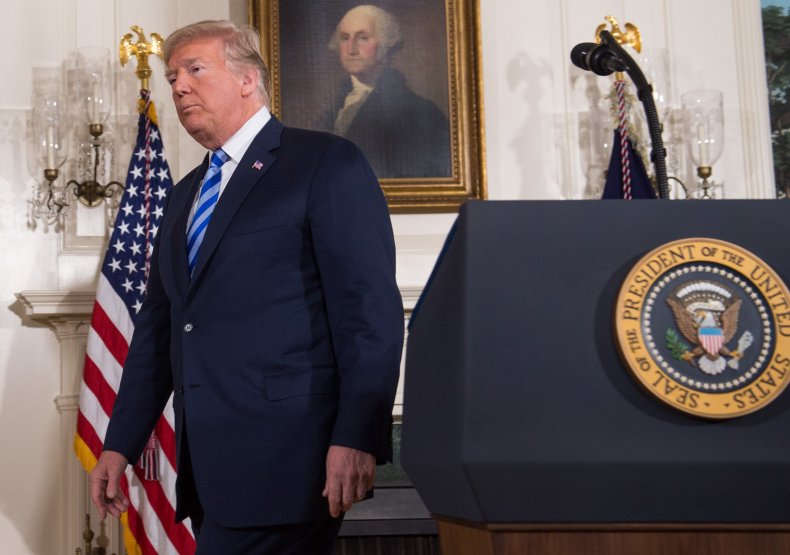 This week's announcement of U.S. sanctions gave another blow to Iran's economy and currency. This is what National Security Advisor John Bolton labelled establishing a new position of strength. Trump sees this similarly to North Korea. Apply maximum sanctions pressure and see if the opponent does come to the table. Right now, it is hard to be optimistic about the quick upstart of such negotiations.
Thirdly, Trump's broader Iran policy beyond the deal seems inchoate. Is it containment? Is it regime change? And is the U.S. willing to use military force against Iran in the region? Currently, contradictions loom. On paper, it is U.S. policy to curb Iran's influence in the region. Still U.S. military leaders remain adamant that the U.S. military mission in Syria and Iraq is solely focused on destroying ISIS.
Syria will be the big testing ground for policy. But just as Europeans might be dissatisfied about withdrawal, U.S. partners applauding the move, such as Israel and Saudi Arabia, might not get all they want from the U.S. countering Iran. Iran's proxies have steadily expanded their presence in Syria, including towards the south where they cross one of Israel's red lines. Israel greeted Trump's announcement with a row of fresh retaliatory attacks on Iranian targets in Syria. The question is if Trump would expand the military mission in Syria to include curbing Iran.
Yet, such military expansion conflicts with another of Trump's deep instincts and campaign promises. Trump wanted the U.S. out of stupid wars in the Middle East. Remember that Trump ran as a singular Republican candidate criticizing the Iraq War. And no more than a month ago, Trump wanted to change Syria policy and "bring our troops back home." Trump added that the U.S. had gotten nothing out of the "$7 trillion [spent] in the Middle East over the last 17 years." It is these conflicting impulses his advisors Bolton, Pompeo, and Mattis must now translate into Iran and Syria policy.
Trump's Iran deal withdrawal has shaken things up. He disappointed the Europeans on withdrawal. Now they must scramble to save the deal and patch a transatlantic divide over sanctions. Equally, Trump might disappoint the Israeli and Saudi with a continued light touch against Iran in Syria. Whether this week's policy will make Americans and the world safer remains to be proven.
Jonas Parello-Plesner is senior fellow at the Hudson Institute.
The views expressed in this article are the author's own.​