Taliban Must Have Read 'Art of the Deal' Before Signing Peace Agreement, Ex-Ambassador Says After Congressman Criticizes Terms
The U.S. and the Taliban signed a peace agreement this weekend that may be a precursor to the end of more than 18 years of war, but skeptics are already warning that the deal's terms could yet prove dangerous.
The deal, signed this weekend after a successful week-long "reduction in violence," could mean that all U.S. and NATO troops leave the country in 14 months. Talks between the Taliban and the Afghan government will now follow.
But critics are raising concerns that the deal is too lenient on the Taliban for little U.S. and NATO gain. The agreement says that the U.S. will cut its in-country troop numbers to 8,600 within the first 135 days, with other allied nations making proportionate reductions.
The deal also stipulates that 5,000 Taliban prisoners will be released by 10 March, in exchange for up to 1,000 government detainees.
New Jersey Democratic Rep. Tom Malinowski was among those uncomfortable with such terms. He suggested on Twitter that " for just one week of less shooting, the Taliban get 4,400 US troops out, and 5,000 of their fighters back. The rest of the deal is all promises that they can pretty much break without consequence, and therefore likely will."
Former U.S. Ambassador to Russia Michael McFaul replied, "Looks like the Taliban read Art of the Deal," referring to President Donald Trump's combined memoir and business-advice book published in the late 1980s.
Trump himself said Saturday it is "time after all these years to bring our people back home," describing America's longest-running war as a "long and hard journey."
"I really believe the Taliban wants to do something to show we're not all wasting time," Trump continued, though warned, "If bad things happen, we'll go back with a force like no-one's ever seen."
The deal was signed by U.S. special envoy Zalmay Khalilzad and Taliban political chief Mullah Abdul Ghani Baradar. Secretary of State Mike Pompeo attended the ceremony as a witness.
The U.S. will lift sanctions against the Taliban and work with the United Nations to remove other sanctions against the group.
The Taliban has said it will not allow terrorist groups like Al-Qaeda to return to Afghanistan and plan attacks against the West, preventing a repeat of 9/11-like attacks.
Pompeo said that the U.S. would "press all sides to stay focused on the goal of a peaceful, prosperous, and sovereign Afghanistan and an Afghanistan free of malign foreign interference where all voices and communities are heard and are represented."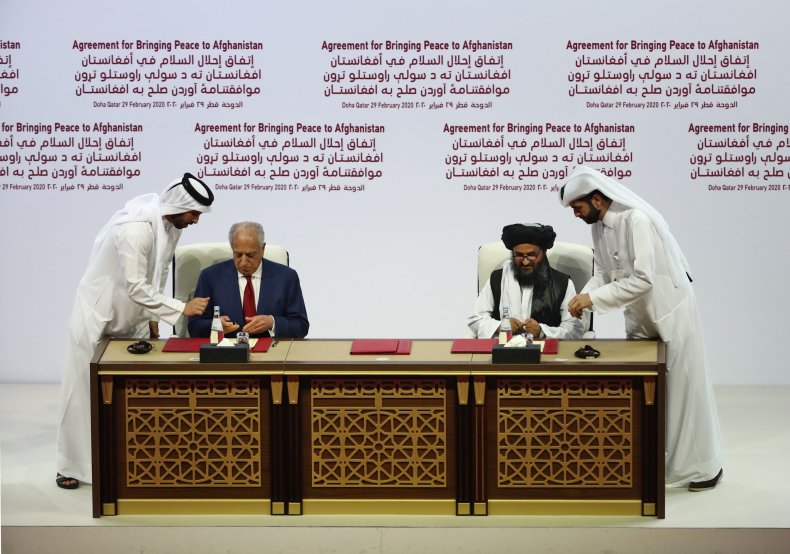 Talks between the Afghan government and the Taliban are due to begin on March 10. To date, the Taliban has refused to negotiate with Kabul, dismissing the government there as an illegitimate Western puppet.
Negotiators will have to overcome years of enmity and violence if they are to hash out a deal, one that will likely see the Taliban given some political power. Civil and women's rights activists have warned that the return of the Taliban may reverse some of the progress made since 2001.
There will be many hurdles to the talks. President Ashraf Ghani—whose September election victory is currently being disputed by rival parties—has already rejected the prisoner release agreed between the U.S. and the Taliban, for example. Meanwhile violence has continued, though at a lower level than before.