Trump Tells Kimmel He Would Debate Bernie Sanders Before the California Primary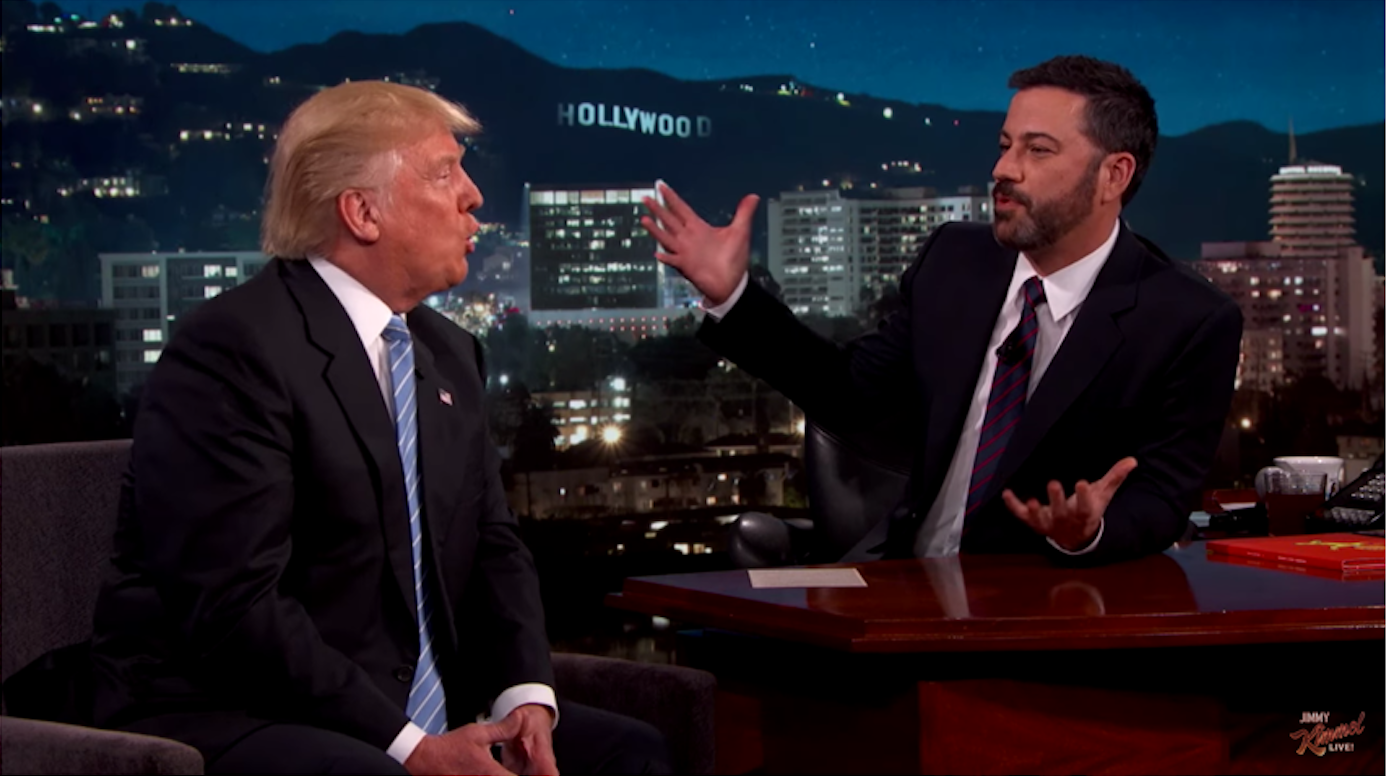 A lot has transpired since Donald Trump's last appearance on a late-night TV program. For one, the former Apprentice host is now only one step away from the presidency, and America has been forced to take the prospect of a Trump-embossed White House a little more seriously than it may find comfortable.
Outside of Jimmy Kimmel's Hollywood studio on Wednesday, a crowd gathered to protest the presumptive Republican nominee's appearance. The dissent rose all the way up to Kimmel's bill for the night, as Grammy winner The Weeknd and frequent collaborator Belly canceled their scheduled appearances on the show. "I just didn't want to feel like I was a part of a celebration for somebody who has beliefs that the majority of us don't agree with," Belly told the Associated Press.
The show went on, of course, because Trump—as he has reminded us time and time again—is a ratings machine. Kimmel had no trouble filling air space with Trump content, from a spelling bee featuring kids with Trump wigs, to a video of one of Trump's speeches played at half-speed, to reading a Grinch-esque, Trump-themed children's book.
There was also an interview.
With Trump in the guest chair, Kimmel was all smiles as he lightly batted his new orange ratings piñata about everything from Ben Carson, to his nicknames for his competitors, to the transgender bathroom issue—which, despite repeated, direct questioning from Kimmel, Trump refused to take a stance on. "Let the states decide" was all he could manage.
Trump smiled and deflected plenty, but an intriguing moment occurred when Kimmel read to Trump a question submitted by Bernie Sanders, who will be Kimmel's guest on Thursday night. "Hillary Clinton backed out of an agreement to debate me in California before the June 7 primary," Kimmel read in the voice of Sanders. "Are you prepared to debate the major issues facing our largest state and the country before the California primary? Yes or no."
"Yes, I am," Trump responded immediately. "How much is he going to pay me?"
The audience groaned before Trump clarified that such a debate would generate—you guessed it—huge ratings, and that if he were to agree to it, he would want to take the money generated by those ratings and give it to charity. When Kimmel asked if he would still do it if the network was the one to put up the money, Trump again agreed. "I've been saying this for a long time," he said. "Get paid. Give the money to charity. Pick good charities."
A pre-primary debate would be a coup for Sanders, who at this point needs a miracle to upend Clinton. The continued bickering of the two Democratic hopefuls was a prominent topic Wednesday night as well, with Trump preening in the guest chair as he told Kimmel how much he enjoys watching Clinton and Sanders duke it out. "I do [enjoy it]," Trump said. "It's getting nasty. I had no idea it was going to be so nasty."
Trump, of course, has also been on the offensive when it comes to Clinton. He's dubbed her "Crooked Hillary" on Twitter, questioned her qualifications repeatedly and dredged up disproven conspiracy theories from when her husband was in the White House. It all comes only a few years after Trump not only praised her but also said she'd make a great president. Kimmel pointed this out to Trump, and Trump, as he has done before, responded by saying that as a "world-class businessmen" it is essentially his job to speak well of people in power. "Everybody's wonderful," he said. "That's the way it is."
"So you were full of shit when you said that?" Kimmel clarified.
"A little bit," said Trump. "Maybe a little bit."