As President Donald Trump spoke of the need to promote "peace" in a speech launching his two-day visit to India in the city of Ahmedabad in the western state of Gujarat, police in New Delhi were cracking down on protesters rallying against the country's new citizenship bill that offers amnesty to those fleeing persecution–unless they are Muslim.
Claiming that his administration "will always welcome newcomers who share our values and love our people," despite overseeing a widespread crackdown on immigration to the U.S. border, Trump said that "every nation has the right to secure and controlled borders" during a "Namaste Trump" event that saw tens of thousands of people in attendance on Monday.
Asserting that both the U.S. and India were "committed to working together to stop terrorists" from entering their countries and to fighting "their ideology," the president then said that his own administration was also working "in a very positive way with Pakistan to crack down on the terrorist organizations and militants that operate on the Pakistani border," as the crowd broke out in cheers.
"Thanks to these efforts, we are beginning to see signs of big progress with Pakistan and we are hopeful for reduced tensions, greater stability in the future of harmony for all of the nations of South Asia," Trump said. India, the president asserted, "has an important leadership role to play in shaping a better future as you take on greater responsibility for solving problems and promoting peace throughout this incredible region."
While Trump spoke of peace, however, a very different scene was playing out in the streets of New Delhi, where major clashes erupted across the city as protesters rallied against India's new bill offering amnesty to non-Muslim undocumented immigrants from Pakistan, Bangladesh and Afghanistan.
Indian Prime Minister Narendra Modi's government has promised to offer sanctuary to those with credible claims of fears of religious persecution under the Citizenship Amendment Act (CAA).
However, with the bill excluding Muslims, critics have said the new rules are part of an agenda from the ruling Hindu nationalist Bharatiya Janata Party (BJP) to marginalize Muslims already in the country and bar others from entering India.
The bill has prompted backlash for more than one reason, however, with many protesters rallying against the CAA over its impact on Muslims, while demonstrators have also been fighting against a proposed National Register of Citizens (NRC) that would require residents to prove that they are Indian, which many fear could result in their deportation.
Meanwhile, others in the north-east of the country, which borders Bangladesh, have also reportedly been protesting against the CAA bill over fears that it will prompt a surge of arrivals from across the border, according to the BBC.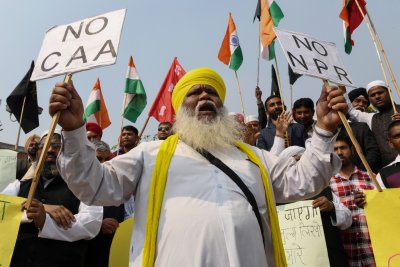 Indian journalist Zafar Abbas told Newsweek he believed the situation was becoming increasingly tense on Monday in at least two localities in North East New Delhi: Maujpur and Chand Bagh. Videos of protests show police clashing with protesters, with some areas clouded with smoke.
Abbas said police had also been "resorting to tear gas shelling" and "trying to convince" protesters to leave the area, "but to no avail." The situation is tense, he said.
The protests, Abbas said, "have been going on in India for more than 2 months now against CAA and NRC."
"A huge police force has been deployed since yesterday at these areas to control violence which resulted in heavy stone-pelting yesterday evening and started today morning as well."
Abbas implored international media on Twitter on Monday to pay attention to the protests, instead of focusing solely on "live coverage" of Trump's visit. "Maujpur violence is more important," he said. "People are scared there."
As anti-CAA and NRC protests broke out across New Delhi, members of the Center of Indian Trade Unions (CITU), a trade union affiliated with the Communist Party of India (Marxist), protested against Trump's presence in the country.
In photos, demonstrators can be seen burning effigies of Trump and Modi in Kochi, while others show protesters holding signs saying "Donald Trump go back" and "we don't need your chicken legs."
Newsweek has contacted Indian embassies in Washington and London for comment.