Donald Trump, Taliban Talk for First Time and Both Want U.S. Out of Afghanistan, Report Says
President Donald Trump has spoken with the Taliban militant group for the first time Tuesday after the two sides signed a peace deal days ago that aims to withdraw U.S. troops from Afghanistan.
Trump told reporters at the White House that he "had a very good talk" with the group that dominated Afghanistan before the 2001 U.S.-led invasion after the 9/11 attacks orchestrated by Taliban ally Al-Qaeda. Trump is the first sitting U.S. president known to have spoken to a representative of the group and the Taliban's press office quickly released details of the conversation.
"Mr. President! Take determined actions in regards to the withdrawal of foreign forces from Afghanistan and do not allow anyone to take actions that violate the terms of the agreement thus embroiling you even further in this prolonged war," Taliban Political Deputy and Chief of Political Office Mullah Abdul Ghani Baradar was cited as saying.
Baradar was attributed as calling the Taliban, officially known as the Islamic Emirate of Afghanistan, "a strong political and military force that aims and has the potential of maintaining positive bilateral relations with you and other world countries."
He appealed for post-war aid, saying, "it befits a developed country like the United States to give complete rehabilitation assistance to a war-torn Afghanistan and this is an appropriate action that shall positively affect the status of the United States."
While the White House has yet to release an official meeting readout, Trump's remarks also were quoted by the Taliban press office.
"It is a pleasure to talk to you," Trump said, according to the Taliban script. "You are a tough people and have a great country and I understand that you are fighting for your homeland. We have been there for 19 years and that is a very long time and withdrawal of foreign forces from Afghanistan now is in the interest of everyone."
"My Secretary of State shall soon talk with Ashraf Ghani in order to remove all hurdles facing the intra-Afghan negotiations," Trump added, with the office noting the president, "said that we shall take complete part in the future rehabilitation of Afghanistan."
The White House has not yet responded to Newsweek's request for comment.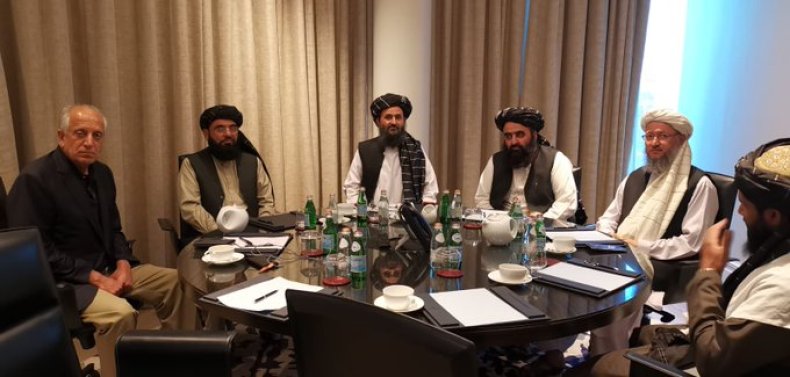 U.S. and Taliban officials signed their long-anticipated peace deal last Friday following an agreed week-long period of reduced violence. That same day, Washington also signed an agreement with the international-recognized Afghan government in Kabul, officially called the Islamic Republic of Afghanistan and not yet endorsed by the Taliban.
Trump told reporters at the White House on Tuesday that the Taliban was now "dealing with Afghanistan, but we'll see what happens."
The Trump administration and has for over a year participated in successive rounds of dialogue with the Taliban in the Qatari capital of Doha in an effort to foster intra-Afghan talks and to end the longest war in U.S. history. Washington has a complex history with the Taliban, established after a CIA-backed mujahideen war that successfully ousted a Soviet intervention in the 1980s, but even after 9/11 the group was never declared a terrorist organization.
The U.S.-Taliban agreement seeks to "prevent the use of the soil of Afghanistan by
any group or individual against the security of the United States and its allies" while also facilitating an "announcement of a timeline for the withdrawal of all foreign forces from Afghanistan." The Taliban and the Afghan government are set to begin their first-ever direct talks next Tuesday.
At present, there are an estimated 14,000 U.S. troops in Afghanistan in addition to 17,000 NATO troops from 39 member states and partner countries.
This is developing news story, more information will be added as it becomes available.