Trump Taps Pence to Lead Coronavirus Response, Says Infection Spread Seems to Have 'Gotten Smaller' in China
President Donald Trump announced that Vice President Mike Pence would be in charge of the United States coronavirus response at a news conference Wednesday.
Pence will be in charge of the White House Coronavirus Task Force and report directly to Trump.
The task force will be comprised of members of the Centers for Disease Control, Health and Human Services, the Department of Homeland Security, the Department of Transportation and the State Department. HHS Secretary Alex Azar has been tapped as the task force's chairman.
"I'm going to be putting Vice President Mike Pence in charge," Trump said, "and he's going to be working with the professionals, doctors and everybody else that is working. The team is brilliant."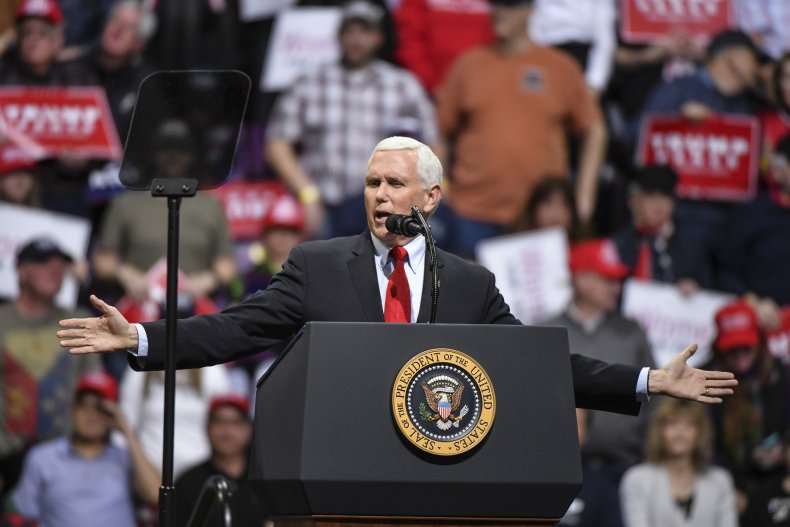 Trump said that the threat of a full pandemic in the U.S. is still low, the situation in coronavirus epicenter China seems to be getting better.
"If you can count on the reports coming out of China," Trump said, "that spread has gone down quite a bit. The infection seems to have gone down over the last two days. As opposed to getting larger, it's actually gotten smaller."
Recent data indicates 10 new cases of coronavirus reported in China, with a total of 2,716 deaths from the infection. In total, 78,074 cases have been reported in China.
Directing his remarks towards Trump, Pence said, "The people of this country can be confident that under your leadership, we will continue to bring the full resources of the federal in coordination with our state and local partners."
The White House declined to provide Newsweek a comment for this story.
Trump explained the thought process behind the budget for U.S. coronavirus preparedness, saying the White House was willing to spend "whatever's appropriate."
"We started out by looking at certain things," Trump said. "We've been working with the Hill very carefully, very strongly, and I think we have good bipartisan spirit for money. We were asking for $2.5 billion and we think that's a lot."
"But the Democrats and I guess Senator [Chuck] Schumer wants us to have much more than that and normally in life, I'd say 'We'll take it, we'll take it.' If they want to give more, we'll do more. We're going to spend whatever's appropriate. Hopefully, we're not going to have to spend so much we really think we've done a great job in keeping it down to a minimum."
Senate Minority Leader Schumer released a proposal Wednesday asking for $8.5 billion in coronavirus emergency funding.
"Congress must act swiftly to confront the threat of this global health crisis," Schumer said in a statement. "Americans need to know that their government is prepared to handle the situation before coronavirus spreads to our communities. Time is of the essence."