Trump targets 'antifa' in protest response, wants 'terrorist' label—here's what that would mean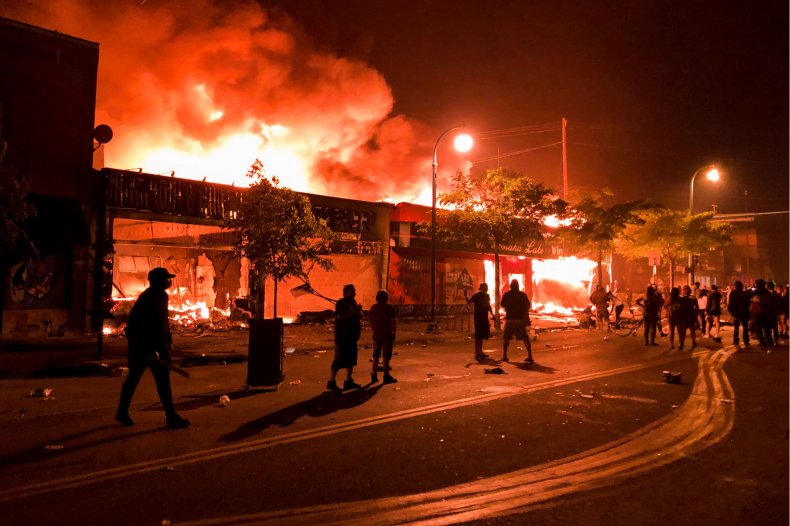 As protests and fiery demonstrations sweep the country, President Donald Trump and some of his closest allies are placing the blame on a loosely formed, mostly far-left political movement.
"The United States of America will be designating ANTIFA as a Terrorist Organization," Trump wrote on Twitter this weekend.
He again took aim at "antifa" during a public address at the White House Monday.
"In recent days, our nation has been gripped by professional anarchists, violent mobs, arsonists, looters, criminals, rioters, Antifa and others," Trump told reporters.
The president's focus on the antifa movement, which has militant elements and is associated with violent activity targeting white supremacists and Nazis, comes as the nation grapples the killing of a black man during an arrest in Minneapolis.
It's unclear how Trump would designate the group as a domestic terrorist organization, a distinction that doesn't currently exist. It's also unclear what such a designation would mean.
But Attorney General Bill Barr signaled he supports the president's push, releasing a statement Sunday after Trump's tweet.
"Groups of outside radicals and agitators are exploiting the situation to pursue their own separate, violent and extremist agenda," Barr said in the statement. "The violence instigated and carried out by antifa and other similar groups in connection with the rioting is domestic terrorism and will be treated accordingly."
Antifa doesn't have a designated organizational structure, leader or spokesperson. How many of the demonstrators identify as members of antifa cannot be calculated.
The wave of protests in recent days have largely been demonstrations against police brutality after the killing of an unarmed black man in police custody in Minneapolis. The four officers involved in George Floyd's death have been fired and one has been arrested.
U.S. Sens. Bill Cassidy and Ted Cruz are among lawmakers who have taken to criticizing "antifa" during periods of unrest—usually linked to police or Trump's policies. They previously called for the group to be labeled a domestic terror organization through Congressional resolution.
"All Americans were rightly sickened and revolted by the brutal death of George Floyd," Cassidy (R-Louisiana) told Newsweek Tuesday. "You're not protesting George Floyd when you're pursuing an anarchist agenda."
Cassidy compared action targeting antifa to the FBI's work infiltrating the Ku Klux Klan and Communist Party in the past.
Cruz (R-Texas) said violent protestors are giving peaceful protestors a bad reputation.
"You're seeing antifa protestors deciding to take advantage of this crisis to wrongly paint these protestors as violent," Cruz told reporters Tuesday. "They are behaving like bigots and we ought to stand united and strong in protecting the safety of Americans of every race."