Trump Tariffs on China Could Make Smartphones, Laptops, Bras and Sneakers More Expensive for Americans
President Donald Trump proposed tariffs on up to $60 billion of Chinese imports Thursday, with the focus likely to be on the technology and telecommunications sector.
Over the next few weeks, the White House will announce a list of imported products that will be subject to the tariffs, according to the presidential memorandum. Although the intention is to protect American companies, the tariffs will undoubtedly lead to higher manufacturing costs for industries that rely on Chinese imports and raw materials, and consumers will likely bear the financial burden.
If implemented, the duty could to lead to lower productivity and result in Americans having to pay more for everyday goods.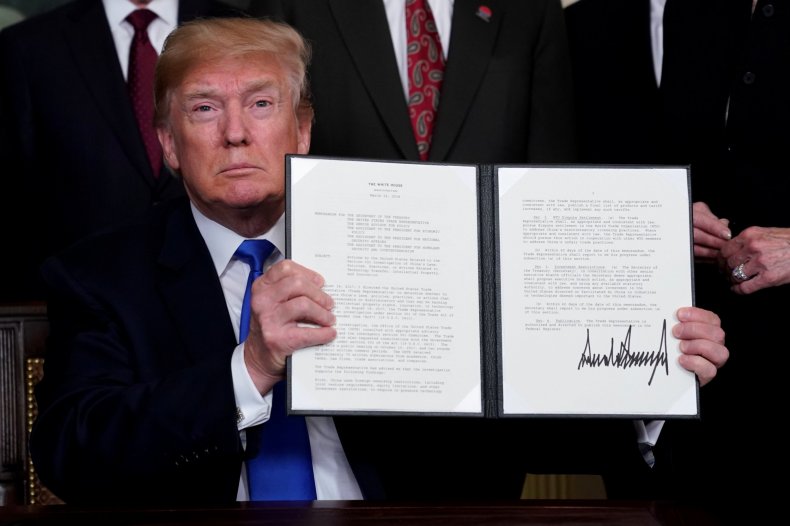 Here are the products that the tariffs will likely make more expensive for Americans:
Technology and electronics—iPhones, Macbooks, iPads
The U.S. technology and electronics industry are pegged to suffer the most from the proposed duties as a large portion of companies who exist within this field are reliant on Chinese suppliers.
Apple—although the American multinational private technology company is based in California, most of their products are mass produced and assembled in China. Last year, the iPhone 7 alone accounted for $15.7 billion of the U.S.-China trade deficit.
Robert Atkinson, president of the Information Technology & Innovation Foundation, said that consumers will pay more—but organizations using technologies productively will diminish.
He added: "Therefore, productivity grows more slowly, the economy grows less and wages grow less. Overall [gross domestic product] grows less."
Retail—Clothing, Lingerie, Sneakers
Victoria's Secret—the Ohio-based organization outsources their manufacturing to Regina Miracle International Holdings Ltd., a Hong Kong company. The group develops and makes the brand's signature bra and lingerie products, which accounts for the largest segment of their revenue.
Adidas and Champion—both these sneaker and athleticwear giants are also dependent on the Hong Kong group for manufacturing and will likely be affected by Trump's trade tariffs. Adidas outsources production to over 100 factories across China.
Earlier this week, Adidas admitted they will have to reinvent their entire supply chain if their products are among the list of goods subject to the tariffs that will be released by the White House within 14 days.
"If it [tariffs] would ever happen, we would go back to the drawing board and start again," Harm Ohlmeyer, Adidas' Chief Financial Officer, said in an interview with CFO Journal.
Ohlmeyer confirmed that most of the retail industry will be forced to do the same.
Trump Tariffs on China Could Make Smartphones, Laptops, Bras and Sneakers More Expensive for Americans | U.S.