Republican Finance Leader Says Donald Trump's Tariff Power Will Be Limited in 2019 After Igniting Trade Wars
Incoming Republican Senate Finance Committee Chairman Chuck Grassley said Sunday that he would look to limit President Donald Trump's power to impose new tariffs.
In an interview with Axios, the seven-term Iowa senator, typically seen as a Trump ally who has voted in favor of the president's policies 91 percent of the time, according to FiveThirtyEight, said he would be interested in limiting presidential authority to impose tariffs, which Trump has justified as a measure to protect national security.
"Maybe the definition of national security, or maybe the conditions under which national security could be used as an excuse, is a little wide," he said.
Grassley, a former farmer, has a largely rural constituency that has felt the brunt of Trump's ongoing trade wars. The president this year promised up to a $12 billion bailout to farmers struggling with new tariffs on soybeans and other agricultural products. So far, the U.S. Department of Agriculture has only issued $356 million to ailing farmers.
Trump's trade wars are also unpopular with corporate America and with congressional Republicans who count free trade as a core party value. As a result, a check on the president's tariff power could be fair game come January 3.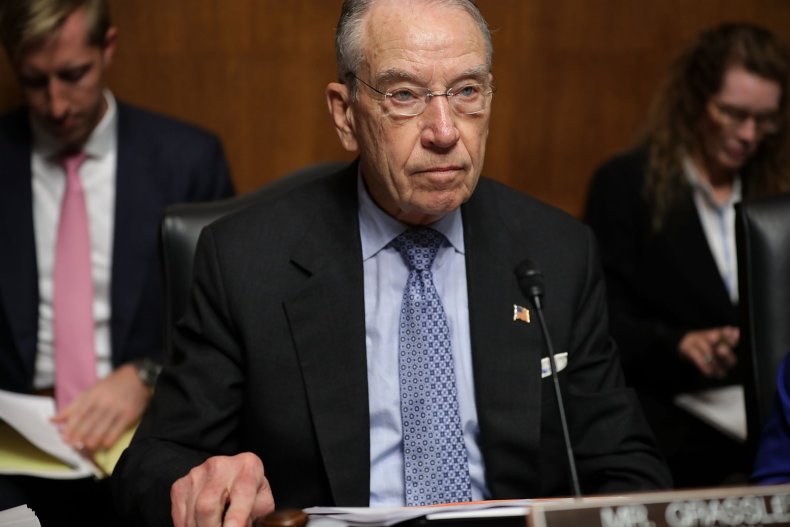 A survey published last Thursday by the London-based research firm IHS Markit found that more than four in 10 U.S. companies planned to raise prices to offset tariffs. General Motors last week announced plans to cut 14,000 jobs, citing tariffs as one of the reasons for the layoffs.
In an interview with Politico earlier this year, Republican Senator John Thune of South Dakota said that, internally, the GOP was unhappy with the tariffs. "There's definitely a lot of sentiment among members of the Finance Committee that the administration's tariff positions are going to step on...the economic gains that we've made," he said.
Still, the president has a number of close allies in Congress who will likely fight to make sure his power goes unchecked, and, ultimately, the optics of the president's own party checking his authority migh too bitter a pill for some Republicans to swallow.
Either way, the battle for the future of the Republican Party will largely center on the issue of free trade, with Trump attempting to lead the GOP away from its established views on this topic.
The official GOP website has already re-established its platform on the topic. "We need better negotiated trade agreements that put America first," it reads. "Republicans understand that you can succeed in a negotiation only if you are willing to walk away from it. A Republican president will insist on parity in trade and stand ready to implement countervailing duties if other countries refuse to cooperate."
Former Trump campaign manager Corey Lewandowski, who rallied extensively with the president before the midterm elections, told Newsweek that using tariffs as penalties was now the way the Republican Party operates. "The previous message was 'free trade for everybody, who cares what it costs us?' Donald Trump said 'no more of that.'"
But what he's saying no more to is unclear. On Monday, the president announced that he'd come to a temporary tariff cease-fire agreement with Chinese President Xi Jinping. Trump said that China "will be opening up" and "getting rid of tariffs" in what he called "one of the largest deals ever."
The White House, however, contradicted these claims.
They said no specifics had been agreed upon; just a temporary end to raising tariffs. "China will agree to purchase a not yet agreed upon, but very substantial, amount of agricultural, energy, industrial and other product from the United States to reduce the trade imbalance between our two countries," White House representatives wrote in a statement.
"The results of the discussions in Buenos Aires are positive, but contrary to President Trump's enthusiastic comments, did not result in a breakthrough," David Adelman, former U.S. ambassador to Singapore and adjunct professor at New York University, told NBC News.
For better or worse, Republican views on free trade are changing, but it's unclear if the party is morphing because of unfair agreements or because they want to take claim to some of the "largest deals ever."