Trump Threatens Trade Conflict with India, But It's Already Happening
Donald Trump hinted at a trade conflict with India on Tuesday morning, but the president's policies have already caused trade tensions between the two countries for over a year.
"India has long had a field day putting Tariffs on American products. No longer acceptable!" Trump wrote on Twitter, a claim similar to that he has levied against China throughout the trade conflict with Beijing.
Last month, India levied tariffs against the U.S., which had previously issued its own tariffs against India.
While public attention has focused heavily on trade tensions with China, the Trump administration has been engaged in a trade dispute with India since 2018. India was among the countries impacted by Trump's decision in March 2018 to impose tariffs on steel and aluminum imports, citing national security. Some $761 million of steel imports from India were affected by the 25 percent tariff, while $382 million of aluminum imports were affected by the 10 percent tariff, according to analysis from the Peterson Institute for International Economics.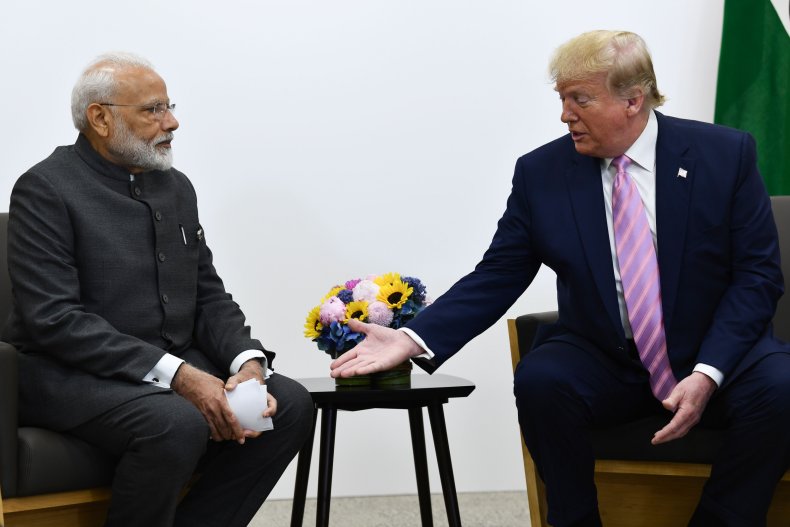 The Trump administration also decided in March to remove India's designation as a beneficiary developing country under the Trade Act of 1974, saying that "India has not assured the United States that India will provide equitable and reasonable access to its markets." The status shift, which took effect in June, meant that India is no longer exempt from tariffs on certain products. Indian exports to the U.S. on $5.6 billion of goods have been impacted.
India responded last month, saying that it would increase tariffs to as much as 70 percent on a list of U.S. imports.
New Delhi targeted agricultural products along the West Coast. "Indian tariff retaliation will largely hit U.S. almond exports from California ($600 million) and apple exports from Washington state," Chad Bown, the Reginald Jones Senior Fellow at the Peterson Institute for International Economics, told Newsweek in an email.
India is America's ninth-largest goods trading partner, and an escalating trade conflict would affect a multitude of products. The U.S. exported $33.1 billion in goods to India while importing $54.4 billion last year, leaving an American trade deficit of $21.3 billion.
The U.S. exported $7.9 billion of precious metals and stones to India last year, the most valuable export category. The U.S. also sent $6.2 billion in mineral fuels, $3.0 billion in aircraft and $2.2 billion in machinery. America imported $11 billion in precious metals and stones, $6.3 billion in pharmaceuticals $3.3 billion in machinery, $3.2 billion in mineral fuels and $2.8 billion in vehicles from India last year.
In addition to the hefty tariffs on steel and aluminum, tariffs on Indian imports have impacted electrical appliances, machinery and chemicals.
"Overall, these tariff increases will make it more difficult for Indian exporters to compete in the U.S. market and will likely raise costs for any American consumers," Bown wrote in his analysis of the trade tensions.
It's unclear whether Trump will actually pursue a wider trade conflict with India.
While seeking to reshape global trade relations, Trump has said that trade wars are "easy to win" and sought to use threat of tariffs as a foreign policy tool.
Despite publicly bristling at the trade policies of China and Mexico and the intellectual property policies of China, the president has previously threatened trade escalations against both countries that were not implemented.
At the end of May, he seemed poised to levy a tariff against all imports from Mexico, saying that America's southern neighbor was not doing enough to stop the flow of undocumented migrants entering the U.S.
Shortly before the tariff was set to go in place in June, the president announced that the U.S. and Mexico had struck a deal to avoid a potentially devastating trade war.
He touted the deal with Mexico and tweeted "Everyone very excited about the new deal with Mexico!" But The New York Times reported that Mexico had agreed to the central conditions of the agreement during discussions with U.S. officials months ago and that the Trump administration could not convince Mexico to accept a new provision that would alter the asylum process for migrants. The revelation cast doubt on whether Trump had intended to levy the tariffs against Mexico.