Trump Tariffs Will Make Rebuilding After Florence More Expensive
As the Southeast begins to recover from deadly Hurricane Florence many are discovering that rebuilding the region will come at a higher cost as a result of Donald Trump's tariffs, according to a report in the New York Times.
The Trump administration's trade policy will drive up the prices of construction materials like lumber, steel, and aluminum. And next week, the U.S. will impose new tariffs on up to $200 billion Chinese imports on materials like countertops, furniture and gypsum. Starting on Monday the federal government will impose a 10 percent tariff on the goods, but in January that number rises to 25 percent.
The biggest hit will likely come from wood prices, which have increased 40 percent since Trump imposed a 20 percent tariff on Canadian lumber late last year. But the list of products affected by the trade policies is nearly 200 pages long and features everything from sheetrock materials to electronics and kitchen gadgets.
Some builders say that the cost of reconstruction after the storm could be up to 30 percent higher than they would have been before Trump's tariffs, according to The New York Times.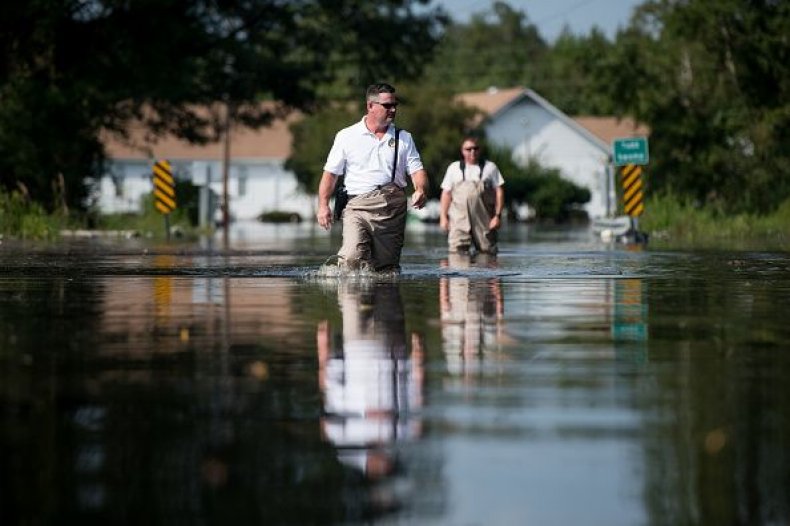 Florence tore through the region in mid-September, dumping more than eight trillion gallons of rain and causing major flooding. The death toll from the storm has risen to 43, authorities confirmed on Friday.
In North Carolina, where Hurricane Florence made landfall, reconstruction costs will likely be in the billions of dollars, Governor Roy Cooper said in a statement. On Thursday, Cooper called on lawmakers to return to Raleigh for a special session to figure out the funds for the initial stage of recovery efforts.
"As I've traveled around the state surveying damage and meeting with people who have lost everything, it's clear that the destruction in eastern North Carolina is historic," Cooper said in a statement on Thursday. "Now is the time to come together and begin the work of rebuilding our communities and making families whole."
Trump acknowledged that the tariffs will result in price hikes in a series of tweets earlier this week, but said that the increases have been hardly noticeable and that the policies are to ensure Americans are treated fairly in foreign trade.
"Tariffs have put the U.S. in a very strong bargaining position, with Billions of Dollars, and Jobs, flowing into our Country - and yet cost increases have thus far been almost unnoticeable. If countries will not make fair deals with us, they will be "Tariffed!" the president wrote in a Twitter post on Monday.