Trump's Tax Law Pushing People to Divorce Faster to Save Money
President Donald Trump's tax law is pushing unhappy couples to finalize their divorces by the end of the year in a bid to save money.
The 2017 tax cuts put through by Republicans have eliminated the deduction for alimony for divorce agreements signed after December 31 of this year, The Hill reported on Sunday. As a result, many people have realized that their tax savings will be significantly less if they finalize their agreements in the new year
Financial planners and divorce attorneys told the Washington, D.C. newspaper that they have been rushing to get clients' agreements finalized by the end of 2018. "It is a complete madhouse," Jacqueline Newman, managing partner at Berkman Bottger Newman & Rodd in New York, told the publication.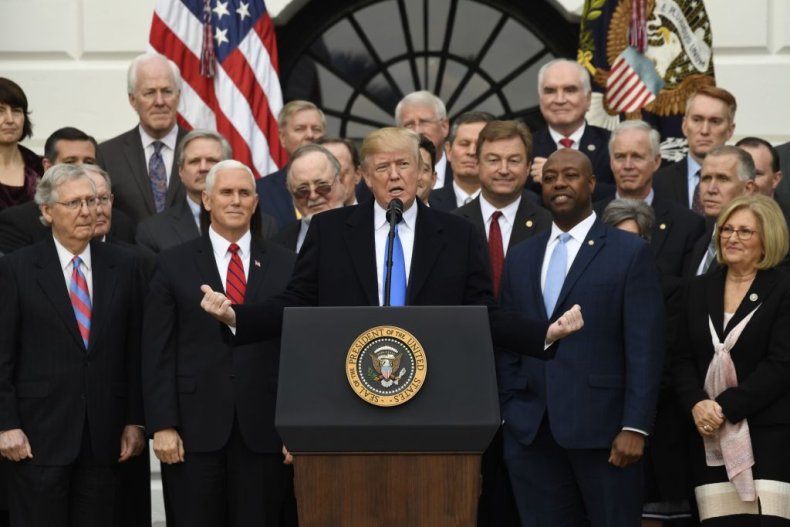 The American Institute of Certified Public Accountants released survey results last week, which showed that 27 percent of financial planners have noted an uptick in the number of clients trying to finalize their divorce by December 31. Of those, 6 percent have seen a substantial increase.
Changing this part of the tax code undid alimony procedures that have been in place for over 70 years, according to CNBC. The decision is also expected to bring in nearly $7 billion for the IRS over the next decade.
As of January 1, the alimony payer will no longer be allowed to deduct the payments when filing taxes, while the recipient no longer will have to pay taxes on them.
"You've got to have a signed agreement before the end of the year if you want your permanent support to be tax-deductible and -includable," Peter M. Walzer, president of the American Academy of Matrimonial Lawyers, told CNBC.
While some lower-income earning spouses think the change might benefit them, analysts aren't so sure.
"Even though that dollar amount you receive in alimony might not be taxable to you any longer, most likely the amount that's going to be paid to you is a whole lot less," Stacy Francis, president and CEO of Francis Financial, explained to CNBC. "There is going to be fewer dollars available for that alimony and also child support," she said.
Attorneys also told The Hill that they've used the former tax law as a way to get higher alimony payments for the lower-income earning spouses they represent.
"Without that bargaining chip, we're not going to be able to negotiate as much in terms of spousal support amounts," Monica Mazzei, a partner Sideman and Bancroft in San Francisco, told the newspaper.