Trump Reveals Tax Plan, Pledges to Simplify Code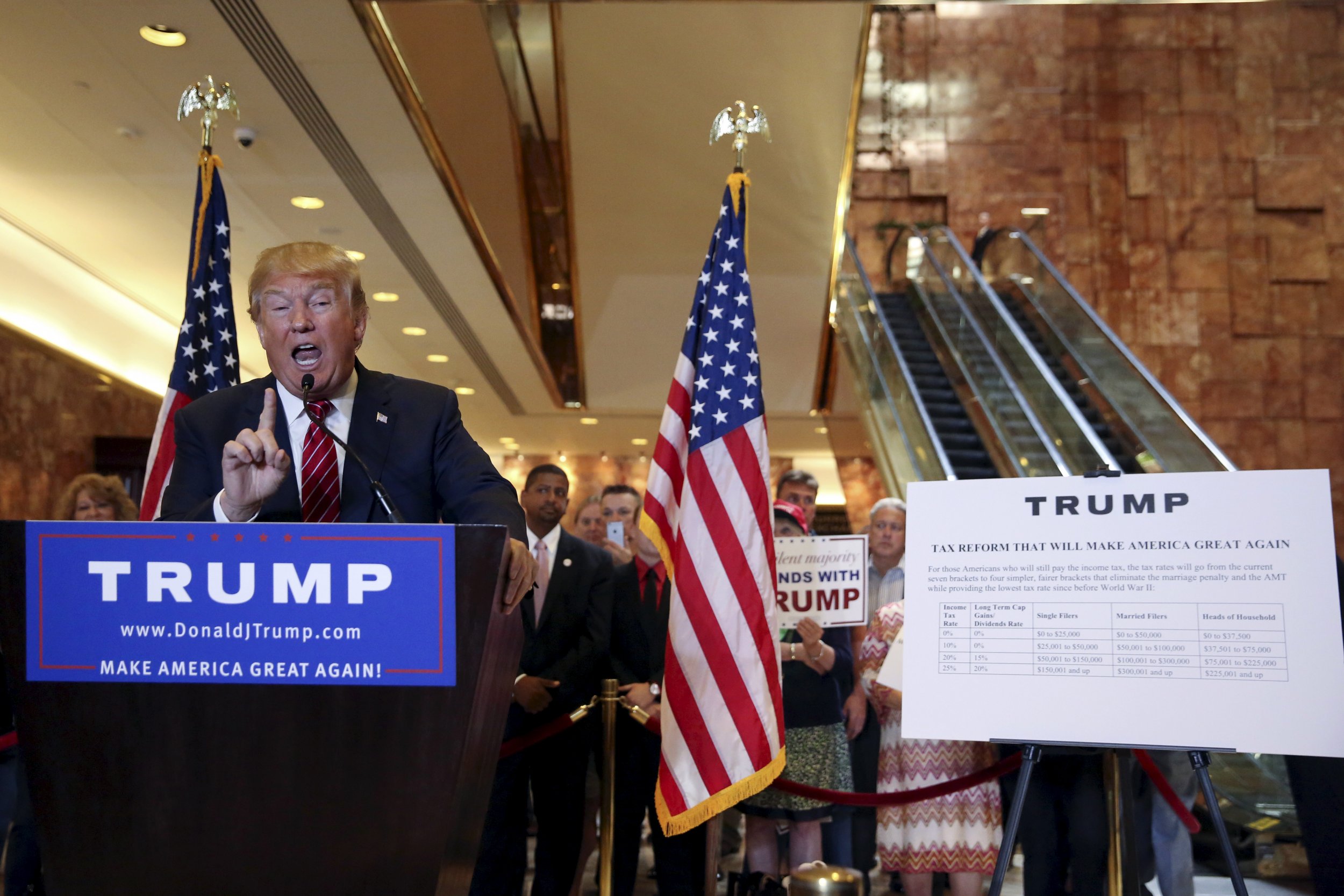 From Walden Pond the philosopher Henry David Thoreau once wrote, "Simplify, simplify." From his ornate tower headquarters, Donald Trump is trying to strike a similar tone on tax policy. The Republican presidential front-runner released a tax policy paper Monday that he says will simplify the tax code, incentivize business growth, and eliminate loopholes.
"It's gonna cost me a fortune," Trump told reporters.
The plan reduces the number of tax brackets from seven to four, with the highest earners paying 25 percent. Individuals making less than $25,000 per year, or married couples making less than $50,000 per year, would pay zero percent income tax. Attempting to cast the new policy as a fairer, more transparent tax system for the middle class, Trump insisted that "there will be people in the very upper echelons who won't be thrilled with this." However, his top bracket rate of 25 percent is actually lower than the current top taxation rate of 39 percent. It would also lower the corporate tax rate to 15 percent (it's currently 35).
Trump promised to hold the wealthiest Americans accountable by eliminating loopholes in the current tax code, particularly deductions for political causes and the deferral of taxation on income earned abroad.
"It's called corporate inversion; it's a huge subject," Trump said of untaxed overseas income.
Trump said that he himself currently benefits from such loopholes, but asserted that he pays millions in legal and accounting counsel in order to sort through the complicated tax code.
In typical fashion, he claimed that his plan was endorsed by some of the country's "leading scholars and tax experts." When pressed by a reporter to name names, Trump declined.
"I'm not gonna do that yet, we have to get their approval…but we have some of the top people in the country working on this."
Grover Norquist, the director of the Libertarian-leaning Americans for Tax Reform, released a statement saying that the Trump tax plan is consistent with the aims of the organization, though it would ultimately be a "reform" and not a true tax cut.
The official release party for the tax plan came the morning after Trump appeared on 60 Minutes to discuss the plan with CBS's Scott Pelley. Trump was complimentary to the network and Pelley this morning, though his Twitter account voiced some complaints about how the network handled the interview.
Trump also didn't resist taking shots at his two favorite opponents: the Obama administration and his current GOP political opponents.
"Senator Rubio is a lightweight," Trump said while discussing renegotiating America's trade deals. "He wouldn't know a trade deal from any other deal."
Trump said that some of his economic advisers—again unnamed—put the national unemployment rate at 32 or even 42 percent, much higher than the accepted national rate of around 5 percent. He criticized the current administration for allowing wasteful spending and poor trade deals and promised to reverse the Obama administration's economic policies.