Trump Tax Plan: AT&T, Wells Fargo Hand Out Bonuses to Staff to Celebrate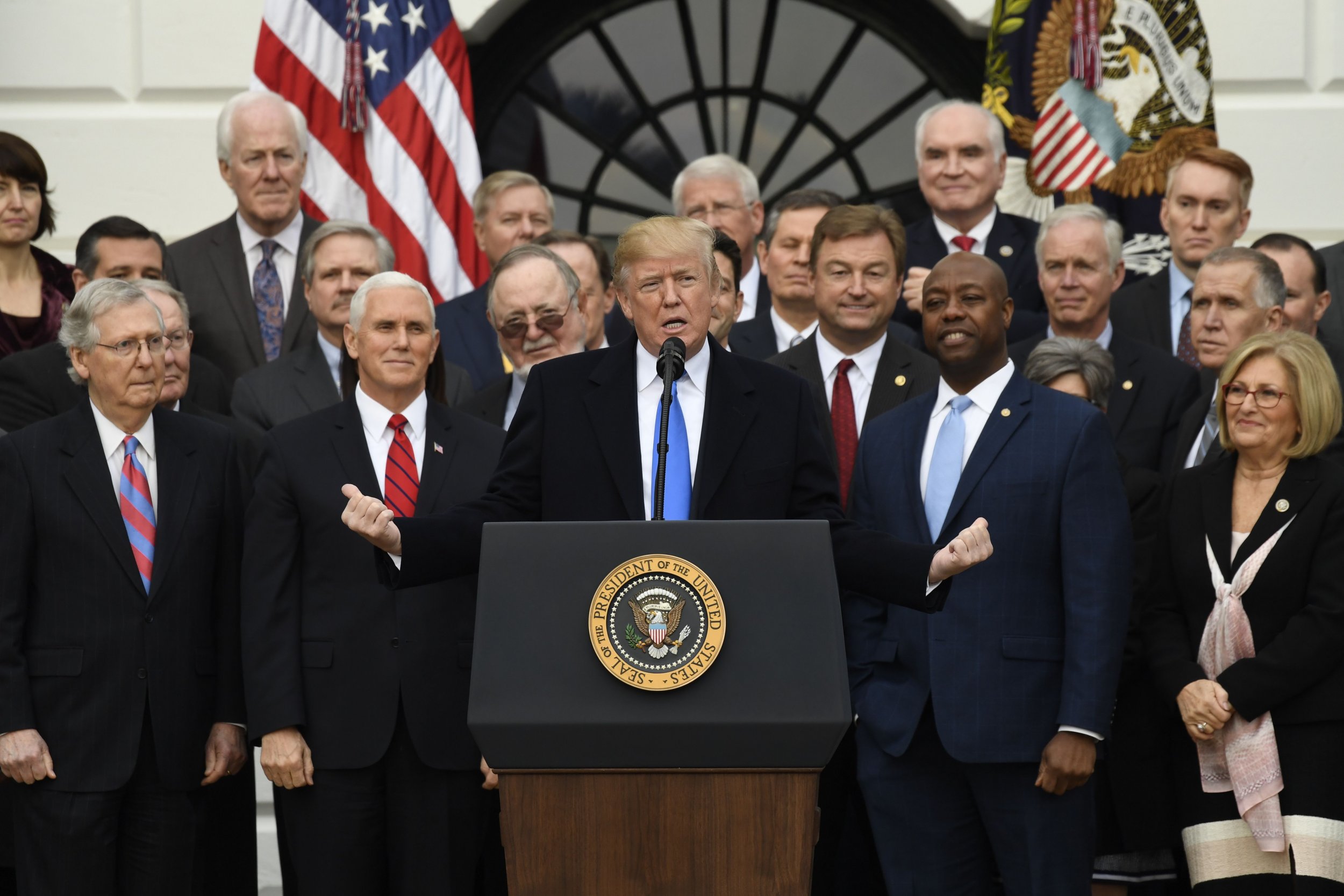 As the debate rages over the extent of benefits the GOP tax bill will have for workers, some of the country's largest companies have said they will pass on the proceeds of President Donald Trump's dramatic corporate tax cut to their employees and reinvest in the United States.
The promises from the likes of AT&T, Wells Fargo and Boeing followed Congress passing a $1.5 trillion tax cut as well as other dramatic reforms to the nation's tax code.
Related: Trump tax plan "one of the shittiest bills" ever, says Democratic denator
Telecommunications giant AT&T said in a press release Wednesday that once the bill came into effect it would invest an additional $1 billion into the U.S. over the next year and "pay a special $1,000 bonus to more than 200,000 AT&T U.S. employees."
According to the company, the bonus would be paid to all union-represented, non-management employees and front-line managers. Workers should see the bonus over the course of the holiday period if the president signs the bill into law as is expected.
At the same time, the financial services company Wells Fargo has said it would boost its minimum wage for employees to $15 an hour if the tax plan becomes law, CNBC reported. The bank also said it would donate $400 million to community and nonprofit organizations in support of the GOP plans.
Fifth Third, the U.S.'s 15th largest bank said, similarly, that 3,000 of its workers would have their hourly wages increased to $15. Furthermore a one-off bonus of $1,000 would be payed to 13,500 employees, the company said.
Senior manager and executives will not be receiving a bonus under the plans. "It is good for our communities, employees and Fifth Third Bank," said CEO Greg Carmichael in a statement.
Boeing has set aside $300 million for "employee-related and charitable investment" as a result of the tax cut, Fortune magazine reported. Though the company did not provide any more information, it said it would use the tax cuts to "support our heroes, our homes, and our future."
Under the GOP tax plan, corporate tax will be cut from 35 to 21 percent. The plan also cuts individual rates of tax.
Trump has praised the commitment of companies like AT&T. Celebrating the passing of the bill on the White House lawn he said the decision was "pretty good," and promised further announcements.
However, Senate Minority Leader Chuck Schumer specifically called out the company over its tax record. "Over the last ten years, AT&T has paid an average tax rate of 8 percent a year. They have 80,000 fewer employees today than they had then," Schumer said.
"Tax breaks don't lead to job creation. They lead to big CEO salaries and money for the very, very wealthy," he added.