Trump Tax Plan Will Make U.S. Only Advanced Economy to See Its Public Debt Ratio Increase, IMF Warns
The United States is the only country with an advanced economy that will see its public debt ratio increase over the next three to five years, according to a new report issued by the International Monetary Fund (IMF). As the ratio rises, so will tax rates and America's inability to stabilize the economy during recessionary periods, experts say.
Because of the increased government spending and borrowing required by President Donald Trump's tax cuts and two-year budget deal, the U.S. will take on deficits above $1 trillion over the next three years, according to the IMF. That's more than 5 percent of gross domestic product (GDP), which measures economic growth. The IMF's projections were in line with the Congressional Budget Office's, which were released last week. The CBO predicted that the U.S. would increase its national debt by $1.9 trillion between 2018 and 2028; the IMF predicts that debt will be 117 percent of GDP by 2023.
Meanwhile, other advanced economies like Germany, Canada, France, Japan, the United Kingdom, Spain and Greece will likely lower their debt-to-GDP ratios over the same period.
"We urge policymakers to avoid fiscal policies that provide unnecessary stimulus when economic activity is already picking up. Instead, most advanced, emerging market and low income developing countries should deliver on their fiscal plans, and put deficits and debt firmly on a downward path," said Vitor Gaspar and Laura Jaramillo director and assistant director of the IMF's Fiscal Affairs Department.
Newsweek subscription offers >
According to the IMF, by 2023 the U.S. will have a larger debt-to-GDP ratio than Italy, a country often called a " systemic threat," to Europe because of its high debt.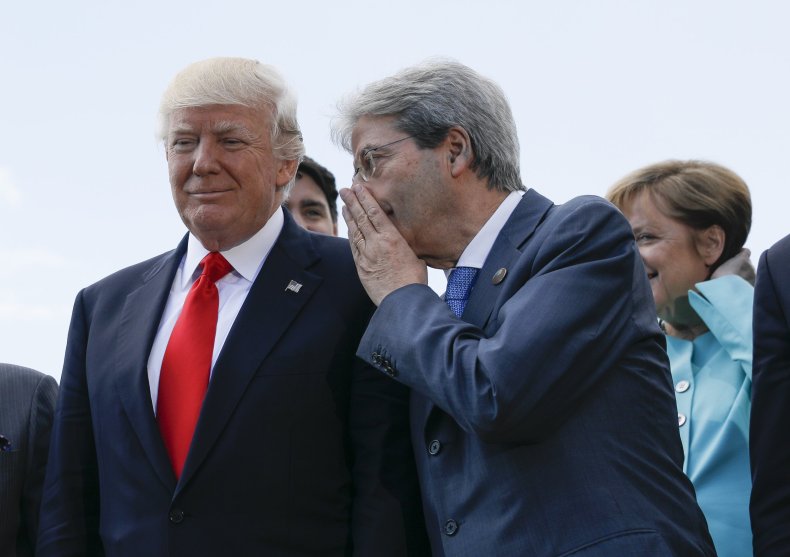 The actions taken by the U.S. right now are "unusual since most countries normally increase the deficit to stimulate the economy during periods of recession, but reduce the deficit during good times," said Barry Bosworth, senior fellow in the Economic Studies Program at the Brookings Institution, a bipartisan policy center.
"The U.S. had already recovered from the recession by 2017, but the government enacted a large tax cut and expenditure increases at the beginning of this year. Since we are near full employment, the deficit will be offset by interest rate increases in the future," he said. The rising debt-to-GDP ratio, he added, will "inhibit the ability to increase the deficit in the event of a future recession."
Newsweek subscription offers >
Meanwhile, the rising ratio will actually increase taxes in the future, said Bosworth. "A large debt and rising interest rates imply that interest payments on the debt will rise sharply in future years. That will increase the tax burden with no increase in benefits to future taxpayers."
As debt in the U.S. grows, interest payments accumulate and take up a larger part of the budget that would be otherwise be spent on programs and initiatives to benefit Americans. The amount spent on interest payments is expected to grow from $316 billion in 2018 to $915 billion in 2028, according to the CBO. Furthermore, the CBO predicts that on average over the next 10 years more than 40 percent of all the economic growth triggered by the tax cuts will go abroad because of foreign investment and interest payments.
Last week, Republican Senator Bob Corker said that voting for the GOP tax law was one of the worst mistakes he had made in office because of the growing deficits that came with it. "This president, obviously, is not a president that's interested in fiscal issues," he said at a breakfast in Washington on Wednesday. "This issue is not going to be dealt with without a strong charismatic president who really wants to take it on. This is not going to be dealt with until we have a crisis. It's not going to happen, and that's sad. It makes me despondent."
Trump Tax Plan Will Make U.S. Only Advanced Economy to See Its Public Debt Ratio Increase, IMF Warns | U.S.