Democrats Celebrate 100 Days in Congress by Going After Trump's Tax Returns, Full Mueller Report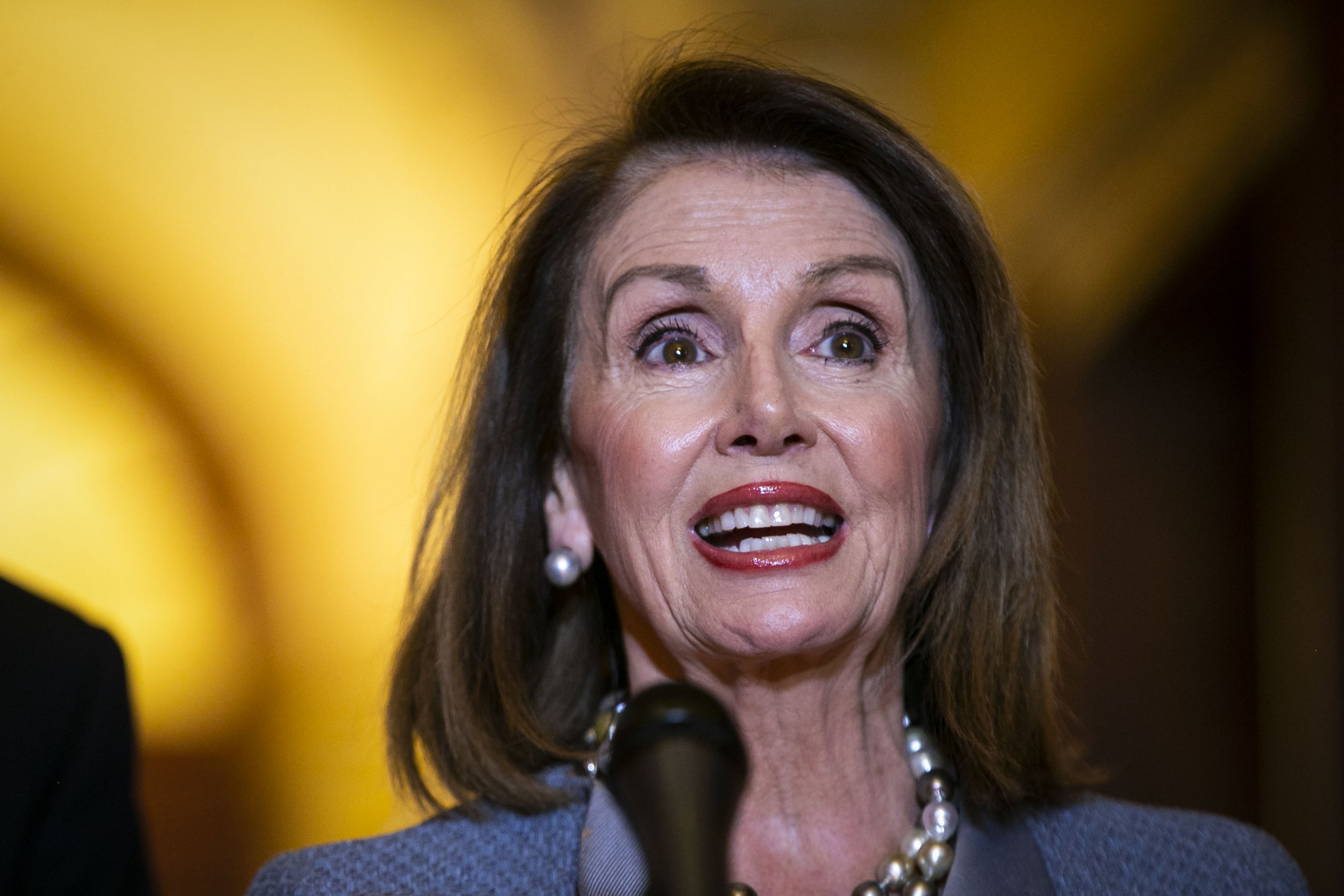 Democrats celebrated their first 100 days in Congress this week by using their authority to try to check President Donald Trump's power on a number of fronts.
In the House, they formally requested six years' worth of the president's tax returns through the IRS on Wednesday. They also asked for the tax returns from eight of Trump's business entities and began the process to subpoena special counsel Robert Mueller's full, unredacted report on his investigation into Russian interference in the 2016 election, alleged Trump campaign collusion with the Russians and alleged obstruction of justice.
Lawmakers and top aides told Politico that the three-pronged attack was coincidental, or at least not intentional. But in just eight hours, Democrats appeared to get in formation with a shift toward a new, offensive strategy that left their Republican counterparts calling foul.
Tax Returns
Breaking with decades of presidential tradition since Richard Nixon, Trump has repeatedly declined requests to release his tax returns to the American public. In doing so, he has generally used two explanations: First, he claimed that his returns were under audit by the IRS and that he would release the information when the audit was concluded. However, there is no rule preventing the president—or anyone—from sharing tax returns publicly while under audit.
The second frequent excuse from Trump is that no one actually cares about seeing his tax returns. This week's actions by the House Democrats show that at least some Americans are curious.
With the president still unwilling to make his returns public, House Ways and Means Committee Chairman Richard Neal bypassed the White House on Wednesday. The Democrat sent a letter to the IRS requesting the tax returns through an obscure code that grants the Joint Committee on Taxation, the House Ways and Means chairman and the Senate Finance Committee chairman the authority to request tax information for any individual. In the letter, he also requested the tax returns for eight business entities owned by the president.
In a statement to CNN, Neal, who gave the IRS a deadline of April 10 to provide the documentation, said that his request was about "policy" and not politics. "My preparations were made on my own track and timeline, entirely independent of other activities in Congress and the administration," Neal explained.
He added: "My actions reflect an abiding reverence for our democracy and our institutions and are in no way based on emotion of the moment or partisanship. I trust that, in this spirit, the IRS will comply with federal law and furnish me with the requested documents in a timely manner."
The president's reluctance to share his tax returns has only served to spur curiosity and speculation among his critics and Democratic leadership about what Trump might be trying to hide. Congress will be looking for conflicts of interest and whether the president has received payments from foreign states. Lawmakers will also want to see how much Trump benefited from the GOP tax plan passed in 2017 and whether he inflated the value of his assets on loan applications, as his former longtime lawyer Michael Cohen claims.
The president appeared unconcerned on Wednesday night and repeated his oft-used line about IRS audits to justify his lack of transparency on his taxes. "Now, we're under audit, despite what people said. We're working that out as—I'm always under audit it seems," the president said during a White House meeting with military leaders.
He added: "But I've been under audit because the numbers are big, and I guess when you have a name you're audited. But until such time as I'm not under audit I would not be inclined to [release my tax returns]."
Republicans are working to block Neal's request, but the Democrat insisted that he was on strong legal footing. "I am certain we are within our legitimate legislative, legal and oversight rights," he said in a statement Wednesday.
So What's Next?
The Trump administration and House Democrats will likely have to take this to the courts, and it's almost certain that nothing will be released by Neal's April 10 deadline. Even if the returns are released to Congress, there's also a chance the public won't ever see them.
"The fact we get those returns doesn't mean we'll be broadcasting them on your program or on the front page of The New York Times," Democratic Representative Lloyd Doggett told CNN on Wednesday. Democrats, he said, "will honor the president's privacy" and review the documents "carefully with experts before making any decision on whether they should be released to the Congress and the public."
Meanwhile, Representative Bill Pascrell said that he and his fellow Democrats were "prepared legally and morally" for a long battle. "If they want a fight," he said, "they'll get a fight."
Republican Senate Finance Committee Chairman Chuck Grassley dismissed the whole thing as political grandstanding. "I think a person like me that's had an equal opportunity approach to oversight, treating Republican administrations the same as Democratic administrations, speaks for itself," he said in a statement. "So I will not go along with efforts to weaponize the authority of tax-writing committees to access tax returns for political purposes. Such an action would be unprecedented."
Meanwhile, Fox News' Tucker Carlson was on defense Wednesday night. "More than two years in, [Trump's tax returns are] still the only obsession in the Democratic Party," he said. "The ruling anxiety: How do we undo the 2016 election? Everything else, including you, is secondary. And by the way, is it a good precedent to have politicians decide that they can pull your tax returns?"
Carlson did admit that "of course it's the president of the United States, he should have given them out voluntarily," then added, "But do you want to allow Congress to pull your tax returns? Probably not, actually."
Chairman of the House Oversight and Reform Committee Elijah Cummings said Wednesday that the president's accounting firm had asked the House to turn over a subpoena requesting 10 years of Trump's financial records. "They have told us that they will provide the information pretty much when they have a subpoena," said Cummings. "And we'll get them a subpoena."
Mueller Time, Again
There may be another subpoena coming for the Trump administration, this time for the full, unredacted report and all supporting evidence produced by Mueller in his investigation.
On Wednesday, the House Judiciary Committee granted its chairman, Representative Jerrold Nadler, the right to subpoena the report. "We must make it harder for future presidents to behave this way," he said after the vote ended. "We need a full accounting of the president's actions to do that work."
The Republican ranking member on the Judiciary Committee, Doug Collins, dismissed this, saying, "Without facts on their side, Democrats have put all their hope in optics."
But Republicans are also working on their optics. Fox News' Laura Ingraham claimed Wednesday night that Democrats were "committing fraud" by subpoenaing the report.
"Now understand this," she said. "With this move, Nadler is actually committing a fraud.... Just the discussion of it, it's a fraud on the American people. Any judge considering this should sanction any lawyer who signs his name on this request for a subpoena, given that the law prohibits Attorney General Barr from releasing underlying material without a careful review for any grand jury information that would be prohibited by law to release."
Republicans may call the subpoena request a "fraud" or "sham," but a new report by The New York Times cited a number of Mueller team members who said that William Barr did not "adequately portray the findings of their inquiry and that they were more troubling for President Trump than Mr. Barr indicated."
This request will also likely make its way to the courts before anything comes of it.
A Silver Lining for Trump: Stacked Courts
The majority of these Democratic oversight efforts will end up in the courts, and Senate Majority Leader Mitch McConnell bestowed a priceless gift to the Trump administration on Wednesday: He made it easier to stack federal courts with Republican nominees.
McConnell took what is often referred to as the "nuclear option" and reduced the debate time allowed for the approval of judicial nominees, a tactic that will expedite their confirmations. There are currently 130 U.S. District Court vacancies that the president hopes to fill with his picks before the 2020 election.
Senate Minority Leader Chuck Schumer said on the Senate floor Wednesday he was "so sorry that my Republican colleagues have gone along with Senator McConnell's debasement of the Senate." He added that it was a "sad day in the Senate's history."
McConnell, however, responded, "This is not a sad day. This is a glad day."
The changes will reduce the debate time on District Court nominees and sub-Cabinet executive nominees from 30 hours to two hours.
"Mitch McConnell is setting a precedent that it's OK to change the Senate rules to confirm more of your side's judges. Democrats should take this ball and run with it once we regain power," Brian Fallon, a former Schumer aide and executive director of Demand Justice, told Politico.