Trump on Teen Accused in Wisconsin Killings: 'He Probably Would Have Been Killed'
President Donald Trump has suggested that a teen accused of killing two people during protests in Kenosha, Wisconsin last week was acting in self defense.
"That was an interesting situation. He was trying to get away from them, it looks like, and he fell and they very violently attacked him," Trump told reporters when asked about Kyle Rittenhouse during a briefing Monday. "He was in very big trouble. He probably would have been killed."
Trump said the case is under investigation and refused to condemn Rittenhouse, a 17-year-old from Illinois who was arrested after the shooting and has been charged with first-degree intentional homicide.
Video of the incident shows a suspect, thought to be Rittenhouse, walking the streets, carrying a long rifle as people protested over Jacob Blake, who police shot seven times in the back on Aug. 23. Blake remains hospitalized and paralyzed from the shooting.
At one point, the suspect runs past the camera and can be seen tripping, before a crowd surrounds then several shots are fired.
Joseph Rosenbaum, 36, of Kenosha and Anthony Huber, 26, of Silver Lake, Wisconsin, were killed, while Gaige Grosskreutz, 26, of West Allis, was seriously injured but survived the shooting.
Rittenhouse is currently jailed in Illinois, awaiting extradition to Wisconsin. His attorneys, who have sought donations for his case, have said in public statements that the teen was acting in self defense.
"He was there to protect his community and to treat wounded protestors," attorney John Pierce said on Twitter Monday. "We need a nation of Kyle Rittenhouses."
Trump is scheduled to travel to Wisconsin on Tuesday to meet with law enforcement and business owners impacted by the protests in Kenosha, despite local officials suggesting that his visit could exacerbate tensions and reignite unrest.
"I have to see the people that did such a good job for me, and we're meeting with numerous people and we have tremendous support in the state of Wisconsin," Trump said. "And it could increase the love and respect for our country."
Trump said he will not meet with Blake's family because the case could involve litigation but said he's talked to the family's pastor.
During Monday's briefing, Trump also declined to condemn his supporters who were videoed riding through a crowd of protestors in Portland, Oregon shooting paintballs and pepper spray.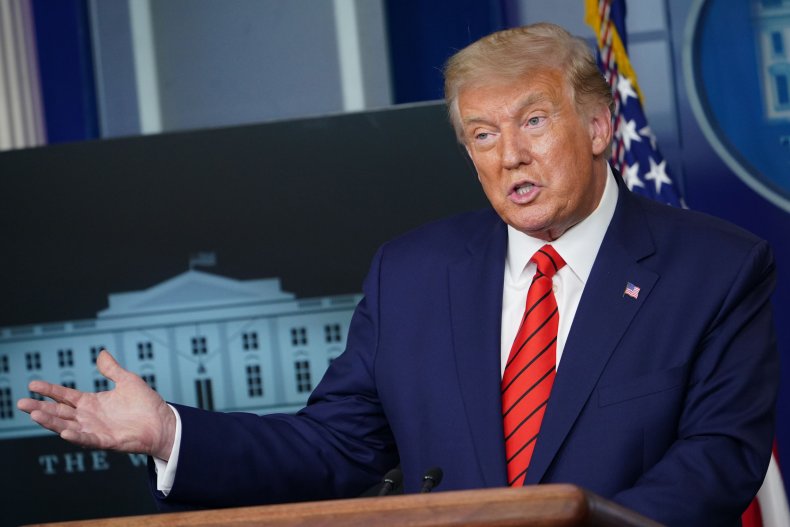 "Paint is not bullets," he said, claiming his supporters are protesting "peacefully" despite retweeting one of the videos over the weekend.
He said his supporters are frustrated by seeing unrest in cities like Portland, Chicago and New York on television.
"When they turn it on and they see that, they say, 'This is not our country,'" Trump said.
Trump and his campaign spent recent days hammering his Democratic rival Joe Biden, accusing Biden of not adequately condemning violence in cities amid protests.
Biden gave a blistering rebuke of the president during a speech earlier in the day in Pennsylvania.
"The violence of extremists and opportunists–right-wing militias, white supremacists, vigilantes–who infiltrate protests carrying weapons of war, hoping to wreak havoc, and to derail any hope and support for progress," Biden said during the speech.
He also condemned people on either side who are rioting, looting and setting fires.
"Violence will not bring change, only destruction. It's wrong in every way. It divides instead of unites," Biden said.