Trump to Putin: Syrian President Assad Can't Have Land Liberated From ISIS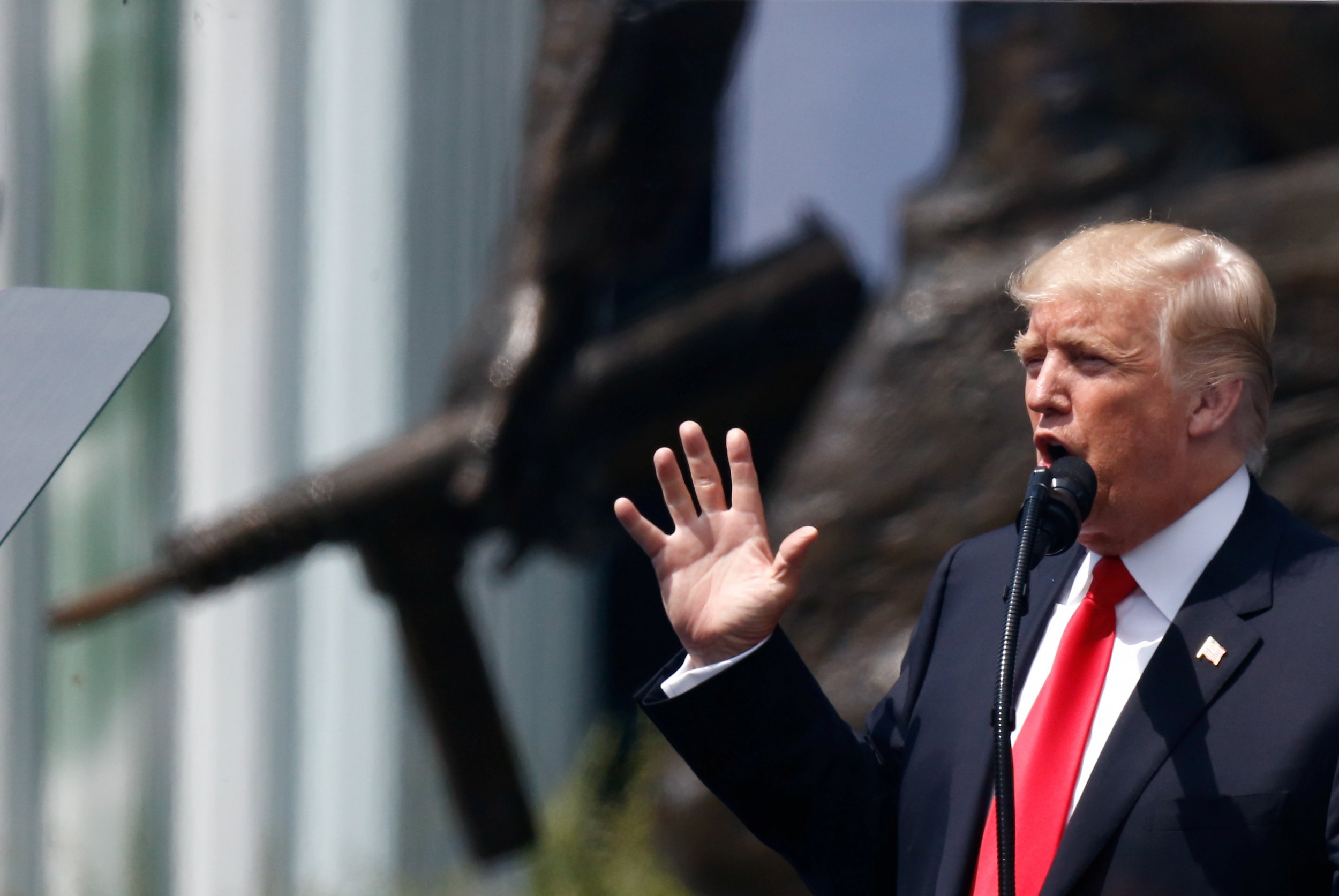 Little is known about exactly what President Donald Trump will discuss with Russian leader Vladimir Putin when the two meet for the first time on Friday. But one thing is certain to come up: the ongoing war in Syria.
Trump is set to ask Putin to loosen his support for Syrian leader Bashar al-Assad and ask Russia to ensure "no faction in Syria illegitimately retakes or occupies areas liberated from ISIS," Secretary of State Rex Tillerson said Wednesday.
That means that the Syrian autocrat would not be able to reoccupy the Islamic State (ISIS) terrorist group's stronghold in the city of Raqqa without some sort of agreement between all parties.
Tillerson has said Syria's future is one without Assad in power. A condition of an agreement could be that Assad steps down. But the ask comes at what Tillerson said is "an all-time low point" in U.S.-Russia relations since the end of the Cold War.
The issue is one of the few things Trump officially has on his agenda during his meeting with Putin in formal talks at the G-20 Summit in Hamburg, Germany. It's their first meeting, and there's pressure on both sides to get the upper hand. It's not clear what Trump will offer Putin in return for his help.
Related: Russia warns U.S. its 'patience is running out' over lifting election-hacking sanctions
"The question will come in the Russian mind: How hard does the American side push that question? How much skin in the game do the Americans have?" said Steven Pifer, a former U.S. ambassador to Ukraine and foreign service diplomat in Moscow.
Pifer, who is now a senior foreign policy fellow at the Brookings Institution think tank in Washington, D.C., said, "The Russians are pretty much all-in in terms of backing Assad. Whereas, on the American side, there's been a bit of hesitation in terms of how much we want to commit."
Trump recently rejected his military advisers' plan to defeat ISIS because it was too similar to President Barack Obama's. Obama wanted to limit America's involvement in Syria's civil war. Russia is providing large amounts of assistance to Assad's Army and holds the reins over whether Assad steps down. After nearly six months at the White House, Trump hasn't come up with a plan yet.
"I've said for a long time that Trump will not have a Syria policy, he will have a Russia policy," said Pifer's colleague, Steven Heydemann, a senior nonresident fellow at Brookings' Center for Middle East Policy, Thursday.
Heydemann's comments followed Tillerson's statement Wednesday that he wants the U.S. and Russia to run joint operations in Syria to increase cooperation between the two nations.
"The United States and Russia have already achieved progress in establishing de-confliction zones in Syria that have prevented mutual collateral damage," Tillerson said, adding that he wants to work with Russia to create no-fly zones, put ceasefire observers on the ground, and coordinate the delivery of humanitarian aid.
"If our two countries work together to establish stability on the ground, it will lay a foundation for progress on the settlement of Syria's political future," he said, nudging Russia toward more collaboration despite Putin's deep support for Assad.
Tillerson also urged Russia to "focus" on the objective of defeating ISIS alongside the U.S. "In order to complete the mission," he said, "the international community, and especially Russia, must remove obstacles to the defeat of ISIS and help provide stability that prevents ISIS from rising anew from the ashes of their failed and fraudulent caliphate."
Pifer said he hopes Trump and Putin "take a look at the range of issues, but follow the approach that Tillerson laid out." "You need to make some progress in building some trust, address some smaller issues," before the relationship can improve, he added,