Trump Tells Biden's Hometown Dem Rival 'Abandoned Pennsylvania' Ahead of Convention Speech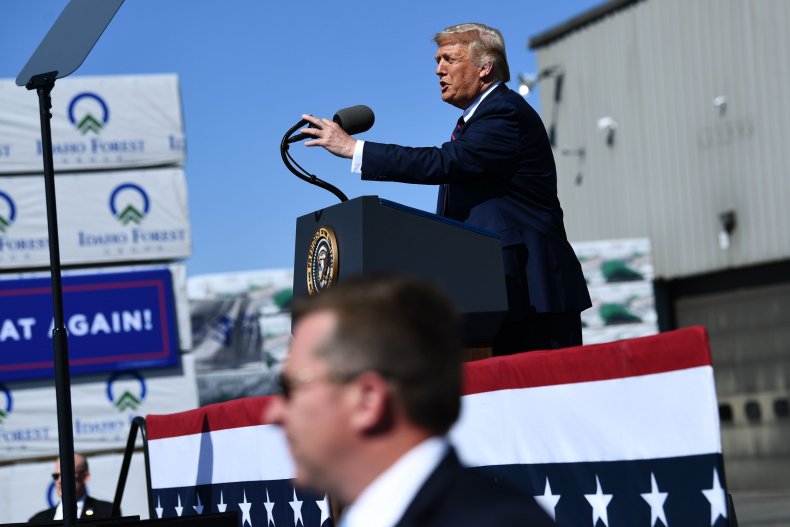 President Donald Trump warned a cheering crowd of his supporters in the crucial swing state of Pennsylvania that Scranton-native Joe Biden would harm the state's economy in a blistering address just hours before Biden was to accept the Democratic nomination for president.
"Joe Biden is no friend to Pennsylvania," Trump told his rally crowd outside a building products factory in Scranton. "He's your worst nightmare."
Trump took the unusual move of speaking ahead of Biden's Democratic address as part of a broader campaign plan to drown out the Democratic National Convention, where speakers have mostly admonished Trump. Candidates typically don't make such speeches on the day of their opponent's nomination acceptance speech.
The Republicans will hold their convention next week.
Trump and said he personally picked the location of Biden's hometown for his campaign address.
"He keeps talking about 'I was born in Scranton,'" Trump said. "He left a long time ago. He abandoned Pennsylvania. He abandoned Scranton."
"I'm fighting for Pennsylvania," he added, drawing cheers from the crowd decked out in red, white and blue and waving Trump campaign signs.
Trump won Pennsylvania four years ago, but recent polls have shown him neck-and-neck with Biden, whose family moved to Delaware amid economic decline in Scranton in 1953.
A Muhlenberg College/Morning Call poll released Thursday showed Biden with a narrow lead over Trump in the state, 49 percent of likely state voters to 45 percent. The four-point gap is within the margin of error.
"Until I came along, this was all Democrat," Trump said. "The votes for Trump here are through the roof. These are great people."
Biden's campaign didn't respond to Newsweek's request for comment on the president's address. But Democrats have spent the week admonishing the Trump during their convention speeches.
"I did hope, for the sake of our country, that Donald Trump might show some interest in taking the job seriously; that he might come to feel the weight of the office and discover some reverence for the democracy that had been placed in his care, but he never did," former President Barack Obama said in his speech Wednesday evening.
According to Nielsen's early numbers, 21.4 million watched the Obama-headlining third day of the Democratic Convention—up from the 18.6 million Tuesday and 18.7 million Monday.
The network figures, which are down from four years ago, do not include viewers who have been tuning in online, which the Biden campaign has said pushes the number higher than 2016.
The Biden campaign also didn't respond to Newsweek's request for online viewership estimates.
Trump, who often pays attention to TV ratings—partly because of his background in reality television, said he expects many to tune into Biden's address Thursday.
"It's going to be very interesting to see how he does. I hope he does well, I really do," Trump said.
Much like Trump's campaign event, Vice President Mike Pence held a rally in Wisconsin on Wednesday—the day that Biden's VP pick Kamala Harris gave her speech for the Democratic National Convention from a mostly empty convention center near Biden's home in Wilmington, Delaware.
"Donald Trump's failure of leadership has cost lives and livelihoods," the California senator said during her prime-time Wednesday address.
Trump narrowly won Wisconsin in 2016 and, like Pennsylvania, polls show he's currently trailing Biden in the state.
The Trump campaign's aggressive, seven-figure digital ad push for the week of the Democratic Convention has included banner ads atop the YouTube homepage attacking Biden; ads on The Washington Post, The Wall Street Journal and Fox News website homepages and ads on streaming video services, including Hulu.
In Wisconsin, the Trump campaign put up digital billboards asking "Where's Joe?" in response to the Democrats' decision to scrap much of the in-person convention set for Milwaukee because of the coronavirus pandemic.
This week, the president's campaign also unveiled a two-minute ad focusing on Biden's son Hunter's business dealings in China and one of its most blistering attacks on the Democratic nominee by questioning his mental state this week. Hunter Biden is scheduled to speak at the Democratic Convention before his father formally accepts the party's nomination.
"It's an uncomfortable conversation to have, but voters deserve to be able to assess Joe Biden's capabilities by seeing him and listening to him in his own words, especially as compared to just a few years ago," campaign spokesman Tim Murtaugh said in a statement to Newsweek. "Being president of the most powerful nation in the world carries the heavy responsibilities of navigating dangerous situations around the globe in real time and keeping track of weighty domestic issues facing the American people. Voters deserve a clear understanding of what's going on with Joe Biden."