Trump Tells Campaign Staffers People Are 'Tired' of Hearing About COVID From 'Fauci and All These Idiots'
On a call with campaign staff Monday morning, President Donald Trump said people are tired of hearing about the coronavirus from infectious diseases expert Anthony Fauci and others, whom he called idiots.
"I have these huge rallies. People are saying whatever. Just leave us alone. They're tired of it. People are tired of hearing Fauci and all these idiots," Trump told his staff. "Fauci is a nice guy. He's been here for 500 years."
Trump also said if he had listened to Fauci, the director of the National Institute of Allergy and Infectious Diseases (NIAID), "we'd have 500,000 deaths."
Fauci has continued to stress the importance of a united government effort to prevent the spread of the coronavirus. As of Monday, the country has reported over 8 million cases of the virus and 219,811 deaths.
But Trump continues to slam the nation's top infectious diseases expert, who has clashed with the president over the administration's handling of the pandemic.
"Every time [Fauci] goes on television there's always a bomb, but there's a bigger bomb if you fire him. This guy's a disaster," the president said.
Trump's comments come after Fauci recently revealed that the White House has controlled his media appearances throughout the health crisis and has repeatedly blocked him from doing interviews.
"I certainly have not been allowed to go on many, many, many shows that have asked for me," Fauci said in a Sunday interview with CBS News' 60 Minutes.
He said that he was "absolutely not" surprised that Trump tested positive for the virus and that he had been worried about the president's health during the Supreme Court nomination ceremony for Amy Coney Barrett in the White House's Rose Garden, where prominent Republicans contracted the virus. Fauci called it a superspreader event.
"I was worried that he was going to get sick, when I saw him in a completely precarious situation of crowded, no separation between people and almost nobody wearing a mask," Fauci said.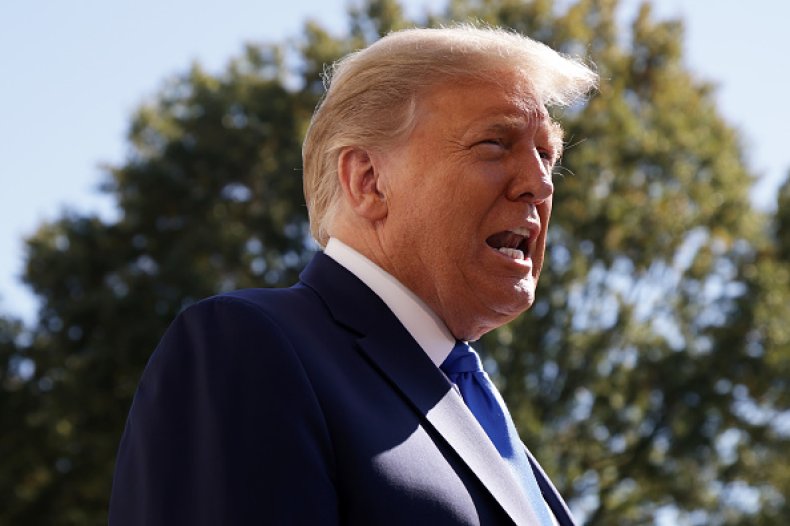 Fauci also recently criticized the Trump campaign after it released an ad featuring what appeared to be an endorsement from the NIAID director.
"I'll never publicly endorse any political candidate...and they are sticking me right in the middle of a campaign ad, which I thought was outrageous. I was referring to something entirely different," he said on Sunday.
The ad featured a clip of Fauci, which was used without his permission, praising health officials at the White House for working tirelessly to contain the spread of the coronavirus.
On Monday's call, Trump also expressed his frustration with a New York Times article published earlier in the day about conflicts between the president and his top aides, including White House chief of staff Mark Meadows.
"I love Mark Meadows," Trump said disputing the story.
Newsweek reached out to the Trump campaign for comment but did not hear back before publication.