Trump Tells Brexit Party Leader Nigel Farage Democrats 'Desperate' to Impeach Because They Can't Win in 2020
President Donald Trump slammed House Democrats for moving ahead with their impeachment inquiry, claiming that they are relying on the probe to remove him from office because they know they won't win the 2020 election.
"The Democrats are desperate. They are desperate," Trump said during an interview on Thursday with Nigel Farage, the leader of the United Kingdom's Brexit Party. Trump has often praised the far-right, anti-immigrant British politician and refers to him as a "friend of mine."
The president also said that Democrats have "nothing going" and that they are moving forward on impeachment because they know they won't be able to take back the White House in 2020.
"It's the only way—they're going to try to win the election this way because they can't win it the fair way," he said.
House Democrats launched the impeachment inquiry at the end of September amid reports that Trump tried to pressure Ukrainian President Volodymyr Zelensky to investigate his political rival former Vice President Joe Biden.
Trump told Farage that the phone call with Zelenksy was "very, very appropriate" and "perfect." He also mocked the idea of needing foreign help to take down Biden if he becomes the Democratic nominee.
"Would I use Ukraine to beat Sleepy Joe Biden?" Trump asked Farage. "I don't view him as a very difficult guy to beat."
The House of Representatives voted on Thursday to formalize the impeachment inquiry against Trump. The resolution, which detailed how public hearings will be conducted and how evidence will be gathered, was passed by a vote of 232 to 196. Two Democrats broke from their party and voted against the resolution: Rep. Jeff Van Drew of New York and Rep. Collin Peterson from Minnesota.
Moments after the resolution was passed, Trump complained on Twitter that it was the "Greatest Witch Hunt in American History." White House press secretary Stephanie Grisham released a statement also attacking the inquiry, calling it an "unhinged obsession" of the Democratic Party.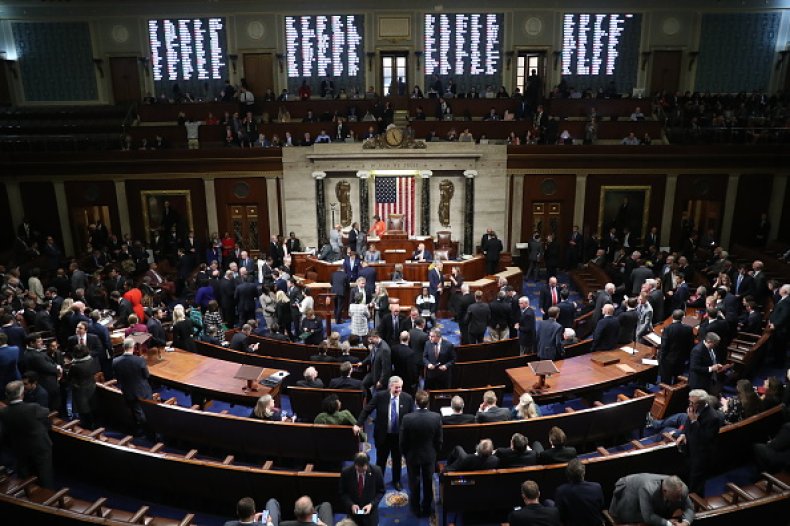 While there is no set timeline for the investigation, House Judiciary Chairman Jerry Nadler told CNN after the resolution was passed that it's "possible" his committee could hold a vote before Christmas on whether to bring forward official articles of impeachment against Trump.
Republicans have repeatedly slammed Democrats over how they've handled the impeachment probe, arguing that the process has been unfair and conducted in secret. The GOP response to the resolution was equally as critical.
Rep. Jim Jordan of Ohio said that is "trying to put a ribbon on a sham process doesn't make it any less of a sham." Rep. Liz Cheney said that history will hold Democrats "accountable" and "history will judge them."
Top Democrats said after the vote that they are not happy about moving forward with impeachment but that they are taking the matter with the seriousness it deserves. Rep. Adam Schiff, the chairman of the House Intelligence Committee, said that Democrats "take no joy in having to move down this road and proceed with the impeachment inquiry, but neither do we shrink from it."
Echoing Schiff, House Speaker Nancy Pelosi said that "this is something that is very solemn, that is something prayerful. And that we have to gather so much information to take us to this next step."