Trump Tells Georgia Rally: 'There Have Never Been Crowds Like This...in the History of Politics'
President Donald Trump opened a speech at a campaign-style rally at the Middle Georgia Regional Airport in Macon on Sunday with one of his favorite topics: crowd sizes.
"There have never been crowds like this, just so you understand, in the history of politics," the U.S. leader said, addressing a cheering crowd. "You've never had crowds like this for midterm elections. There's never been crowds like this."
The president made the comments during a campaign speech in support of embattled Republican Georgia Secretary of State Brian Kemp, who is locked in a tight gubernatorial race against Democrat Stacey Abrams.
Opening his speech, Trump said this week's midterm election was "one of the most important elections of our lifetime.
"There is an electricity in the air like I haven't seen since the '16 big victory that we all had together," Trump said, referring to the 2016 election that put him in office.
"Look at this," the president said, gesturing toward the back of the crowd, where media members stood. "Like the Academy Awards, look at how many cameras."
The U.S. leader then asked camera operators to pan across the crowd to show how many people had shown up for the rally.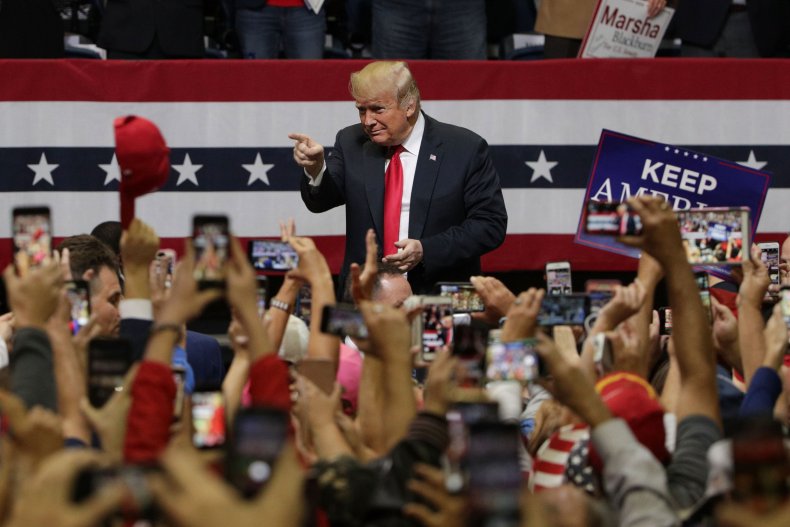 "They don't have to do this with other celebrities who come here who don't have very big crowds," Trump said, appearing to take a jab at the celebrity presence Abrams's own campaign had attracted to Georgia, including Oprah Winfrey and Will Ferrell, to campaign on her behalf.
"Turn the cameras around," Trump said. "They never turn 'em around folks.
"This crowd goes way, way back into the field," Trump said. "This is incredible...and I really wish the fake news media would show the crowds, because they don't do it."
"They always go, 'Donald Trump gave a speech today in front of a nice crowd... There have never been crowds like this, just so you understand."
The president then said that his speeches get "great ratings" on television, adding that viewers "get" how big his crowd sizes are as they "hear the noise."
"You can't duplicate, when you have 20, 25, 30,000 people. You can't duplicate that sound with 5,000 people like are showing up to other rallies," Trump said.
It is unclear exactly how many supporters were at the Macon rally, which Trump held before heading to Chattanooga, Tennessee, for another campaign rally in support of Republican Senate candidate Marsha Blackburn.
Read more: Donald Trump Is Lying 30 Times a Day on Average as the Midterms Approach, Fact-Checker Says
The president, however, has repeatedly lied about crowd sizes at his rallies and campaign events, boasting at a rally in Houston earlier this month that he had around 50,000 supporters present at the event, despite Houston Police Chief Art Acevedo tweeting that there had been only around 3,000 people at the Toyota Center event, where Trump rallied in support of his former rival Senator Ted Cruz in his re-election bid.
Trump's focus on his crowd sizes began with his inauguration, which his administration claimed had pulled in the largest inauguration crowd size in history.
Not only was the claim patently false, but it was also later revealed in a report by The Guardian that a government photographer had altered and cropped the photos from Trump's Inauguration Day in an apparent bid to make the crowd sizes seem larger.
At the time, former White House press secretary Sean Spicer admitted that he had "screwed up" by insisting that Trump had attracted the largest inauguration audience ever.