Trump Tells Gold Star Families 'We Will Stand By Your Side Forever,' Despite Repeatedly Attacking Families of Fallen Veterans
President Donald Trump, who has repeatedly lobbed attacks against the family members of fallen veterans, addressed "every Gold Star family" on Monday, saying "we will stand by your side forever." Trump's remarks came during a speech in commemoration of Veterans Day in New York City.
"To every Gold Star family, we will stand by your side forever," the president said at a commemorative parade in his home city. "It is very fitting that the Veterans Day parade begins right here in New York City since the earliest days of our nation, New York has exemplified the American spirit and has been at the heart of our nation's story of daring and defiance."
Despite the president's vow, he infamously lobbed a series of public attacks against the family of Captain Humayun Khan and the widow of Sergeant La David Johnson, who was killed while serving in foreign conflicts. Trump first took aim at the Khan family during the 2016 presidential campaign after Khizr Khan, Humayun's father, criticized Trump's call to ban all Muslims from coming to the U.S. during an impassioned speech at the Democratic National Convention. The Khans are Muslim, as was their fallen son.
"Go look at the graves of brave patriots who died defending the United States of America," Khan said at the time, addressing Trump. "You will see all faiths, genders and ethnicities. You have sacrificed nothing and no one."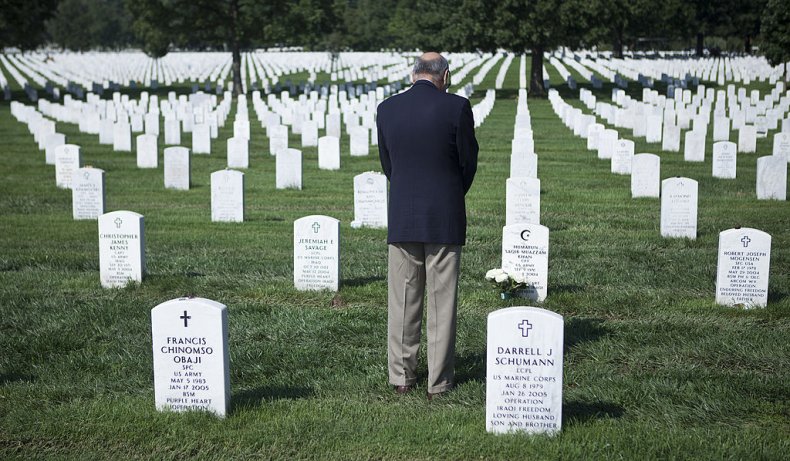 Trump responded days later by criticizing the fallen veteran's parents, suggesting that Ghazala Khan, who did not speak but stood by her husband during his speech, was barred from addressing the crowd by her spouse.
"If you look at his wife, she was standing there," he said. "She had nothing to say. She probably, maybe she wasn't allowed to have anything to say."
Many quickly denounced Trump's criticism as Islamophobic, while also slamming him for attacking a Gold Star family. Ghazala Khan later said in interviews that her husband had specifically asked her to address the DNC, but she did not want to speak as she found it too difficult to discuss the loss of her son.
"I was viciously attacked by Mr. Khan at the Democratic Convention. Am I not allowed to respond?" Trump tweeted later, doubling down on his criticism. Trump posted several other tweets, arguing that he was the victim in the situation. He insisted that he had "made a lot of sacrifices" as well.
The story resurfaced last week, as The View co-host Meghan McCain, the daughter of the late veteran and Senator John McCain, confronted the president's son, Donald Trump Jr., over remarks he made in a new book.
"You and your family have hurt a lot of people and put a lot of people through a lot of pain, including the Khan family who is a Gold Star family that I think should be respected for the loss of their son," McCain told the president's son. "Does all of this make you feel good?"
In his book, Trump Jr. equated "the attacks" his family has suffered to the sacrifice made by veterans. Khan responded to the president's son's remarks in a Sunday interview with MSNBC as well.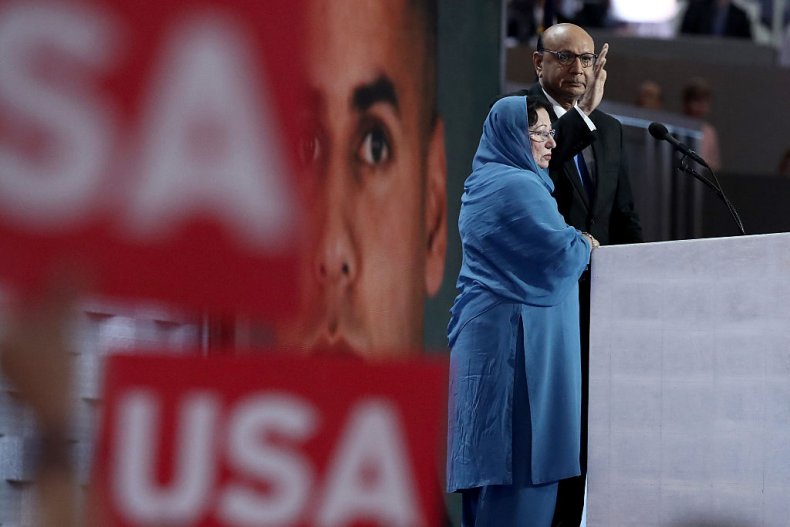 "They have no idea what service and sacrifice is when his turn, meaning Donald Trump's turn, came to serve, he ran away," Khan pointed out. He added that the Trump family has "no idea what it takes to be" honorable.
As Khan noted, the president's father reportedly solicited a favor from a New York doctor during the Vietnam War. The medical practitioner allegedly diagnosed Trump with bone spurs, which made him ineligible for the draft. As a result, the president's critics have routinely referred to him as a draft-dodger, blasting him for avoiding serving his county.
In October of 2017, Trump also had a public feud with the Gold Star widow of fallen Sergeant La David Johnson. Myeshia Johnson told Good Morning America at the time that a conversation she had with the president about her husband's death in the line of duty made her "very upset and hurt; it made me cry even worse." She said the president argued her husband "knew what he had signed up for."
The president responded by attempting to undermine the widow's credibility, arguing the account was "totally fabricated."