Trump Tells Governors to 'Dominate' Protestors After George Floyd's Death, Says 'They're Terrorists'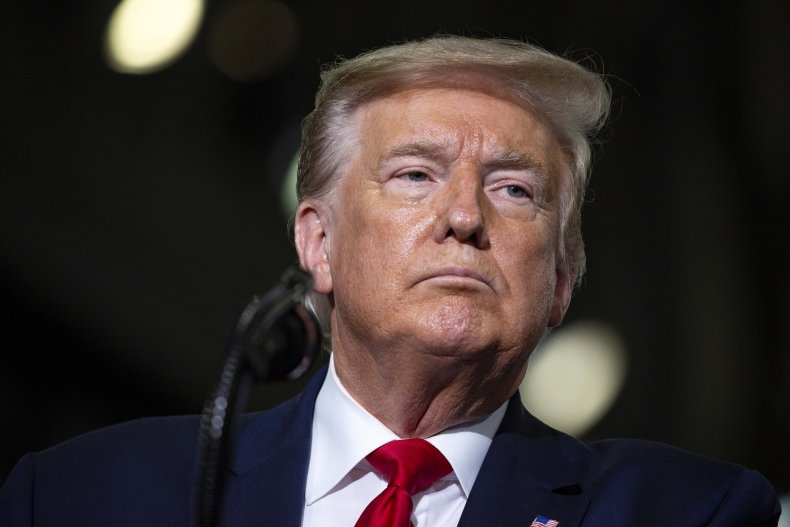 President Donald Trump chided the nation's governors Monday morning and told them they should clamp down on demonstrations that rocked the nation this weekend following the killing of Minnesota man while he was being detained by police.
"They're terrorists. They're Antifa and the radical left," Trump said of the unrest that has spawned mass protests in major cities, as well as building burnings and looting.
"You have to arrest those people and you have to try them," Trump said, based on a recording of the governors' call obtained by Newsweek. "If you don't dominate your city and your state, they are going to walk away with you."
"You have to have total domination," he added.
Governors have been taking part in weekly White House calls during the coronavirus pandemic, often with Vice President Mike Pence. Trump joined in the call on Monday to address a turbulent weekend, when fires and demonstrations raged outside the White House.
"It's terrible," he said.
Trump hasn't publicly addressed the country in response to the protests. His comments to governors were the first peek inside his views on the situation. He repeatedly compared the current demonstrations to the 2011 Occupy Wall Street protest movement and promised governors that he would send in the military to help control situations.
"If you're weak and don't dominate your streets, they're gonna stay with you until you finally do, and you don't want that," Trump told governors.
Trump praised the police crackdown in Minneapolis after Floyd's death. "They went in and dominated. Immediately," Trump said. "They just walked down the street knocking them out with tear gas. The next day, you know what happened? They went to other cities."
White House Press Secretary Kayleigh McEnany told reporters Monday that the president is concerned about dangerous lawlessness.
"Governors across the country must act," she said. "It's very important that we have peaceful protests and support the rights of peaceful protestors but we cannot allow a situation like what happened in Minneapolis to descent further into lawlessness anarchy and chaos."
Trump has condemned the killing of George Floyd last week and spoken to Floyd's family.
But he had harsh words for the governors Monday morning, following a weekend of demonstrations and dotted by reports of vandalism.
"Most of you are weak," Trump told them, according to the call recording. "You have to arrest people...you're allowed to fight back."
Trump said he was disappointed in how the United States is being perceived globally.
"Other countries watch this. They're watching this and they say, 'boy they're really a pushover,'" he said. "We can't be a pushover. You have all the resources ... I don't know what you're doing."